(RRN) Ishpeming Hematites Win Football State Championship
Ozzy Corp scored three touchdowns, including the game-winner in the fourth quarter, and the Ishpeming Hematites held on to beat Pewamo-Westphalia, 22-16, to win the MHSAA Division Seven state championship Saturday at Ford Field. It was Ishpeming's third state championship in the last....
---
(RRN) Governor Orders Flags Lowered To Half Staff On Monday
Governor Rick Snyder has ordered U.S. and Michigan flags to be lowered to half-staff within the State Capitol Complex and on all state buildings on Monday, November 30 in honor of fallen firefighter, Sgt. Vincent Smith, who died Thursday, November 19. "Our firefighters choose to work in a stressful and dangerous field, putting themselves...
---
(RRN) Police Identify Victims In Marquette Murder-Suicide
The three people who died in that murder-suicide in Marquette Township early Thanksgiving morning have been identified, according to our partners at Local Three News. They are 26-year-old Charles Masterson, 22-year-old Jessica Drummond and 22-year-old Brodie Dagenais. Police say Masterson shot and killed Drummond and...
---
(RRN) New Study Highlights Importance of On-Line Learning
A mentor can make all the difference whether you're a new employee on a job or a young person looking for guidance from a caring adult. In online learning, a good mentor can be the difference between passing and failing. A case study of mentor programs conducted by MVU®'s Michigan Virtual Learning Research Institute describes....
---
(RRN) DNR Still Searching For Western U.P, Wolf Poachers
DNR officials are still searching for a suspect in a gray wolf poaching case that happened in Houghton County on Monday. DNR officials say it happened along M-26, a half-mile south of Twin Lakes, between 10 a.m. And 1:30 p.m. Gray wolves are a federally endangered species and are protected in Michigan.The idea of having a legal...
---
(RRN) Three People Dead In Marquette 'Domestic Situation'
Three people are dead after what police are describing only as a "domestic situation". Michigan State Police say that during the early morning hours of Thanksgiving, Marquette County Central Dispatch received a 911 call of a domestic situation at a residence in Marquette Township. Officers responded to the residence on Moran Street...
---
(RRN) Gladstone, Manistique Kick-Off Christmas Season Friday
It's going to feel a lot like Christmas Friday as a number of U-P communities welcome Santa. In Gladstone, it's the city's old-fashioned Christmas--beginning with the tree lighting and arrival of Santa and Mrs. Claus at 5:30 next to city hall. After that, there are a number of holiday events in Gladstone's downtown area. The Manistique...
---
(RRN) Delta County Sheriff Says Get Ready For Winter Driving
As we get ready for the challenge of winter driving, Delta County Sheriff Ed Oswald says: don't forget your tires. He recommends switching to snow tires from now through Easter. Snow tires are softer than summer tires, says Oswald. They also have small cuts in the rubber for a better grip on icy roads. He compares running....
---
(RRN) 'Becoming Outdoors Woman' Program Taking Registrations
The D-N-R's latest Becoming an Outdoors Woman program is now taking registrations. The 16th annual winter session is set for February 26th through the 28th in Marquette County. It's designed for women 18 and over to improve their outdoor skills in what the D-N-R calls a "relaxed, non-competitive atmosphere." You can find out....
---
(RRN) DNR Plants Thousands Of Muskie Into Two U.P. Lakes
The Michiagn D-N-R says it recently put nearly 28-thousand muskie fingerlings into 17 lakes statewide. Two of the lakes are in the U-P--Schoolcraft County's McKeever Lake and Teal Lake in Marquette County. The fish come from the State Fish Hatchery in downstate Mattawan. More information on the program is available at www.michigan.gov/dnr...
---
(RRN) Governor Snyder Offers Best Wishes For Thanksgiving
Governor Rick Snyder wished Michiganders a safe and enjoyable Thanksgiving with a video message. "Happy Thanksgiving, Michigan! We set aside this special day of thanks to express gratitude for the many blessings we have in our lives. "We'll gather with our friends, families, and neighbors to celebrate one of our nation's...
---
(RRN) Hiawatha Plans Prescribed Burns In Delta, Schoolcraft
The U.S. Forest Service is letting us know about possible prescribed burning opportunities in the near future. Current weather forecasts suggest suitable burning weather may occur in the next several weeks. Prescribed burning is very weather dependent and most likely will occur after Thanksgiving and prior to Christmas. If conditions are...
---
(RRN) State Skilled Trades Funding Approved; $400 K For U.P.
More than 13,000 job-seekers and workers will receive training for in-demand technical jobs through grants totaling $12.8 million awarded under Michigan's Skilled Trades Training Fund, Governor Rick Snyder announced Wednesday. The training program was established in 2013 by Snyder and the Legislature to help employers develop the talent...
---
(RRN) State Police Joining Operation CARE For Thanksgiving
The holiday travel period is here, and state police say they're ready, looking for drunk drivers, speeders, and people not wearing their seatbelts. All Michigan State Police posts have launched the annual Operation C.A.R.E initiative. C.A.R.E stands for 'combined accident reduction effort' and is especially important during holiday seasons...
---
(RRN) TV Program On Life Of Carl Pellonpaa Airs Wednesday
WLUC-TV 6 will be airing a half-hour special called "The Life and Times of Carl Pellonpaa" on Wednesday. The documentary will chronicle the life of this Upper Michigan icon who holds the distinction of creating the longest running television program with a single host in the history of broadcasting. The program, Finland Calling....
---
(RRN) UPPCO Announces Drawdown On Escanaba Hydro Dam 3 Basin
The Upper Peninsula Power Company announced Tuesday that it will move forward with a planned drawdown of its Escanaba Hydroelectric Dam 3 Basin. The dam is located approximately eight miles north of Escanaba. This dam is one of three UPPCO owns and operates on the Escanaba River. UPPCO will lower the basin....
---
(RRN) State Fire Marshal Warns of Thanksgiving Turkey Fryers
As the popularity of turkey frying increases, so does the concern about the number of fires caused by consumers deep frying turkeys, according to Acting State Fire Marshal Michael Deprez, who discourages the use of outdoor, gas-fueled turkey fryers using hot oil, as they are simply not safe. "Deep frying a turkey in several gallons of hot oil...
---
(RRN) Snyder Signs Legislation Elections; Inherited Handguns
Local governments will be able to include candidates for local office and other questions on ballots for the March 2016 presidential primary election, under legislation signed Tuesday by Gov. Rick Snyder. "Giving locals the flexibility to hold one election for numerous questions will help ensure efficiency and minimize costs for local...
---
(RRN) Marquette Schools Move Forward With Computer Program
The Marquette Area Public Schools Board of Education approved funding to complete its 1:1 initiative, providing one piece of technology, such as computers of Chromebooks for each student. Superintendent Bill Saunders released the following statement on Tuesday: "Last night the Marquette Area Public Schools Board of...
---
(RRN) Ski Brule Opens; Marquette Mountain Starts Making Snow
Now that the recent 60-degree weather is behind us, it's time to start thinking about winter sports. And Ski Brule in Iron River kept with its longstanding tradition by becoming the first Upper Peninsula ski resort to open for the season. There's not much natural snow, but there was enough manmade snow to open for the...
---
(RRN) Downtown Escanaba Event Kicks Off Christmas Shopping
It's called Black Friday on Tuesday, and it's the Christmas shopping opener for Escanaba's downtown merchants. In addition to bargains, downtown merchant Peggy O'connell says you can shop in style, with limo rides from store to store. And local merchant Sue Parker adds that it is a real family event. In addition, the merchants...
---
(RRN) St Francis Hospital Launches 'Lights Of Love' Campaign
The O-S-F Saint Francis Hospital Auxiliary has kicked off its annual "Lights of Love" campaign. This campaign sees the trees in front of the hospital on US-2-and-41 west of Escanaba light up over the next six weeks. You can "buy" a light for three dollars in honor of…or in memory of…a loved one. As more people buy lights....
---
(RRN) Benishek Invites High School Kids To Enter App Contest
High School students from across the Upper Peninsula are being invited to enter the Congressional App Challenge this winter. Congressman Dan Benishek says students can try their hand at creating mobile applications that could possibly used on the market. The Iron River Republican says that getting kids involved in ...
---
(RRN) Michigan Senators Want New Great Lakes Icebreaker
Michigan Senators Gary Peters and Debbie Stabenow want the U-S Coast Guard to build a new heavy icebreaker to chop ice on the Great Lakes. They're calling for more money to be set aside for the project, citing the heavy ice that has covered the lakes during very cold winters in recent years. Right now, the Coast Guard...
---
(RRN) Rep. Kivela May Be Charged With Being 'Super' Drunk
An Upper Peninsula state legislator arrested for drunk driving earlier this month outside Lansing could be charged under the state's so-called "super drunk" law. John Kivela was over the zero-point-one-seven threshold that could trigger the enhanced charge, according to the Clinton County Prosecutor's office. The Marquette....
---
(RRN) NMU Student Group Still Opposing 'Self-Harm' Policy
A Northern Michigan University student group is still collecting petition signatures opposing the university's "self-harm" policy. The group "I-Care" launched its petition drive two weeks ago, and so far, they've collected some 25-hundred signatures. The biggest problem the group has is a clause that reads, in part…If you involve...
---
(RRN) Bay College Could Lose $181K Due To 'Dark Store' Issue
The "dark store" issue could cost Bay College 181-thousand dollars a year. So says College President Laura Coleman, and she says that's a lot of money that might have to be made up with either a reduction of services or higher tuition. The "dark store" issue is where large stores like Menard's and Lowes appeal their tax assessments to...
---
(RRN) Guardsmen From Gladstone Armory Helping In Africa
A group of Michigan Army National Guard engineers from the Gladstone armory have arrived in Africa. The men and women of the 1430th Engineering Company are in Monrovia, Liberia, to help the Liberian military to build a series of new barracks buildings. This mission is also significant because this is the first time that Michigan Guard...
---
(RRN) More Victims Possible In Forsyth Twp. Sex Abuse Cases
The investigation continues into the Marquette County man who has already been charged with 39 counts of Child Sexual Abusive Activity and First Degree Criminal Sexual Conduct. The Marquette County Sheriff's Department believes that there may be more victims who have yet to come forward. 43-year-old Andrew Caron of Forsyth....
---
(RRN) Three Vehicles Involved In Crash In Marquette County
It was quite a mess for a time on M-35 in northern Marquette County on Thursday as several vehicles were involved in a traffic crash that delayed traffic for a time. Marquette County Sheriffs Deputies say the accident in Richmond Township happened at about 7:00 in the morning when 53-year-old William Belmore of Marquette tried to pass...
---
(RRN) Two Hurt, Man Arrested In Dickinson County Bar Fight
A 46-year-old Iron Mountain man was arrested Wednesday after two people were injured in a bar fight. Michigan State Police say the incident happened at about 5:00 Wednesday afternoon at Hunter's Tavern in the Dickinson County town of Ralph. Troopers say that "multiple" people were involved in the melee, and two people had...
---
(RRN) Marquette Police Make Larceny Arrests In Two Cases
Marquette Police have made an arrest after a home was broken into earlier this month and prescription drugs were stolen. Police arrested 21-year-old Abdul Rahman Nayef Aldhekair and charged him with larceny. He was arrested on Wednesday and was lodged in the Marquette County Jail on a 10-thousand dollar bond. Meanwhile, a....
---
(RRN) Procedure To Get Concealed Weapons Permits Changing
Changes are coming for people who want to get a concealed pistol permit in Michigan. All of the local gun boards are being dissolved across the state. Delta County Clerk Nancy Kolich explains how the new procedure will work, starting December 1st. "You contact the county clerk just like under the old system. You get fingerprinted...
---
(RRN) Calley Signs Order To Help People With Disabilities
Lt. Gov. Brian Calley Wednesday signed an executive order that will lead to increased job opportunities for Michiganders with disabilities. Executive Order 2015-15, establishes Employment First in Michigan and helps foster an inclusive environment that will create competitive....
---
(RRN) Hiawatha National Forest Wants Help To Stop Vandalism
The Hiawatha National Forest is asking for your help in cutting down on vandalism in the forest. The U-S Forest Service says that people have been shooting at road signs throughout the Hiawatha, and many of those signs are destroyed and have to be replaced. Also, in the Eastern U-P, there's...
---
(RRN) Marquette County Man Jailed On Many Child Sex Charges
A Marquette County man is in jail on multiple sex charges. 43-year-old Andrew Caron of Forsyth Township was arrested Wednesday after a seven month long investigation by the Marquette County Sheriffs Department and the Forsyth Township Police. Caron has been charged with ten felony counts of First Degree Criminal...
---
(RRN) Head-On Traffic Accident Injures Two In Chocolay Twp.
Two people had to be removed from a car with the jaws of life Wednesday after a head-on collision in Chocolay Township. Chocolay Police say the accident happened at the US-41/M-28 intersection at just after noon Wednesday when 20-year-old Tyler Juntunen of Lake Linden turned directly into the path of 64-year-old Terry Debruyn...
---
(RRN) Iron County Hunter Safe After Getting Lost In Woods
An elderly Iron River man is safe and sound after spending a cold night in the woods. Michigan State Police say that 69-year-old Francis Nennig called 9-1-1 to say that he had left his hunting camp and couldn't find his way back. He had already spent the night in a heavily-wooded area and was cold. So, a trooper went into the...
---
(RRN) Benishek Pleased That Study On New Soo Lock Approved
In response to efforts by Congressman DanBenishek and a bi-partisan group of members of the House and Senate, the Army Corps of Engineers has agreed to perform an Economic Impact study on the Soo Locks. This study is critical to the effort to increase the priority of the construction of a replacement Lock in the Army Corps' list of....
---
(RRN) McBroom Says Tax Relief Was Big Part Of Road Package
Upper Peninsula State Representative Ed McBroom says that the road funding package that was hammered out in Lansing this month was the best compromise that was possible in the legislature. It raises 600-million dollars in increased gas tax and vehicle registration fees, with another 600-million doming from the general fund. McBroom...
---
(RRN) OSF St. Francis Hospital Gets Award For Pneumonia Care
Escanaba's OSF St. Francis Hospital & Medical Group announced Tuesday that it has been recognized as a 2014Top Performer on Key Quality Measures by The Joint Commission, the leading accreditor of health care organizations in the United States. OSF was recognized as part of The Joint Commission's 2015 annual report"America's Hospitals...
---
(RRN) Houghton Prosecutor Releases Statement On MTU Threat
The Houghton County Prosecutor's Office issued a statement Tuesday about last Thursday's threat that was posted on social media targeting black students at Michigan Tech University. Prosecutor Michael Makinen says the suspect, 21-year-old Matthew Shultz of Norway, is charged with disturbing the peace, and terrorism charges are not...
---
(RRBN) First Bank To Purchase Northern Michigan Bank & Trust
There's big news for banking in Delta County. First Bank announced Tuesday that it will buy Northern Michigan Bank and Trust in an all-cash deal. Details of the transaction were not made public. First Bank has operated in Delta County since 1916 while Northern Michigan Bank was established in 1882…also in Delta County....
---
(RRN) Escanaba Schools, Hansen Reach 'Resolution' Of Dispute
The Escanaba Area Public Schools have reached a resolution in the dispute with former teacher and football coach Jim Hansen. You'll recall that Hansen was suspended this fall after videos were posted on social media showing him jumping through a stack of textbooks. The school board president later issued a statement saying that...
---
(RRN) McBroom Backs Governor's Rejection Of Syrian Refugees
No Syrian refugees will be allowed into Michigan in the near future. Governor Rick Snyder has suspended the state's acceptance of those refugees until the U.S. Department of Homeland Security reviews its procedures for allowing them into our country, The move follows the terrorist attacks in Paris on Friday in which at least one attacker got into Europe...
---
(RRN) Governor Orders Flags Lowered For Paris Terror Victims
Michigan Governor Rick Snyder joins President Barack Obama's proclamation to lower Michigan and U.S. flags to half-staff from now, through sunset on Thursday, Nov. 19 in honor of the victims of the Nov. 13 terrorist attacks in Paris, France. "Our hearts are broken for the people and country of France as they mourn the loss of family, friends....
---
(RRN) Verso Paper Contemplating Bankruptcy; May Sell Mills
Employees at the Verso Paper mill in Escanaba received a letter from the company's leader on Monday, outlining the company's current financial troubles. In the letter, President and C-E-O Dave Paterson wrote that Verso is undergoing cash flow and liquidity problems because of a "perfect storm of external factors". Those factors include an....
---
(RRN) Verso Paper Announces Third Quarter Financial Results
Verso Corporation on Monday reported financial results for the third quarter of 2015. Net sales for the company rose in 2015 compared to 2014 due to the acquisition of New Page Corp. Verso also reported net losses of $111 in the third quarter of this year, and net losses of $293 million for the nine months that ended on September 30. Other...
---
(RRN) Trillium House To Be Built For U.P. Hospice Patients
An empty field off Forest Park Drive in Marquette will eventually be used as a home for hospice care patients. Local Three News reports that Dan Mazzuchi, the president of the Trillium House board said that Trillium House is intended to be a home for people who are already enrolled in hospice care. He says it will be a non-profit organization and...
---
(RRN) Suspect In On-LineThreat Arraigned In Houghton County
The man who allegedly left a message on social media threatening to kill black people at Michigan Tech University was in court Monday to face criminal charges. 21-year-old Michael Allen Shultz was charged with disturbing the peace, which is a 90-day misdemeanor. He stood mute at Monday's hearing, so a "not guilty" plea was....
---
(RRN) Gov. Snyder Signs Education, Anti-Poaching Legislation
Michigan high school students will be better equipped to understand and manage their personal finances by earning credit for financial literacy courses, under bipartisan legislation signed Monday by Governor Rick Snyder. "Learning how to navigate personal finances and budgeting in the real world is an important life skill for young adults....
---
(RRN) DNR: Firearms Deer Season Off To Strong Start In U.P.
Michigan Department of Natural Resources staff said Sunday's opening day of the firearm deer hunting season was improved in some parts of the Upper Peninsula over last year, based on reports from deer check stations. Across the region, temperatures reached the low 50s, with sunny skies, though....
---
(RRN) Upper Peninsula Deer Hunters Greeted By Warm Weather
The start of the firearms deer season felt a lot more like a late spring day across the Upper Peninsula on Sunday, with temperatures well above average for November 15th. Meteorologist Jason Alumbaugh at the National Weather Service in Marquette says temperatures reached 62 degrees in Seney, 61 in Amassa, 57 at the Weather office...
---
(RRN) Casperson Says Campaign To Focus On Battling EPA Rules
The 2016 elections are still months away, but the race for the Upper Peninsula's seat in Congress is under way. Republican Tom Casperson announced his candidacy last week, and has spent the past week driving all over the U-P and northern Lower Michigan to talk with voters. Casperson is still the U-P's State Senator, so we asked, how...
---
(RRN) UPCAP Offering Medicare Workshop In Escanaba Thursday
If you are new to Medicare, there's a seminar later this week in Escanaba to fill you in on the details. It's being offered by the Upper Peninsula Commission for Area Progress, or "UPAP". Sherry Whitman is the coordinator for UPCAP's Medicare/Medicaid Assistance Program. She says that there are new options for people to get...
---
(RRN) Escanaba Library To Host Alzheimer's Awareness Program
An educational program on Alzheimer's disease will be held this week in Escanaba. The Greater Michigan Chapter of the Alzheimer's Association is teaming up with the Escanaba Public Library to put on the program titled "Know the 10 Signs: Early Detection Matters". This program, set for Wednesday night at the library...
---
(RRN) Senator Peters Comments On Paris Terrorist Attacks
Michigan Senator Gary Peters issued a statement over the weekend in response to the terrorist attacks that killed 140 people and injuried another 350 on Friday. The first-term Democratic senator wrote: "Our thoughts and prayers are with the victims, their families and loved ones following the horrific terrorist attacks in Paris. We mourn...
---
(RRN) Better Business Bureau Offers Holiday Shopping Advice
This holiday shopping season will be better than the last for retailers, which means consumers, whether out in the stores or in their pajamas in front of a computer, will spend more this year. The National Retail Federation has forecast that sales in November and December will increase by 3.7 percent. Online sales are expected to increaae....
---
(RRN) Delta County Airport Receives Donated Wooden Airplanes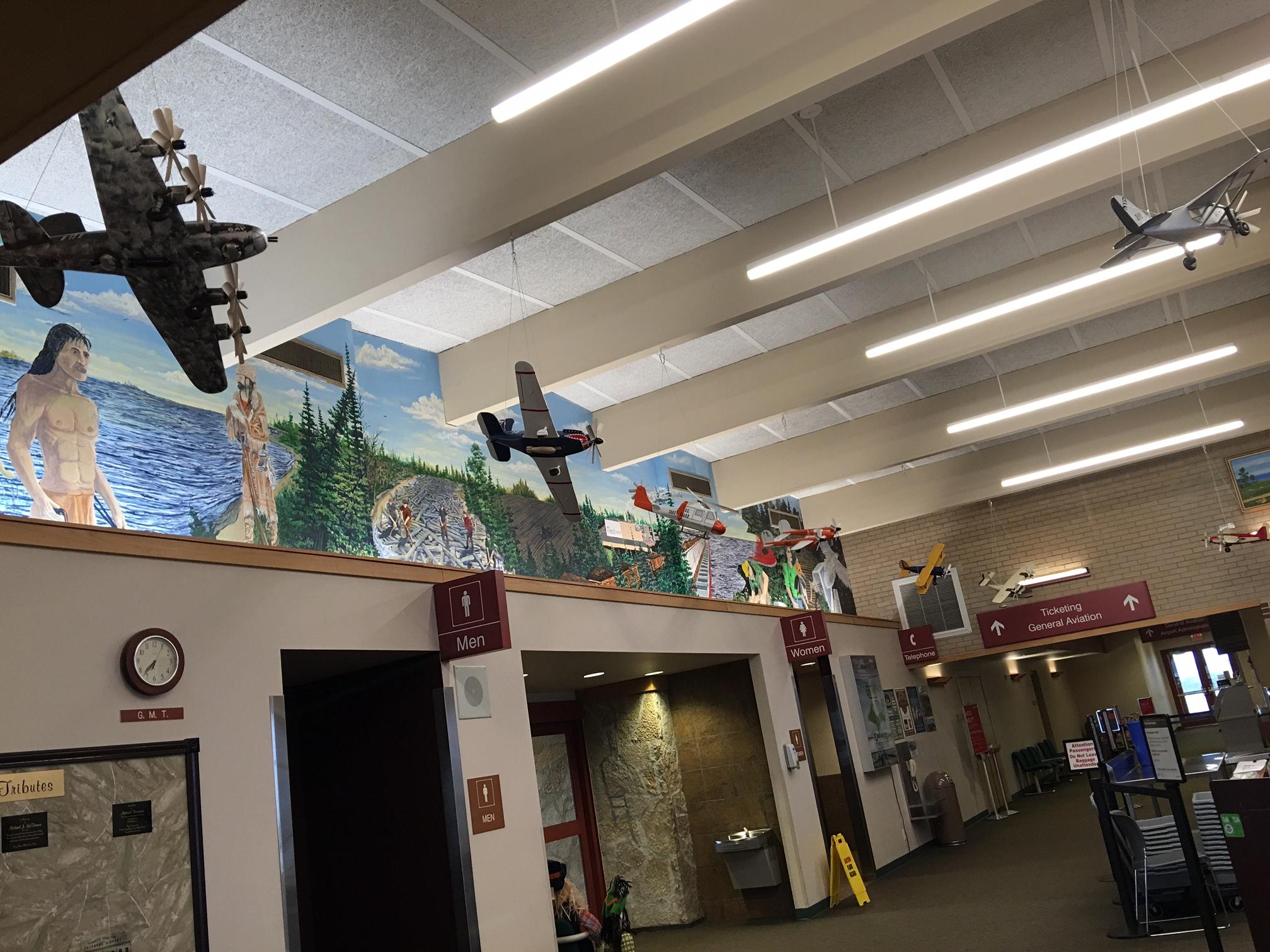 Hand-crafted wooden planes on display at the Delta County Airport make a visit to the airport a special destination, even if you aren't catching a flight. The planes were donated by Melton Demerse, who has been constructing the wooden aircrafts by hand over 25 years. He gifted most...
---
(RRN) Arrest Made In Michigan Tech University On-Line Threat
The suspect in the social media threat at Michigan Tech University has been released on bond, charged with disturbing the peace, and will be arraigned on Monday. Local Three News reported the arrest of the suspect on Friday. The suspect allegedly went to the social media site Yik Yak on Thursday, threatening to kill black students who attend...
---
(RRN) Governor Appoints Weber To Marquette District Court
Governor Rick Snyder on Friday announced the appointment of Karl Weber to the 96th District Court in Marquette County. "Karl has shown that he has the leadership, work ethic and legal skills requisite of serving in a judicial capacity," Snyder said. "His exemplary abilities and commitment to the region will serve...
---
(RRN) State Rep. Dianda Responds To On-Line Threat At MTU
State Representative Scott Dianda is responding to the on-line threat posted on social media targeting black students at Michigan Tech University. The Calumet Democrat was "disheartened" to hear of the threat. His full statement follows: "Yesterday, an anonymous threat was made against black students who attend Michigan Tech...
---
(RRN) Snow, Slush Factors In Two Marquette County Crashes
Slushy roadways were the cause of a pair of traffic accidents Friday morning in Marquette County. Marquette County Sheriffs Deputies say they responded to a two vehicle accident in Marquette Township at just after 11:00 Friday morning. Deputies say the accident happened on County Road 550 near Middle Point Road. That's when 55-year...
---
(RRN) Rapid River Man Suffers Serious Injuries In Accident
Michigan State Police investigated a traffic crash in Alger County's Limestone Township Friday morning that led to serious injuries for the driver. Troopers say the accident happened at about 9:30 Friday morning when 53-year-old Robin McClellan of Rapid River lost control of his vehicle and it rolled over. This accident occurred on US 41...
---
(RRN) Woman Arrested After Crashing Truck In Chocolay Twp.
A woman suffered minor injuries Tuesday night in what police are describing as an alcohol-related traffic accident. Chocolay Township Police say the accident happened on Mangum Road at about 8:00 Tuesday night when the woman missed a curve and crashed her vehicle into a tree, She was treated for minor injuries, and then...
---
(RRN) Michigan Tech U. Police Investigating On-Line Threat
Police are investigating a threat that was made on social media at Michigan Tech University on Thursday. MTU Public Safey says that the threat was made on a site called Yik Yak. The post threatens the lives of African Americans. Police say they are in communication with Yik Yak to try to find the person behind the message....
---
(RRN) Marquette Police Investigating Discovery Of Dead Body
An investigation is underway in Marquette after a man's body was found on the city's south side Wednesday afternoon. Local Three News reports that so far, police think the death was from natural causes. The discovery was made in a home on Division St. near Cal's Party Store about 2:30 Wednesday afternoon. Local Three quotes sources...
---
(RRN) Secretary of State Releases Presidential Primary List
The Michigan Secretary of State's office is out with its Presidential primary list. All of the names you'd expect are there--some 14 on the Republican side, plus three Democrats. State law requires the department to compile a list of candidates--quoting now--"generally advocated by the national news media." Republican and...
---
(RRN) Calumet, Republic Receive Money For Blight Removal
Some blighted homes in Calumet and Marquette County's Republic township will be coming down, thanks to a state grant. The Michigan State Housing Development Authority says just over 83-thousand dollars should allow demolition of between four and five structures. The idea, says the agency, is to improve the value of the surrounding homes...
---
(RRN) Deer Season Big for Economy; DNR Check Stations Open
Firearms deer season means big bucks for Michigan--and not just of the animal variety. The U-S Fish and Wildlife Service says hunting generates some two-point-three billion dollars in economic activity across the state, from food and lodging to hunting equipment. The D-N-R says Michigan ranks third among the states for the number...
---
(RRN) Governor Signs Bills To Regulate Mixed Martial Arts
Michigan residents who participate in amateur mixed martial arts events will have a safer environment to compete in, under two bills signed Thursday by Governor Rick Snyder. "Participation in amateur mixed martial arts has grown considerably in Michigan, and it's important to consider public health and safety so the participants know they are...
---
(RRN) Two Copper Country Companies Praised For Innovation
Two Copper Country companies were among ten finalists in the recent Accelerate Michigan Innovation competition in Detroit. Houghton-based Q-TEK makes an additive--when applied to most any surface--eliminates bacteria for the life of the product. Ahmeek-based Neuvokas makes a re-bar product for the construction...
---
(RRN) Veterans Day Activities Held In Marquette, Escanaba
The Upper Peninsula paused to honor its veterans Wednesday as Veterans Day events were held across the region. Amongst them: there was a recognition held on the campus of Bay College in Escanaba, as well as at the Jacobetti Home For Veterans in Marquette. Our media partners at Local Three News attended both of the events....
---
(RRN) Escanaba Public Safety Give Away 10,000 Pounds Of Food
A lot of folks showed up for the free food pantry Wednesday at Escanaba Public Safety. So many, say officers, that they had to start an hour early due to the big lineup of cars. Volunteers handed out over ten thousand pounds of food to some 288 families. The food was provided by the Feeding America West Michigan Food Bank. Organizers say...
---
(RRN) Shopko Stores To Open Doors On Thanksgiving Evening
Add Shopko to the list of stores open on Thanksgiving Day. The Green Bay-based retailer says it will be open non-stop from four Thanksgiving afternoon to eleven Friday night. The company says its "door buster" bargains will be available through noon on Friday. They also plan to have pre-Black Friday specials each Friday...
---
(RRN) Gale Warning In Effect Late Wednesday On Lake Michigan
Just a day after the 40th anniversary of the wreck of the Edmund Fitzgerald, the "gales of November" will buffet Lake Michigan Wednesday night. A gale warning has been issued for the entire lake until five Thursday morning. Then a gale watch kicks in from late Thursday through Friday afternoon. The National Weather Service says...
---
(RRN) Michigan Consolidating Its Statewide Veterans Services
As Michigan celebrates Veterans Month and the more than 660,000 veterans who served, new statewide radio and digital ads highlight how one simple call can connect them with federal, state and local benefits they've earned. The ads are part of a comprehensive advertising campaign launching Wednesday to coincide with Veterans Day...
---
(RRN) Thomas Theatres Complete Seating, Lighting Upgrades
It's going to be a lot more comfortable to watch a movie at Thomas Theatres' Escanaba and Quinnesec cinemas. The company says seating upgrades have been completed at both locations. The assigned V-I-P high back leather seats are available in two theatres at each location. The upgraded seating includes extra-large cup holders...
---
(RRN) Kohl's Makes Donation To Marquette Hospital Trauma Dep
Kohl's has made a big donation to the the trauma department at U-P Health System - Marquette. The retailer Tuesday announced the gift of 14-thousand-845 dollars from its Kohl's Cares program. The donation comes after the company hosted a ski and snowboard event last Saturday at Marquette Mountain. Since 2004...
---
(RRN) State Rep. Kivela Arrested On Drunk Driving Charges
State Representative John Kivela was arrested Monday night just outside Lansing on charges of Operating Under the Influenece. In a written statement to the media on Tuesday, Kivela appologized. "I am truly sorry to my wife, family, and constituents for letting them down," Kivela (D-Marquette) wrote. "I have battled with alcoholism for most...
---
(RRN) Escanaba Public Safety Handing Out Free Food Wednesday
The City of Escanaba Department of Public Safety, in conjunction with the community Foundation of Delta County, Bill Marmalick - Premier Real Estate, Crawford Funeral Homes, and JD Machine Tech, are teaming up with Feeding America West Michigan Food Bank to sponsor a mobile food pantry Wednesday. The mobile food pantry will be held...
---
(RRN) Engadine Woman Dies In Mackinac County Traffic Crash
A 58-year-old Engadine woman is dead after the car she was driving ran off the road and hit a tree Monday in Mackinac County. The sheriff says Marianne King was alone in her car when it crashed on Cut River Road in Hendricks Township just before noon. Investigators are still trying to determine the cause of the crash, but...
---
(RRN) Governor Snyder Signs Road Funding Package Into Law
Michiganders will have safer roads and stronger bridges to travel on, after Gov. Rick Snyder Tuesday signed a seven-bill package implementing the state's legislative solution to infrastructure funding. The governor signed the bills in a public ceremony at the Michigan Infrastructure and Transportation Association, where he was joined by Lt. Gov. Brian...
---
(RRN) Service Set For 40th Anniversary Of Fitzgerald Sinking
The maritime community on Tuesday will once again recognize the most famous of the Great Lakes shipwrecks: the Edmund Fitzgerald. The Great Lakes Shipwreck Historical Society is again planning a remembrance ceremony for Tuesday, the day that the iron ore carrier sank in a violent storm in Lake Superior, killing all 29 crew members...
---
(RRN) Tom Casperson Makes Congressional Campaign Official
Tom Casperson is running for Congress. The Escanaba Republican has been hinting of a run since incumbent Dan Benishek announced his retirement early this fall. On Monday, he made it official at an event at Escanaba's Roland Machinery. Casperson worked for his family's log-hauling company for 25...
---
(RRN) M-DOT Wants Reports On Winter Road Conditions In U.P.
How was your ride? The Michigan Department of Transportation wants to know. For the second year, the Road Watchers program will give motorists a chance to tell MDOT how well it's maintaining highways in the Upper Peninsula this winter. MDOT's Superior Region is now recruiting regular commuters willing to complete brief online surveys...
---
(RRN) Michigan State Police Collect Food In Dickinson, Iron
The Michigan State Police are participating in the statewide food drive known as Harvest Gathering, and the Iron Mountain post has turned in some big numbers. Troopers there say they collected 12-hundred-55 pounds on non-perishables over two weeks. The food will be distributed to needy folks in Iron and Dickinson counties, they say. Troopers...
---
(RRN) Michigan DNR Holding Bear Forum In St. Ignace Dec. 9
They'll be talking black bear management on December ninth in Saint Ignace. The D-N-R has scheduled a meeting for ten in the morning that day at Little Bear East Arena. The D-N-R Bear Forum will be on hand for the event. It includes 17 members, ranging from hunters to farmers and sportsmen club members. The meeting is open to the public...
---
(RRN) Local High School Students Get Financial Reality Check
High school students are getting a lesson on basic economics this week in Delta County. The "Financial Reality Fair" is being hosted by five local credit unions, through the Michigan Credit Union League's education program. Jennie Gylock at Peninsula Federal Credit Union says that kids need to learn how to manage money at an...
---
(RRN) Two People Arrested For Robbing Pharmacy In Cedarville
Two people are behind bars after an armed robbery in Mackinac County. Up North Live dot com reports it happened about two Saturday afternoon at Arfstrom's Pharmacy in Cedarville. The Mackinac County Sheriff says the robber pulled a weapon and demanded morphine, then left with an undisclosed amount of...
---
(RRN) Woman Killed After Fiery Car Crash In Western U.P.
A 48-year-old Laurium woman is dead following a fiery crash Sunday in the western U-P. State Police say the as-yet unidentified victim was pulled from her burning car by a nearby State Police trooper. She was taken to Aspirus Keweenaw Hospital, where she was pronounced dead. A dog that was rescued from....
---
(RRN) Hiawatha National Forest Selling Christmas Tree Tags
It won't be long before we start putting up our holiday decorations, and the Hiawatha National Forest says that if you're willing to work for it, you can get a fresh Christmas tree from the forest this holiday season. Starting Monday, you can get a "tree tag" for five dollars. Then, you can go out into the forest and find the tree that you'd like...
---
(RRN) Escanaba, Gladstone Holding Reorganization Meetings
There will be special meetings Monday night of the Gladstone City Commission, and of the Escanaba City Council. These are "re-organizational" meetings that are needed after last week's municipal elections. In Gladstone, two new members will be sworn in as commission members: Mike O'Connor and David Phalen. Jay Bostwick will likely be....
---
(RRN) City Of Escanaba Opposes 'Presumptive Parole' Bills
Delta County Prosecutor Phil Strom is continuing his campaign against the "presumptive parole" legislation that would see some prisoners released as soon as they have served their minimum sentences. Strom spoke at the recent Escanaba City Council meeting, urging the city to oppose the proposal. The council unanimously...
---
(RRN) Besse Foundation Donating $1 Million To Bay College
The Greg and Melissa Besse Foundation announced another large donation on Friday. The foundation is giving Bay College one million dollars to expand its math, science, and technology facilities. Bay College President Laura Coleman says the Math-Science building is an "original" building from when the college first opened decades...
---
(RRN) Lake Superior State Says Finances Are In Good Shape
Lake Superior State University's finances are strong, despite some challenges. That was the assessment given at Friday afternoon's L-S-S-U Board of Trustees meeting. President Tom Pleger says that tuition and fee revenue in the 2015-16 budget year will be lower than last year, but the university still has a strong fund balance....
---
(RRN) Northern Michigan University Gets Sexual Assault Grant
Northern Michigan University will receive $30,000 in funding from the Michigan State Police campus sexual assault grant program. First Lady Sue Snyder recently announced the awards that will be distributed to 22 Michigan colleges and universities. The grant program encourages new approaches designed to change the overall culture of sexual...
---
(RRN) Veterans Events Planned This Weekend In Manistique
With Veterans Day set for next week, there are two events this weekend in Manistique to honor our veterans. The Manistique Moose Lodge and the Disabled American Veterans will run a fundraiser on Saturday to raise money to buy a bariatric stand-in table for the Jacobetti Home For Veterans in Marquette. These tables are used in...
---
(RRN) Michigan NRC Sets Fishing Regulations For 3 UP Rivers
The Michigan Natural Resources Commission has set the fishing regulations for the 2016 seasons, and there are some changes here in the Upper Peninsula. Walleye regulations for the Ontonagon River have become more restrictive as only one walleye in the daily possession limit may be possessed greater than 25 inches. In Lake Gogebic...
---
(RRN) Benishek Upset At Obama Rejection Of Keystone Pipeline
President Barrack Obama on Friday rejected the Keystone XL pipeline, which would have brought crude oil from western Canada into the United States. The president said that bringing dirty oil from Canada into the U-S would not make us energy independent. Upper Peninsula Congressman Dan Benishek, a member of the House Committee...
---
More...