(RRN) Upper Peninsula Business Celebrated At Marquette Event
Operation Action U.P. held its annual meeting on Wednesday in Marquette. There was a discussion of the future of mining in the Upper Peninsula, and then the particpants heard an update on the success of Michigan Tech University's SmartZone. The rest of the day was all about celebrating the success of various U.P. businesses...
---
(RRN) Two Men Arrested For Shooting At Western U.P. Home
Two people have been arrested in connection with a shooting incident in the western U-P. Michigan State Police say they arrested 20-year-old Michael Gore of Ewen and 18-year-old Brandon Karianen of Bruce Crossing. The arrests some after an incident back on January 8th when a Ewen resident reported shotgun pellets hitting...
---
(RRN) Police: Food Delivery Vehicle Stolen In Iron Mountain
Someone stole a food delivery vehicle Tuesday night in Iron Mountain. Iron Mountain Police say the driver of the vehicle was making a delivery in the 500 Block of East Main Street at about 8:30 Tuesday night. When he came back outside, his vehicle was gone. It is a 2007 light blue Honda Civic, with Michigan license plate...
---
(RRN) Alleged 'Hit-and-Run' Driver Surrenders In Kingsford
The man who was allegedly involved in a hit-and-run accident this week in Kingsford has turned himself in to authorities. Kingsford Public Safety says the accident happened Monday night at the intersection of Maple and Hoadley Streets. Officers say the man was driving a red Pontiac Grand Prix when he hit another car...
---
(RRN) Complaints Of Pushy Door-to-Door Salesmen In Keweenaw
Michigan State Police say they've received numerous complaints from Copper Country residents about pushy door-to-door salesmen. Troopers say that the salespeople try to get residents to sign contracts for "essential services", and suggest that they are offering huge discounts. They are using high-pressure sales tactics...
---
(RRN) Benishek Comments On Federal Forest Snowmobile Rule
Upper Peninsula Congressman Dan Benishek wants to make sure that everyone understands where they can ride their snowmobiles in the federal forests, and where they can't. The U-S Forest Service published a final rule on Wednesday that means that the riding status in some areas of federal forest will be "reconsidered"....
---
(RRN) New Program To Offer Advice To Private Forest Owners
The Michigan DNR is teaming up with the US Agriculture Department's Natural Resources Conservation Service on a new program aimed at helping private forest landowners in Michigan. The program will see the DNR provide technical assistance to train 450 professional land managers across the state on ways to implement...
---
(RRN) Marquette City Police Warn of Credit/Debit Card Hacker
First it was counterfeit money, now it's credit card hacking that has Marquette Police concerned. Detective Mike Kohler says it appears that people are hacking into the card readers at local businesses, and then getting your account information. Then, the criminals use that account information to commit credit and debit card fraud...
---
(RRN) Operation Action U.P. To Hold Program Wednesday At NMU
Business leaders from across the Upper Peninsula are gathering in Marquette Wednesday for the annual Operation Action U-P meeting. Much of the morning session will feature a panel discussion on mining in the Upper Peninsula, with several industry experts discussing the future of mining on the region. Several other large businesses...
---
(RRN) Kingsford Public Safety Looks For Car In Hit-and-Run
Police in Kingsford are looking for a vehicle that was involved in a hit-and-run accident Monday night. Kingsford Public Safety says that a red, four-door, Pontiac Grand Prix hit another vehicle at the intersection of Maple and Hoadley Streets at about 7:00 Monday night…and then kept going. This vehicle was likely from the...
---
(RRN) Casperson To Hold Committee Hearing On Wolf Wednesday
The Michigan Senate Natural Resources Committee will hold a hearing Wednesday in response to a federal judge's ruling that put the grey wolf back on the federal endangered species list. Upper Peninsula State Senator Tom Casperson is the chairman of the committee. He says the state...
---
(RRN) Sen. Stabenow Fights Closure Of Kingsford Mail Center
Michigan Senator Debbie Stabenow has introduced an amendment that would stop the U-S Postal Service from closing the Kingsford Mail Processing Center for at least the next two years. The Kingsford facility handles and sorts the Upper Peninsula's mail and packages, but the Postal...
---
(RRN) Recall Petitions Filed Against Gladstone Commissioners
Recall petitions have been filed against three Gladstone City Commissioners. Local resident Tim DeClaire filed the petitions against Hugo Mattonen, Joe Maki, and Dave Nemecheck because they voted last year to raise the city's millage without having a public hearing. The city commission said that because the vote merely restored a previous...
---
(RRN) Marquette Police Report Increase In Counterfeit Money
Marquette Police are warning of funny money circulating in the area. Detective Mike Kohler says there have been reports of counterfeit cash being used at local businesses, with 20-dollar bills being the most common. There were also some phony five-dollar bills used as well. He says that local business owners…as well as...
---
(RRN) Ironwood-to-Detroit Hiking/Biking Trail Given Its Name
The hiking and biking trail that stretches from Ironwood to Detroit's Belle Isle Park now has a name. D-N-R Director Keith Creagh on Monday announced that this 900-mile-long trail will be known as "Michigan's Iron Belle Trail". The state put on a contest asking for name ideas, and almost nine....
---
(RRN) Pedestrian Dies In Schoolcraft County Traffic Accident
A pedestrian died in a traffic accident this weekend in Schoolcraft County. Michigan State Police say the accident happened Saturday afternoon on US-2 near Walters Road in Manistique Township. The pedestrian…51-year-old Leigh Peterson of Manistique…was hit by a vehicle driven by a 49-year-old man...
---
(RRN) Congressman Says Obama Has 'Lost Touch With Reality'
Upper Peninsula Congressman Dan Benishek says that President Obama has lost touch with reality. The Crystal Falls Republican says that the president's comments about the nation's improving economy shows that he does not know what's really heappening for most Americans."He says the economy is...
---
(RRN) Upper Peninsula Bats Dying From 'White-Nose' Syndrome
A fungus that has killed bats on the East Coast for many years has made its appearance here in the Upper Peninsula. The White-nose syndrome attacks bats as they hibernate during the winter. And the Michigan DNR says there is nothing that can be done to save the bats, or to...
---
(RRN) Hundreds Turn Out For 'Jig-It' Ice Fishing Fundraiser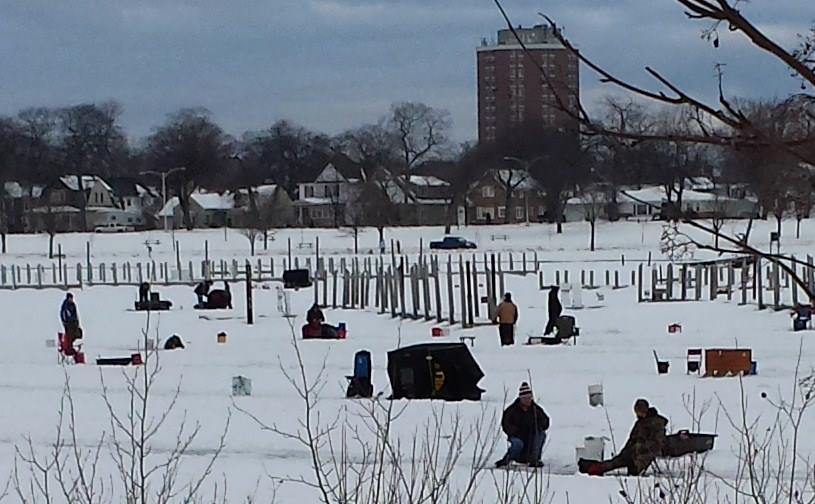 Hundreds of people turned out in Escanaba Saturday to do some ice fishing for a good cause. The ninth annual "Jig-It" Ice Fishing Tournament raised money for Big Brothers/Big Sisters of Delta County. People of all ages tried their luck by dipping their lines through the holes in the...
---
(RRN) Michigan State Police Honor Upper Peninsula Employee
The Michigan State Police handed out their annual awards on Friday in Lansing. A state trooper from Gaylord was given the Trooper of the Year award. A lieutenant from the downstate Bridgeport Forensic Science Lab got the agency's "Meritous Service Award". And Camela Yeck from the Sault Ste. Marie post was...
---
(RRN) Religious Freedom Bill Resubmitted To Mich. Lawmakers
A religious freedom bill that made it through the Michigan House last year, but didn't get to the governor's desk, is back this year. The "Religious Freedom Restoration Act" has been introduced in the Michigan Senate and sent to the Judiciary Committee. The legislation would allow individuals or businesses to seek exemptions...
---
(RRN) Ribbon-Cutting Held For New Delta Co. Animal Shelter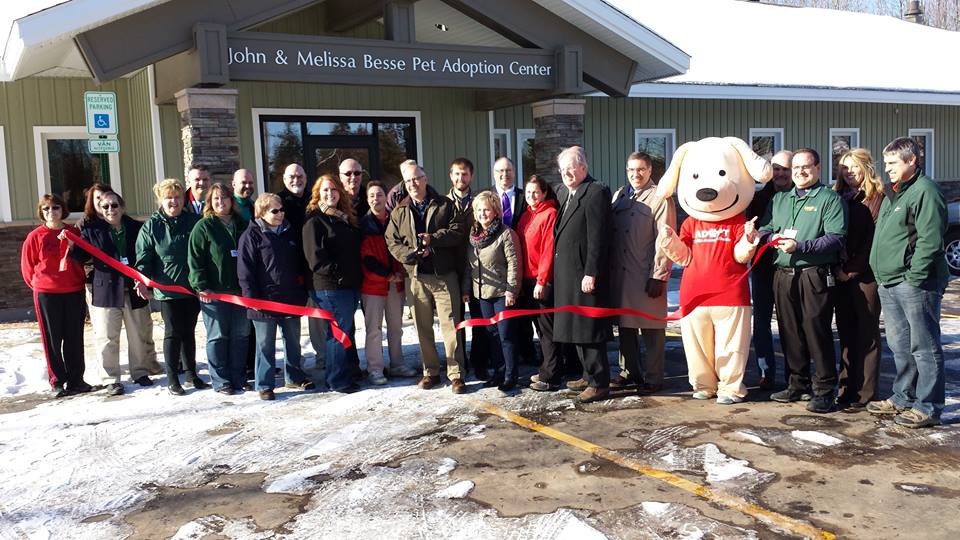 A ribbon-cutting ceremony was held Wednesday at the new home of the Delta Animal Shelter. The animals were transferred from the old animal shelter to the new one on January 13th, and staff are still in the process of getting everything organized in the new facility. The John...
---
(RRN) Benishek Meets With Leaders of National Veteran Groups
One day after announcing his "Veterans Action Initiative", Upper Peninsula Congressman Dan Benishek had a meeting in Washington Thursday with the leaders of the nation's largest veterans service organizations. Benishek says that the roundtable meeting went over many issues, including the quality and cost of care...
---
(RRN) Bay College Scholarships Available For Fall Semester
A new semester is under way at Bay College, and it's also time to think ahead to next fall's semester. That's especially true if you want some financial aid to help cover the costs. Bay College officials say that there are more than 250 scholarships available for the 2015 fall semester, and they come from a variety of sources. Students can...
---
(RRN) Hiawatha National Forest Says Road Users Need Permits
The Hiawatha National Forest says that "road use permits" are required for many activities on the roads within the forest's boundaries. Forest Supervisor Jo Reyer says that even though they have put out several news releases about the requirement, there's many people doing things without a permit. She says that if you...
---
(RRN) Upper Peninsula Teens In D.C. To Protest 'Roe v Wade'
Two busses full of Upper Peninsula Catholic teenagers are in the nation's capitol for a big rally. Lorene Zeno-Koskey with the Marquette Catholic Diocese says these teenagers are from various U.P. youth ministries, and they are in Washington to protest Thursday's 42nd anniversary of the Supreme Court's Roe versus Wade...
---
(RRN) Michigan Jobless Rate Drops To Lowest Level Since 2002
Michigan's unemployment rate fell by four-tenths of a percentage point in December, settling at 6.3 percent. State officials say that jobless rate is the lowest for Michigan in more than twelve years…in November of 2002. Governor Rick Snyder says that the continued drop in the jobless rate is good news, and shows that the economy...
---
(RRN) U.P. Congressman Announces Veterans Action Initiative
Upper Peninsula Congressman Dan Benishek on Wednesday announced a new "Veterans Action Initiative". Benishek says he will be visiting more veterans service groups across the First Congressional District, and will expand his Veterans Advisory Council, which already has about 30 members from across northern Michigan. He says that...
---
(RRN) Lake States Lumber Association Upset At Snyder Veto
The Lake States Lumber Association is outraged at Governor Rick Snyder's recent veto of Senate Bill 78, which would have put limits on the Michigan DNR's ability to designate forest land as "Living Legacy Areas". The bill was sponsored by Upper Peninsula state senator Tom Casperson as a way to have legislative oversight when...
---
(RRN) Governor Snyder Delivers Fifth State Of State Address
Michigan Governor Rick Snyder delivered his fifth State of the State message to a joint session of the state legislature Tuesday night. In it, he called on lawmakers of both parties to come together to move Michigan foward. Snyder talkd about his intention to merge the Michigan Department of Human Services with the Michigan Department...
---
(RRN) Bay College President Supports Obama Free Tuition Plan
President Obama used a part of his State of the Union speech Tuesday night to promote a plan that would offer free community college tuition to everyone in America. He called it "America's College Promise", and if students keep at least a 2.5 grade point average and make progress toward a degree or certificate, tuition is free. In Escanaba, Bay deNoc...
---
(RRN) Equipment Fixed:Flights Resume At Delta County Airport
After a frustrating three days with no flights into and out of the Delta County Airport, air travel is again flowing freely at the Escanaba facility. The Airport Weather Observation System went down early Sunday morning, and the Federal Aviation Administration wasn't able to come fix the problem until Tuesday. Airport Manager Kelly Smith says....
---
(RRN) Gwinn Teen Charged With Having Nude Photos, Extortion
A Marquette County teenager has been arrested on charges of extortion and possession of child sexually abusive material. Eighteen year old Phillip Michael-Markee Robinson was arrested by the Forsyth Township Police Department Tuesday after an investigation into Robinson allegedly possessing nude photos of local...
---
(RRN) Weather Equipment Failure Grounds Flights In Escanaba
There have been no flights in or out of the Delta County Airport since Saturday because of a malfunction of the Federal Aviation Administration's automated weather equipment that monitors conditions there. Delta County Airport Manager Kelly Smith says that with the equipment not working, Delta Airlines was forced to cancel all...
---
(RRN) Alger-Delta Co-Op Begins Project To Improve Service
The Alger-Delta Co-op plans to upgrade its power lines along US-41 between Rapid River and Trenary. The co-op says that the power line improvement project will begin this month and should be done by November. It will involve tree and right-of-way clearing, setting new poles, replacing existing poles, and installing...
---
(RRN) Preparations Under Way For 30th 'Fun Run' Celebration
Preparations are under way for the Krusin Klassics Car Club's "Fun Run" event, set for May 29th and 30th in Escanaba. They are starting their promotions early this year because this event will be the 30th anniversary of Fun Run. Organizer Mike Daniels is putting out the call now for people who may have never been a part of...
---
(RRN) Upper Peninsula Vets Receiving 'Veterans Choice Cards'
Upper Peninsula veterans are receiving their "Veterans Choice Cards" in the mail this week. Brad Nelson…the public affairs officer at the Iron Mountain VA Medical Center…explains that these cards are a part of a new program that will give veterans greater access to health care services. This program was launched last year as Congress...
---
(RRN) Marquette County Man Dies In Sunday Morning Accident
A Marquette County man died in a traffic crash this weekend in Baraga County. Michigan State Police say the accident happened at about 3:30 Sunday morning on US-41 near Kings Lake Road in Covington Township. Troopers say a passerby saw the pick-up truck in a ditch along the highway…and when crews got there, they...
---
(RRN) Officers Spend Saturday On Alger, Schoolcraft Trails
Several law enforcement departments got together on Saturday to launch an effort to reduce snowmobile accidents in Schoolcraft and Alger Counties. Nine officers from the Michigan State Police, Michigan DNR, and the Schoolcraft and Luce County Sheriffs Departments had extra patrols on Saturday in the Seney and Shingleton areas. Officers...
---
(RRN) Two Big Lottery Jackpots Claimed; Powerball Rolls Over
Two of Michigan's big lotto jackpots were claimed over the weekend, while the other got bigger for this week's drawing. One ticket matched all of the numbers in Friday night's Mega Millions drawing, and it is worth 270-million dollars. That winning ticket was sold in Illinois. Those numbers were 26, 32, 44, 45, and 58. With the Mega Ball...
---
(RRN) Alger County Sheriff Warns Of Poor Ice On Grand Island
The Alger County Sheriff's Department is warning of unsafe ice conditions in the Grand Island area. Deputies say that local residents have reported thin ice, and a shifting of the whirlpool, in the west channel area. Use extreme caution when snowmobiling, fishing, or doing anything else on the ice in those areas. The...
---
(RRN) Minnesota Congressman Wants Appeal Of Grey Wolf Ruling
A Minnesota Congressman is urging the U-S Interior Department to appeal a federal court ruling that put the gray wolf back on the Endangered Species List, which ended wolf hunts in the Upper Peninsula, Wisconsin, and Minnesota. Congressman Collin Peterson says that in northeastern Minnesota, the deer population is...
---
(RRN) Snyder Vetoes Legislation Dealing With E-Cigarettes
Governor Rick Snyder on Friday vetoed three bills relating to electronic cigarettes, saying the measures do not go far enough to regulate the devices, which pose significant health risks. House Bill 4997, Senate Bills 667 and 668 would have excluded alternative nicotine products including e-cigarettes from the definition of tobacco products...
---
(RRN) Escanaba Elementary School Briefly Placed On Lockdown
Escanaba's Webster Elementary School was in lockdown for a time Friday morning. Authorities say a student saw someone with a gun driving by the school…so they locked it down as precaution. Escanaba Public Safety was called, but the situation was soon cleared up and it was back to normal for Webster students...
---
(RRN) Escanaba Man Drowns After Crashing Through Ice On Bay
A 66-year-old Escanaba man has drowned after apparently going through the ice in the bay off Escanaba. David Breault's body was pulled from the icy waters of Little Bay de Noc Friday morning. The sheriff says an ice fisherman noticed a collapsed ice shack at about 8:45 Friday morning. He then noticed that a for-wheeler had broken...
---
(RRN) City of Escanaba Moving Closer To Closing Power Plant
The City of Escanaba is moving one step closer to closing its decades-old power plant. The City Council voted Wednesday night to ask energy regulators to "retire" the plant this summer, when the current System Support Resource contract expires. Escanaba Mayor Marc Tall says that this action also ends an arrangement the city had with...
---
(RRN) Sen. Casperson Unhappy With Governor Veto Of Land Bill
Governor Rick Snyder vetoed Senate Bill 78 on Thursday, which would have put more controls on how the Michigan DNR determines which forest lands need to be protected for biodiversity reasons. The bill was sponsored by Upper Peninsula State Senator Tom Casperson (R-Escanaba). Casperson says he pushed the bill in...
---
(RRN) Snyder Vetoes Gun, Drone Bills; Signs 36 Other Bills
Governor Rick Snyder has vetoed legislation that would have changed the state's process for concealed pistol licenses. The legislation sponsored by Senator Mike Green would have eliminated the 83 county gun boards and had the Michigan State Police take over the issuing of concealed weapons permits. The county clerks would have...
---
(RRN) Mackinac Bridge Makes Upgrades To Accept Credit Cards
You'll soon be able to use a credit card to pay your toll at the Mackinac Bridge. The Mackinac Bridge Authority says it is upgrading its software at the toll booths, and credit cards will be accepted by mid-May. The Bridge's Executive Secretary, Bob Sweeney, says that credit cards are accepted at the bridge now, but only in the administration...
---
(RRN) Elderly Manistique Woman Hurt In Traffic Crash On US-2
A Manistique woman was airlifted to Marquette General Hospital Wednesday night after a traffic accident in Gulliver. Schoolcraft County Sheriffs Deputies say the accident happened at 7:30 Wednesday night on US-2 at the intersection of County Road 432. A west-bound semi truck was stopped and waiting to turn when a 65-year-old Manistique...
---
(RRN) Cloverland Says Governor's Electric Deal Does Not Help
While most Upper Peninsula utilities were pleased with Tuesday's announcement that large electric rate hikes may not be coming after all, the Cloverland Electric Co-op was not one of them. The co-op covers five counties…from eastern Delta County all the way to the Mackinac Bridge and Sault Ste. Marie. Cloverland C-E-O Dan Dasho said on...
---
(RRN) Upper Peninsula Delegation Sworn In At State Capitol
Wednesday was the official start of the new legislative session in Lansing. State lawmakers were sworn in, committee assignments were discussed, and new members learned about what procedures are used in the Legislature. The newest member of the U-P delegation took his seat for the first time..
---
(RRN) Six DNR Department Heads Oppose Mackinac Mine Project
Six D-N-R department heads are opposing a proposal to build a limestone mine in Mackinac County. The Canadian company Graymont wants to buy the mining rights for about 10-thousand acres of state-owned land near the town of Rexton. The company sent another revised application to the D-N-R, but six top staff members signed...
---
(RRN) American Legion U.P. Conference Friday In Gladstone
Legionaires from across the Upper Peninsula will be in Gladstone this weekend for the Mid-Winter Conference of the U-P Association of American Legion Posts. It's a chance for people to gather to talk about issues that are important to veterans. Registration starts at noon on Friday, and Post 71 will host a dinner...
---
(RRN) UP Deer Habitat Workgroup Reconvenes With New Mission
The Michigan D-N-R says that its Upper Peninsula Habitat Workgroup has been re-formed and has a mission focused on conserving the U-P's winter deer habitat. It is chaired by Michigan Natural Resources Commission member J-R Richardson of Ontonagon, and by retired D-N-R wildlife biologist Jim Hammill of Crystal Falls. The group...
---
(RRN) Marinette County Sheriff Releases Name Of Fire Victim
Authorities in Marinette County have released the names of the people involved in a fatal trailer fire that happened Monday night in the Town of Dunbar. The little girl who died in the fire has been identified as eight year-old Emilee Gill. The father, 38-year-old Mark Gill, was treated for burns and smoke inhalation at a Marinette hospital...
---
(RRN) Progress Made In Upper Peninsula Electricity Crisis
Those huge price increases for electricity in the Upper Peninsula may not happen after all. Governor Rick Snyder Tuesday announced a complex arrangement that will see a new natural-gas fired power plant built in Marquette County, and there will be a large expansion of the Upper Peninsula Power Company. Cliffs Natural Resources has...
---
(RRN) Young Girl Dies In Marinettte County Trailer Fire
A seven-year-old girl died in a house fire late Monday night in Marinette County Wisconsin. Sheriffs Deputies say the fire happened at about 11:30 Monday night in a trailer on Lilly Lake Road in the Town of Dunbar, That's in the northern part of Marinette County. A man and his nine-year-old son got out OK, but the young...
---
(RRN) Elderly Woman Dies In Sault Ste. Marie House Fire
An elderly woman was found dead late Monday after a house fire in Sault Ste. Marie. Soo fire officials say the blaze was at 326 Water Street, and crews had to battle fire and heavy smoke to look for the woman. They found her and got her to an ambulance, but the woman was pronounced dead at the scene. The home...
---
(RRN) Michigan Reaches Milestone For Organ, Tissue Donations
Organ donation in Michigan has hit an historic milestone with nearly half of all adults in the state now registered as organ donors. Secretary of State Ruth Johnson says one-point-eight million people signed up to give the gift of life in the past four years. Four years ago, Johnson says, only 27-percent of eligible adults had...
---
(RRN) Iron Mountain Man Charged With 2nd Degree Child Abuse
An Iron Mountain man has been arrested on child abuse charges. Police say they arrested 27-year-old Ryan Barr after a lengthy investigation into an incident that allegedly happened back on August 31st. Barr has been charged with second degree child abuse, and with child abuse in the presence of another child. Both are...
---
(RRN) Snyder Signs Road-Funding Bills; Tax Vote Looms In May
Governor Rick Snyder signed legislation on Monday that is part of an effort to change the way roads are funded in Michigan. He signed House Bill 4539, which was sponsored by former state representative and current Eastern U-P state senator Wayne Schmidt. It removes the state gasoline...
---
(RRN) MDOT Leader: Upper Peninsula Roads Need More Resources
As the governor signed road-funding legislation Monday in Lansing, some people were wondering why the state can't maintain the roads with the money that is already being paid at the pump. So, we asked Randy Van Portfliet, the man in charge of M-DOT's Superior Region, which covers all 15 Upper Peninsula counties. VanPortfliet says that...
---
(RRN) Man Arrested After Alcohol-Related Crash In Marquette
A 36-year-old Gwinn man has been arrested on drunk driving charges after an accident Monday morning in Marquette. Marquette Police say the accident happened about 9:30 Monday morning on South McClellan Avenue near Harbor Hills Drive. The man was driving southbound when he lost control of his car and slid into the oncoming lane...
---
(RRN) Changes For Cloverland Co-Op Customers Won't Cost More
Customers of the Cloverland Electric Co-op will see a couple of changes to their electric bills this month, but the changes will not increase their utility rates. According to co-op C-E-O Dave Dasho, there will be a slight decrease in the "energy charge" portion of the bill, but there will also be a slight increase in the "facility charge". The...
---
(RRN) DNR Citizen Committee Meets Monday; New Chair For NRC
One of the two citizen's councils that gives advice to the Michigan DNR on Upper Peninsula outdoors issues will meet Monday evening in Baraga. The Western Upper Peninsula Citizens Advisory Council will discuss the status of wolves in Michigan, given the recent court ruling that put the animal back on the federal endangered species list...
---
(RRN) Young Girl Hurt When SUV Rear-Ends Semi Near Big Bay
A 13-year-old girl was airlifted to the University of Michigan Hospital Thursday night after an accident in Marquette County that involved an S-U-V and a semi truck. Marquette County Sheriffs Deputies say trhe accident happened at 9:45 Thursday night on County Road 550 in Powell Township, north of Marquette. Deputies say that...
---
(RRN) Escanaba Ice Rinks Open; Rapid River Ski Trails Poor
Conditions are not the best for cross-country skiing at the Rapid River National Cross Country Ski Trail this weekend. The Hiawatha National Forest says that the A, B, and C "classic loops" are in fair condition, and the D loop is closed. Both the S-1 and S-2 skating loops are in poor condition, with soft areas and others...
---
(RRN) Make Plans Now: Portage Lift Bridge Will Close Jan. 17
Make your plans now. That's what the state transportation department is saying about the upcoming closure of the Portage Lift Bridge, which connects Houghton and Hancock. It will be completely shut down for ten hours next Saturday night and Sunday morning…the 17th and 18th. M-DOT spokesman Dan Weingarten says that...
---
(RRN) U.P. Winter Shouldn't Cause Massive Damage This Time
With bitterly cold conditions persisting across the Upper Peninsula, are we in for another winter of broken water pipes and "let run" orders? Teresa Schwalbach is the Emergency Management Coordinator for Marquette County, which had severe infrastructure problems last winter. She says there will not be a repeat of last year because snow...
---
(RRN) Iron Mountain Man Wins Big Prize On Michigan Lottery
An Iron Mountain man hit it big when he bought a few lottery tickets. Gary "Cudder" Anderson won 250-thousand dollars on the in the Michigan Lottery's 50 Times The Cash instant game. He bought the winning ticket at the B-P gas station on US-2 in Quinnesec on Wednesday. Anderson...
---
(RRN) Family Survives Horrible Experience On Interstate 75
A family of four somehow escaped without any major injuries after their minivan was dragged for 16 miles by a semi on Interstate 75 in northern lower Michigan. Matt Menz says he rear-ended the big rig Wednesday morning during a white-out in Roscommon County because he couldn't see that the truck had slowed down. He and...
---
(RRN) Feds Approve Grant To Protect Lake Superior Habitat
The state and federal governments have announced a plan to protect wildlife habitats in Baraga County. The U-S Fish and Wildlife Service has announced a one million dollar grant to buy more than 13-hundred acres of coastal wetlands along Lake Superior in he Abbaye Peninsula and along Huron Bay. The money will go to the...
---
(RRN) Escanaba City Council Votes To Condemn Old Building
The Escanaba City Council voted unanimously Wednesday night to condemn a decades-old downtown building that has fallen into disrepair. The vote to tear down the 24-thousand square foot building at 630 First Avenue South came after a public hearing in which the building's owner, Todd Caron...
---
(RRN) Escanaba Paper Mill Officially Becomes Part Of Verso
Escanaba's New Page paper mill is now a part of the Verso Corporation. The transaction officially closed on Wednesday. Jackie Pride is the Public Relations and Communications Manager at the Escanaba mill. She says there are currently no plans to close any mills, or to have any job cuts in the...
---
(RRN) Hiawatha National Forest Postpones Trails Day Event
The Hiawatha National Forest has cancelled this Saturday's "Winter Trails Day" event in Rapid River. It is being rescheduled for Saturday, January 24th, at the Rapid River National Cross Country Ski Trail. The event is being moved because of a lack of snow on the trail, plus, temperatures are expected to be extremely low. The Winter...
---
(RRN) 1-0-1-1: Thousands Win On Michigan Lottery Daily Four
If you played the Michigan Lottery's Daily Four game Tuesday night, and used the numbers 1-0-0-1, you were a winner. And you're not alone. The Michigan Lottery says that about 85-hundred people bought tickets across the state with those numbers. Depending on how they wagered, they won between 275 and 5-thousand dollars...
---
(RRN) Blood Supplies Draw Short Again Across Upper Peninsula
The Upper Peninsula Regional Blood Center says it is very short on the supplies of three blood types: B-Positive, A-Negative, and O-Negative. The Marquette facility supplies blood to 13 Upper Peninsula hospitals. If you are healthy and haven't donated in the past eight weeks, then you are eligible to "give the gift of life". You can make an appointment...
---
(RRN) Iron Mountain Police Post Celebrates Successes Of 2014
The commander of the Iron Mountain State Police post is calling 20-14 a successful year. Amongst the accomplishments: 94 fugitives apprehended, more than a hundred drug arrests and investigations, and 101 drunk driving arrests. Lieutenant Christine Grabowski says that troopers did a traffic safety initiative where...
---
(RRN) OSF Says Rehab Center Is Popular; More Upgrades Coming
2014 was a big year for Delta County residents who need physical therapy and don't want to travel long distances. The John and Melissa Besse Physical Rehabilitation and Wellness Center opened at Escanaba's OSF Saint Francis Hospital, and spokeswoman Lanna Scannel says that it has provided services that...
---
(RRN) Escanaba City Council To Hold Condemnation Hearing
A condemnation hearing will be held Wednesday night as part of the regular Escanaba City Council meeting. The city is looking to tear down a 24-thousand square foot building at 630 First Avenue South, calling it "unsafe, a public nuisance, and unfit for human occupancy". Escanaba Mayor Marc Tall says that....
---
(RRN) Rep, Benishek Sworn In To New Term In U.S. Congress
Dan Benishek was sworn in to a third term in Congress on Tuesday. The physician from Iron Mountain says that he is humbled and honored to represent the Upper Peninsula and northern lower Peninsula in the 114th Congress. He was given the oath of office by House Speaker John Boehner during a ceremonial "swearing-in" on the House...
---
(RRN) UPDATE: Elderly Escanaba Man Dies In Traffic Accident
Police in Escanaba have released more information about a weekend traffic crash that killed one person and sent another to the hospital. The Escanaba Public Safety Department says the accident happened at about 4:00 Sunday afternoon in the One Thousand Block of North 30th Street. That's when Rebecca Dabney lost control...
---
(RRN) Small Plane Crashes After Wind Gust At Sawyer Airport
A small plane crashed Monday at Sawyer International Airport. Local Three News reports that the Cesna 172 plane was taking off at about 3:30 in the afternoon when a wind gust hit the plane. It ended up flipping sideways and landed into a large snowbank. The pilot was the only person aboard, and he was not hurt. The...
---
(RRN) Iron Mountain Man Pleads Guilty To Running Meth Lab
An Iron Mountain man has pled guilty to drugs charges. Local Three News reports that 34-year-old Charles Slaton was in court Monday and admitted to operating and maintaining a meth lab at 703 West "B" Street. He pled to a second charge of having that meth lab in the presence of a child, and he pled guilty to first...
---
(RRN) Negaunee Teen Accused Of Stabbing Woman While Drinking
A 15-year-old girl was taken into custody in Negaunee Sunday night after she allegedly stabbed a 42-year-old woman after an argument. Negaunee Police say the call came in at 11:00 Sunday night in the 300 block of West Clark Street. Officers say everyone inside the home was drinking at the time, and an argument...
---
(RRN) Some Upset With Michigan's "No-Fault" Auto Insurance
Consumer groups are taking their case to the Michigan Supreme Court in their push for greater transparency from the state's Catastrophic Claims Association fund. This is the fund that assesses drivers 186-dollars per vehicle as part of the no-fault insurance system. The fund, which has more than 17-billion dollars in it, uses the money...
---
(RRN) Snyder Says U.P. Power Crisis Is Top Priority In 2015
Governor Rick Snyder says that he's working to make sure Upper Peninsula electric customers don't get socked with huge rate increases this year. Those increases are possible in the wake of a federal ruling that would require all U-P utilities to pay millions of dollars every year to keep Marquette's Presque Isle Power Plant running. Snyder says...
---
(RRN) Three People Rescued Off Little Bay deNoc In Gladstone
Three people had to be rescued from the ice of Little Bay deNoc over the weekend. Gladstone Public Safety was called to the bay off of Saunders Point at about 7:00 Saturday night as two people on A-T-V's broke through the ice and a third was stranded on the ice. Officers used their hovercraft to get the two who were in the frigid...
---
(RRN) Coast Guard Starts Lake Superior Icebreaking Operation
Icebreaking operations have begun in Lake Superior. The U-S Coast Guard began "Operation Taconite" on Friday. So far, the cutter Katmai Bay has been put into service on the St. Mary's River in Sault Ste. Marie, and the cutter Alder is breaking ice near Superior Wisconsin and Duluth Minnesota. As temperatures drop and more ice...
---
(RRN) Justice Department Approves Verso Purchase Of New Page
The proposed purchase of the New Page Paper Company by Verso Paper has crossed another hurdle. The U-S Justice Department late last week announced a settlement was reached to allow the transaction to go forward. Under the settlement, New Page will unload its mills in Biron, Wisconsin, and Rumford, Maine to settle antitrust...
---
(RRN) Snyder Signs Detroit Bills Sponsored By U.P. Lawmakers
Governor Rick Snyder on Friday signed legislation aimed at helping the City of Detroit;s economy…bills that were sponsored by two Upper Peninsula lawmakers. Senate Bill 398 and House Bill 4783 allow the Michigan Strategic Fund to set up a "Next Michigan Development Corporation" in Detroit. That legislation…sponsored by...
---
(RRN) Man Arraigned In Marquette New Years Stabbing Incident
A 26 year old man is behind bars after he allegedly stabbed another man in downtown Marquette just a few minutes into the New Year. Casey Brian Kallio, of Ewen, MI, was arraigned in Marquette County District Court Friday. Local Three News reports that Kallio is being charged with a felony, assault with intent to do great...
---
(RRN) High Levels Of Diabetes Drug Found In Lake Michigan
The diabetes drug metformin is the most common medication in the waters of Lake Michigan, according to researchers at the University of Wisconsin-Milwaukee. Scientists at the School of Freshwater Sciences note the drug can be found in the water two miles offshore. Professor Rebecca Klaper says that they were...
---
(RRN) St. Francis Hospital Gets Help From Women, Auxiliary
Every hospital makes its money on being paid for the services that it provides to its patients. But sometimes, hospitals need a little extra help. At Escanaba's St. Francis Hospital, the O-S-F Auxiliary has donated tens of thousands of dollars over the years to help with the purchase of new equipment. Hospital Spokeswoman Lanna Scannell says...
---
(RRN) Arnold Mackinac Island Ferry Gets Stuck In Straits Ice
It took an extra 90 minutes for some people to reach Mackinac Wednesday after a ferry got stuck in the icy waters of Lake Huron. The Arnold Mackinac Island Ferry vessel managed to break free from the one-foot thick ice on its own after an hour, because the U.S. Coast Guard did not have any cutters in the Straits area....
---
(RRN) Northern Wisconsin Man Missing Since August In Alaska
Alaska State Troopers are trying to find a 72-year-old northern Wisconsin man who has been missing since August. Roger Yeager of Eagle River was in Wasilla, Alaska, the last time any of his family heard from him on August 8th, when he told them that he was planning to travel around Alaska and would update them...
---
(RRN) Escanaba Braves Cold To Welcome 2015 With Fireworks
It was a very cold, breezy night in Escanaba last night, but the community still rang in 2015 with its fireworks display and Pasty Drop. Escanaba Mayor Marc Tall watched the fireworks from the top of the Ludington Post Suites. "I'm just now beginning to thaw out, but it was beautiful," Tall said...
---
(RRN) Feds Say Monarch Butterfly Faces Possible Extinction
The Monarch Butterfly may be fluttering toward extinction. Scientists say North America's population of the colorful, migrating butterflies dropped by 90 percent in the past two decades. Experts think pesticides may be partly to blame. The U.S. Fish and Wildlife Service announced this week that it's launching a scientific...
---
(RRN) Lake Superior State University List Of Banned Words
Lake Superior University is adding to its list of useless, overused and annoying phrases it wants stricken from America's collective vocabulary in the New Year. Bae was one of the top nominees for 2015's "List of Words Banished From the Queen's English." The term stands for "before anyone else" and has become an annoyingly silly...
---
More...