(RRN) Five Will Appear On Gladstone Recall Ballot On May 5th
Five people will appear on the May 5th ballot in Gladstone, where three members of the city commission are being targeted for a recall. The filing deadline passed on Thursday for people interested in running in the special election. The three targeted men: Hugo Mattonen, Joe Maki, and Dave Nemecheck automatically appear on...
---
(RRN) Escanaba's Basic Marine Fined $243K For Safety Issues
Escanaba's Basic Marine Shipyard has been fined 243-thousand dollars for 18 safety violations. Scott Allen at the federal Occupational Safety and Health Administration says that the company has a repeated poor safety record, and does not care about the safety of workers. The OSHA Region Five office in Chicago conducted the...
---
(RRN) Man Arrested For Leading Troopers On High-Speed Chase
The man who allegedly led Michigan State Police troopers on a high speed chase Wednesday night was arraigned Thursday in Marquette County District Court. Troopers say that 44-year-old Craig Silta of Trenary was driving on US-41 in Skandia at about 8:40 Wednesday night when officers tried to pull him over for speeding. They...
---
(RRN) State Announces New Grants To Battle Invasive Species
The Michigan D-N-R on Thursday announced four million dollars in grants for projects to battle invasive species across the state. And many of the 20 projects are here in the Upper Peninsula. The Delta Conservation District was awarded 235-thousand dollars to fight phragmites in the county. The U-P Resources Conservation and...
---
(RRN) McBroom Presses M-DOT During House Committee Hearing
Upper Peninsula state representative Ed McBroon chaired a committee hearing Wednesday that asked Michigan Department of Transportation officials some tough questions about how road funds are being spent. McBroom questioned M-DOT about recent audits dealing with the agency's oversight of warranty work on Michigan's roads...
---
(RRN) Police Ask For Public Help In Kingsford Store Break-In
Someone broke into a Kingsford business on Wednesday. Kingsford Public Safety says it was called Wednesday morning to Teck Solutions on Pyle Drive after someone broke a window, went into the building, and stole various items. Michigan State Police forensic officers spent the day collecting evidence, and...
---
(RRN) Minnesota Man Hurt In Marquette Cnty Snowmobile Crash
A Minnesota man was hurt in a snowmobile crash Wednesday night. Michigan State Police say that 46-year-old Kent Holtz of Becker, Minnesota was traveling down Trail Number Eight near County Road 496 in Diorite, west of Ishpeming. He lost control, drove off the trail, and crashed into a tree. He told police the...
---
(RRN) UPPCO Begins Lowering Water Levels In Dead River Basin
The Upper Peninsula Power Company has begun lowering the water levels at its hydroelectric reservoir on the Dead River system in Marquette County. UPPCO's regional generation supervisor, Robert Meyers, says they're gradually lowering the water levels between now and April 1st to get ready for rain and melting...
---
(RRN) Gladstone Recall Election Filing Deadline Is Thursday
Thursday is the last day to file petitions for people interested in running for the Gladstone City Commission. A recall election is set for May 5th for Commissioners Hugo Mattonen, Joe Maki, and Dave Nemecheck. But Gladstone residents will not vote "yes" or "no" on the actual recall. They will either vote for the men, or they will vote...
---
(RRN) State Strategic Fund Approves New Marquette Hospital
The Michigan Economic Development Corporation says that its Michigan Strategic Fund Board has approved two community revitalization projects in downtown Marquette, including a new hospital that will be built downtown. The projects will generate a total capital investment of at least $190 million and create 169 new jobs...
---
(RRN) Coast Guard Delays Lake Michigan Ice-Breaking Plans
There's been a delay in the Coast Guard ice chopping operation on Lake Michigan. The Coast Guard says the Arthur M Anderson won't arrive until Saturday, thanks to the heavy ice that has formed on the Great Lakes. The vessel will enter the ship canal from Lake Michigan on its way to the Bay Ship Building in...
---
(RRN) Three U.P. Health Departments Awarded State Grants
The Michigan Department of Community Health announced grants to seven local health departments to help reduce obesity and other chronic diseases at the local level. The 292-thousand dollars in grants come from the "Building Healthy Communities" program, which is a three-year strategic plan to improve the...
---
(RRN) Regional Blood Center Appeals For Immediate Donations
The folks at the U-P Regional Blood Center say they need blood donations, and they need the donations quickly. The Blood Center is in immediate need of O-Negative and A-Negative blood donations. You can donate if you are healthy and have not donated in the last eight weeks. To set up an appointment, call 786-8420 in Escanaba, and...
---
(RRN) Michigan Lawmakers Give Support To Marquette Road 595
The Michigan House on Tuesday passed legislation that throws the state's support behind the proposed Marquette County Road 595. This is the road that would be built mostly on current logging roads in northern Marquette County that would allow the large trucks carrying materials from the Eagle Mine in Big Bay to bypass the cities of ...
---
(RRN) Bay College Can Use State Grant To Buy New Equipment
Bay College will be able to buy new equipment to help with its various skilled trades programs thanks to a state grant announced Tuesday by Governor Rick Snyder. Under the "Community College Skilled Trades Equipment Program", 18 community colleges will share in some 50-million dollars. Bay College's grant is roughly $749,000, and...
---
(RRN) M-DOT Warns That Traffic Barricades Must Be Obeyed
The state transportation department says that it's aware of people going around the barricades when M-28 and other roads have been closed this winter. M-DOT spokesman Dan Weingarten says that roads are closed only when absolutely necessary and people need to obey the closures. He says you can get a ticket, and can be risking...
---
(RRN) Lake Superior State Gets Support For New Fish Facility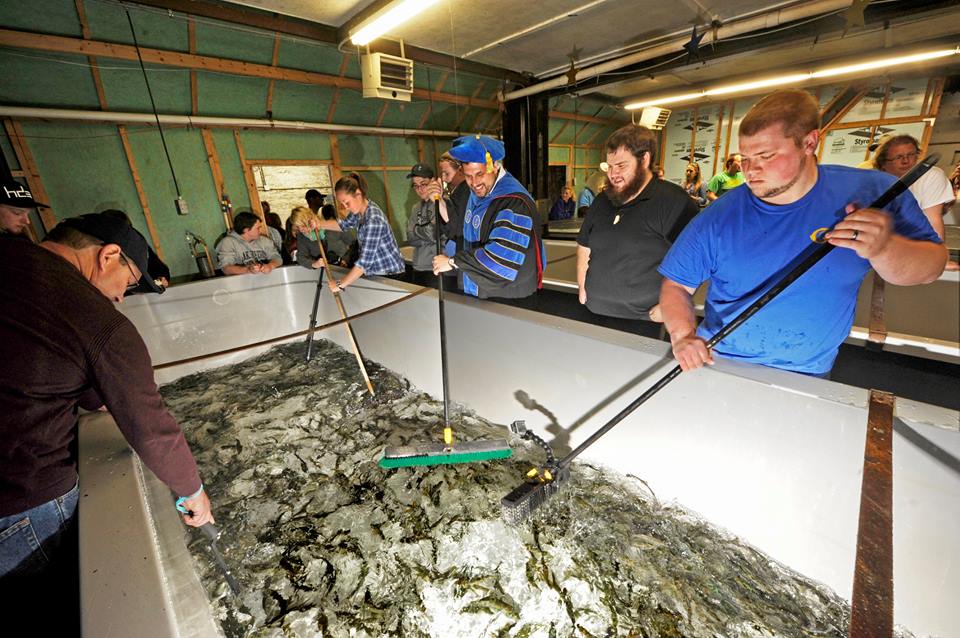 Lake Superior State University is looking at a major expansion of its Aquatic Research Laboratory, which has been helping efforts to restock our fishery since 1977. Governor Rick Snyder has included money in his budget to build a Center for Freshwater Research and Education, to...
---
(RRN) Mackinac Bridge Re-Opens After Whiteouts, Accidents
The Mackinac Bridge was closed for several hours Tuesday because of whiteout conditions and a major traffic accident. M-DOT spokesman Dan Weingarten says the bridge re-opened at 2:15 Tuesday afternoon. He says the conditions were a "virtual whiteout" with heavy snow along with 20-to-30 mile-per hour wind gusts. And there was a multi-vehicle...
---
(RRN) Two Semi Trucks Collide On US-2 Near Garden Corners
Two semi trucks…one of them filled with 40-thousand pounds of dynamite…collided on US-2 in eastern Delta County Tuesday morning. Delta County Sheriffs Deputies say the accident happened at about 9:30 Tuesday morning as a semi driven by 60-year-old Erik Somirs of Long Lane, Missouri, was waiting to turn left into the rest area...
---
(RRN) Marquette Rescue Crews Called To 'False' Ice Rescue
Rescue personnel answered the call of a possible ice emergency Monday night in Marquette. Local Three News reports that uust after 7 p.m., police and fire crews were dispatched tonight to South Beach after a caller reported seeing someone walk out onto the ice, but didn't see him return. The rescue team found and followed...
---
(RRN) Crucial Meeting Next Week In Rome For Baraga Sainthood
Another step in the effort to have the Upper Peninsula's first Catholic Bishop declared a saint continues with a meeting in Rome next week. The Medical Commission of the Congregation for the Causes of Saints will try to determine if Bishop Frederic Baraga performed a "miracle" on a woman who was suffering in extreme pain back...
---
(RRN) Escanaba Gears Up To Host Special Olympics Tournament
There's lots of basketball being played this time of year. But in Escanaba, a "special" tournament is set for this weekend, featuring Special Olympians from across the Upper Peninsula. The Escanaba Noon Kiwanis has put on this event for the past 38 years, bringing together Special Olympians of all ages and ability levels for two days...
---
(RRN) Verso Names General Manager For Escanaba Paper Mill
The Escanaba paper mill has a new manager. Verso Paper announced Monday that Matt Archambeau has been named the manager of the facility. He has more than 20 years of experience with Verso, and has served as the manager of other Verso mills in Bucksport, Maine, and Sartell, Minnesota. Archambeau is a graduate of...
---
(RRN) Negaunee Police Look For Driver Who Hit Utility Pole
A hit-and-run accident damaged a utility pole in Negaunee on Monday. Negaunee Police say they're looking for a dark-colored pick-up truck that hit the poll on County Road…that's the "back road" that connects Ishpeming and Negaunee. The incident happened at about 8:00 in the morning. If you know anything about the incident, call Negaunee Police at 475-4154...
---
(RRN) Wis. Man Injured In Dickinson County Snowmobile Crash
A Wisconsin man was hurt in a snowmobile crash Sunday afternoon in Dickinson County. Michigan State Police say that 32-year-old Justen Burmesch of Saukville, Wis., was on Trailhead Number Two near Lake Antonie Road when he missed a curve and lost control of his machine. He was thrown off of the sled and had to be...
---
(RRN) Escanaba Electric System 'Stable' As Substation Built
It was three weeks ago that an explosion rocked Escanaba's electric substation at the power plant, causing massive power outages that left the city in the dark for parts of two days. Escanaba City Manager Jim O'Toole says the city is recovering well from the incident, and the process of building a temporary substation is going well. He says...
---
(RRN) Casperson: Bat Designation Could Devastate UP Logging
The forest products industry is concerned about possible a federal order that would label the long-eared bat as threatened or endangered. It's because of the white nose syndrome, which is killing bats at an alarming rate. Foresters are worried that putting the bat on the endangered species list would make large areas of Michigan and...
---
(RRN) Arctic Air Raises New Concern Of Water Pipe Freeze-ups
Last winter was brutal on the infrastructure in many Upper Peninsula communities, and Escanaba was one of them. This winter has not been as brutal, but we have had some very cold nights in the past two weeks. So, are people's pipes freezing again? Escanaba City Manager Jim O'Toole says that as of Friday, they had 20 water service calls, and the...
---
(RRN) Lawmaker Offers Legislation To Allow School Bake Sales
A northern Michigan lawmaker has introduced legislation so public schools can have food-based fundraisers during school hours. State representative Phil Potvin of Cadillac says that he is responding to school complaints about the U.S. Department of Agriculture's "Smart Snacks in School standards". That requires all public schools...
---
(RRN) Bay College Begins New Math-Science Colloquia Series
Bay College's winter 2015 Math Science Colloquia series continues this week with a presentation from a BASF scientist who will talk about the dangers of working within the chemical industry. Scientist Ken Hinzman will be on the Escanaba campus this Thursday afternoon to offer a free presentation titled "I Get to Blow Up Stuff For a Living"...
---
(RRN) Ishpeming Schools Offer New Scholarship Opportunities
The Ishpeming Schools have some scholarship opportunities available for students who are planning to attend college after graduating from high school. Applications for these scholarships will be available as of March 1st in the Superintendent's Office, or on the district website at Ishpeming Schools dot org. The scholarships are the...
---
(RRN) Iron Mountain Hosts The World In Ski Jump Tournament
It's a dramatic moment that never gets old. But for those brave enough to jump, it's exhilarating. Local Three News reports that the Iron Mountain Ski Jumping tournaments are underway this weekend at Pine Mountain Resort. Andreas Wank, a ski jumper from Germany, said, "I'm really happy that I could jump in a few seconds and I enjoy...
---
(RRN) Cloverland Electric Happy With Latest Federal Ruling
The Cloverland Electric Co-op said Friday that it is happy with a decision by the Federal Energy Regulatory Commission that orders the Midcontinent Independent System Operator (MISO) to develop a new method for how to pay for the costs of operating Marquette;s Presque Isle Power Plant. Cloverland feels that it will not have to pay..
---
(RRN) Snyder Signs Bills Setting Up 2016 Republican Primary
Governor Rick Snyder on Friday signed legislation setting the date of the Michigan presidential primary to March 8, 2016. Senate Bills 44 and 45, sponsored by state Senator David Robertson, move the statewide presidential primary from the fourth Tuesday in February to the second Tuesday in March going forward. The bills also...
---
(RRN) Another Fatal Snowmobile Crash Happens In Alger County
The Alger County Sheriff's Office is investigating a fatal snowmobile accident in Onota Township. A call was received at 5:15 p.m. Thursday reporting a single snowmobile crash on the north side of Trail 417 about 100 yards west of the Deerton Road. Several agencies were dispatched to this incident, including Onota Township Fire ...
---
(RRN) Meijer Makes First Step Toward Opening Escanaba Store
It appears that Escanaba will be home to a new big box store. The City of Escanaba received an application Thursday from Meijer to build a 208-thousand square-foot store on a 47-acre parcel of land located along North 26th Street on the city's west side. Escanaba City Manager Jim O'Toole had the announcement that had been widely...
---
(RRN) Iron River Issues Indefinite 'Let-Run' Water Orders
Last year's harsh winter had many Upper Peninsula communities issuing "let-run" orders to prevent the freezing of water lines. This year, those order have been few and far between. But right now, the City of Iron River is issuing a city-wide "let-run" order for all of its water customers. Iron River officials tell Local Three News that the Internal...
---
(RRN) Kingsford Public Safety Investigates Hit-and-Run Crash
The Kingsford Public Safety Department is investigating a two-car, hit-and-run accident, which happened Wednesday in the 700 block of Woodward Avenue. Local Three News reports that the vehicle was traveling east on Woodward when it hit a parked vehicle with the passenger side-side view mirror, causing damage to both...
---
(RRN) Bring Pets Inside During Brutal Cold Winter Conditions
This brutally-cold weather is tough on all of us. It's also tough on our furry friends. Rachel Holman is a vet technician with the Upper Peninsula Animal Welfare Shelter. She says that in weather like this, you should bring those pets indoors. If you do leave the dog outside, Holman says to make sure there is insulation in the dog...
---
(RRN) Michigan DNR Reports No 2014 Fatal Hunting Accidents
For the first time ever, Michigan had no fatalities during any of the hunting seasons that were held in 2014. That's according to reports compiled by the Michigan D-N-R's Law Enforcement Division. There were ten incidents that involved injuries in the state. Nine of those incidents happened in the Lower Peninsula and just one here...
---
(RRN) Constitutional Amendment To Guarantee Hunting Rights
A constitutional amendment that would enshrine hunting and fishing rights in the state constitution. State representative Bruce Rendon (R-Lake City) is sponsoring Joint Resolution "H". that would add language to the Michigan constitution granting people the right to hunt, trap, fish and harvest game or fish owned by the state…unless...
---
(RRN) Snow Plow Destroyed In Building Fire At Michigan Tech
A snowplow was destroyed by fire inside the Michigan Tech University Motor Pool Thursday morning. Local Three News reports that the Houghton and Hurontown Fire Departments responded to the call, and the building received some structural damage…including a hole in the roof…as well as smoke damage. The building will be closed while...
---
(RRN) Bitter Cold Weather Causes Numerous School Closings
Temperatures across the Upper Peninsula plummeted Wednesday night into Thursday morning, prompting dozens of school districts to cancel classes for Thursday. The National Weather Service had Wind Chill Advisories in effect until noon on Thursday, as actual air temperatures dipped to between 15 and 20 degrees below zero. A modest...
---
(RRN) Cloverland Pleased, Concerned About Power Agreements
The Cloverland Electric Co-op is generally pleased that a deal has been struck between We Energies and Cliffs Natural Resources that will see power from Marquette's Presque Isle Power Plant be used to run the Empire and Tilden Mines. The agreement means that other Upper Peninsula utilities will not be required to make large payments to operate...
---
(RRN) Deal Between Cliffs, Presque Isle Hailed As Good News
Cliffs Natural Resources and Wisconsin Energies have reached an agreement that commits Cliffs to buying power from Marquette's Presque Isle Power Plant to run its mines. This agreement is in effect until the details of a larger agreement can be worked out this summer. We Energies is asking the Mid Continenent Independent System Operator...
---
(RRN) Federal Grants Coming To Help Upper Peninsula Tribes
The U-S Department of Housing and Urban Development has announced 651 million dollars in grants to help Native American tribes with their housing issues. Of that money, almost $14 million will be doled out to twelve tribes in Michigan. The largest grant is to the Sault Tribe of Chippewa…more than $4.7 million. The Keweenaw Bay Indian...
---
(RRN) Illinois Man Dies In Alger County Snowmobile Accident
There's been a fatal snowmobile crash in Alger County. Alger County Sheriffs Deputies say the accident happened Tuesday on Trail Number Seven in AuTrain Township. Deputies say that 45-year-old Donald Stagner of New Lenox, Illinois, was riding with friends when he lost control on a corner, went off the trail, and hit a tree...
---
(RRN) Escanaba Township Fire Dept. Gets $1 Million Donation
The Escanaba Township Volunteer Fire Department will get a brand new fire truck, thanks to a one million dollar donation from the John and Melissa Besse Foundation. The president of the foundation, Greg Besse, says this custom-built truck will be...
---
(RRN) Community Action Food Distribution Set For Early March
The Community Action Agency's "Commodity Supplemental Food Program" distribution has been scheduled for the first week in March in Delta, Schoolcraft, and Menominee Counties. The program…also known as the "quarterly distribution", is for people who qualify by falling within 200 percent of federal poverty income guidelines. Residents...
---
(RRN) State Funds For Upper Peninsula Road Projects Revealed
The Michigan Department of Transportation is out with a list that shows how much money is being sent to Upper Peninsula communities to do road repairs. This money is from the state's general fund, and amounts to 144-point-5 million dollars in "one-time" spending. The amount for each community was put through the "Public Act 51"...
---
(RRN) Veterans Administration Plans Town Hall Meetings In UP
The V-A Medical Center in Iron Mountain is planning two more Veteran Town Hall Meetings. These will be held next month in Marquette and Ishpeming. So far, the V-A has held 13 town hall meetings throughout the Upper Peninsula and northern Wisconsin. These meetings include leaders from the medical center, as well as officers...
---
(RRN) Study Suggests That More Michigan Roads In Poor Shape
A new study shows that even more Michigan roads are in poor condition than in 2013. The annual rating of Michigan roads was done for the Transportation Asset Management Council, which will be putting together an official report this spring for the Michigan Legislature. The study's initial results show that 38-percent of Michigan's paved federal-aid...
---
(RRN) Woman Crashes Vehicle Into Marquette County Snow Plow
A young woman and a child were taken to the hospital Tuesday morning after a car crash. Michigan State Police say that 23-year-old Kayla Gilstorff of Gwinn was traveling east on County Road 480 when she hit the back of a Marquette County Road Commission grader that was plowing the road at about 9:00 Tuesday morning. Gilstorff told....
---
(RRN) Dickinson County Man Gets Prison Time For Meth Lab
A Dickinson County man was sentenced to prison Tuesday after being arrested last October on meth charges. 34-year-old Charles Slaton of Iron Mountain was sentenced to a minimum of seven years and a maximum of 20 years in prison. In January, Slaton pled guilty to operating and maintaining a meth lab, operating and maintaining a...
---
(RRN) State Lawmakers Hear About Marquette County Road 595
A joint hearing of the Michigan House and Senate Transportation Committees was held Tuesday in Lansing to discuss the Marquette County Road Commission's pending lawsuit against the Environmental Protection Agency. The Road Commission is suing over the EPA's denial of permits to build County Road 595, which would connect the Eagle...
---
(RRN) Island Resort & Casino Plans $8M Expansion, Renovation
The Island Resort and Casino is planning to build a second, 18-hole, championship golf course to go along with its current Sweetgrass course. The new golf course was the highlight of a major expansion and renovation project approved Monday by the Hannahville Indian Community Tribal Council. Casino General Manager Tony Mancilla says there...
---
(RRN) Recall of Gladstone Commissioners Moves To May Ballot
Delta County Clerk Nancy Kolich has officially called for a special election on May 5th for a recall of three Gladstone City Commissioners. The petitions filed by local resident Tim DeClaire were submitted on January 16th, and the deadline for the three men to object to the signatures passed on Monday. Kolich says that the state law...
---
(RRN) Graymont Gets Approval For 'Mineral Exchange' In EUP
A new limestone mine in Mackinac County is one step closer to becoming a reality. Michigan D-N-R Director Keith Creagh has approved an exchange of mineral rights, totaling 17-hundred acres, between the state and Graymont, Incorporated. Creagh has NOT yet approved the mine itself, however. A public comment period on Graymont's...
---
(RRN) Cloverland Co-Op Protests Payments To Run Presque Isle
The Cloverland Electric Co-op continues to protest paying anything at all to run Marquette's Presque Isle Power Plant. The plant will be owned by the Upper Peninsula Power Company following a series of agreements announced by the governor's office last month. And the U-P's utilities won't be on the hook for millions of dollars in System...
---
(RRN) Fire Destroys Ironwood Home; Four Family Pets Killed
Ironwood Public Safety Officers and volunteer firefighters responded to a house fire Sunday night. Local Three News reports that the homeowner told police that a wood stove in the basement caught on fire. When she opened the basement door, it was fully engulfed in flames. Firefighters were on the scene until after 5:00 Monday morning...
---
(RRN) Minnesota Resident Anderson Wins UP 200 For Fifth Time
Another Upper Peninsula 200 Sled Dog race is in the books. The 25th anniversary race was run under bitterly cold conditions throughout the woods of Marquette and Alger Counties, and all 14 teams finished the race. Because of the harsh conditions, it took until 7:00 last night for the final dog team to cross the finish line. The...
---
(RRN) Lake Superior State Trying To Help Atlantic Salmon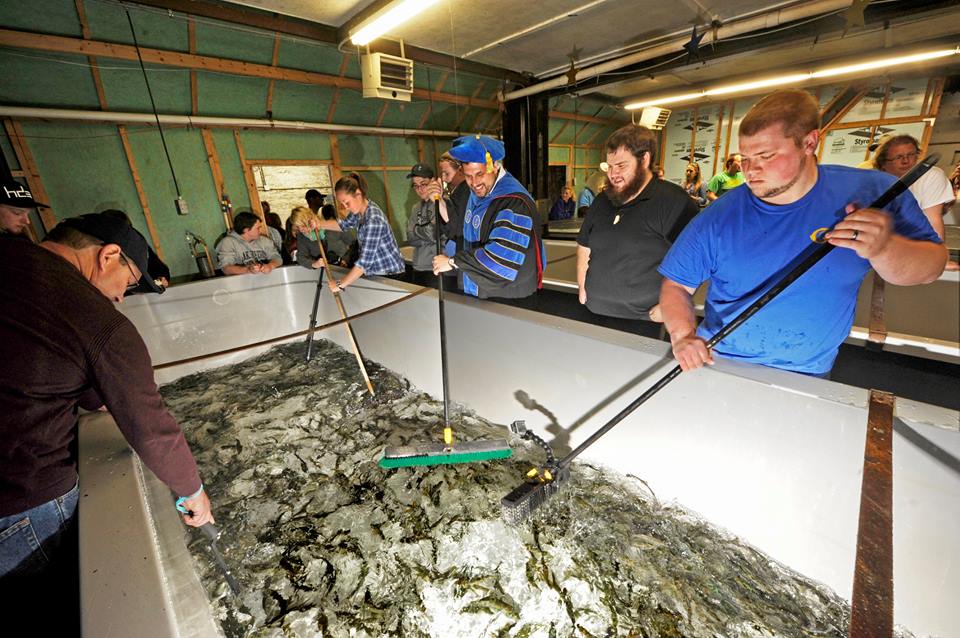 Lake Superior State University fish health professor Jun Li is working on a project that mixes food pellets laced with certain enhancements, in an effort to improve the immune system of the Atlantic salmon. That's a fish species that LSSU's Aquatic Research Laboratory has been introducing into the Great Lakes...
---
(RRN) Gladstone Teenager Survives Firey Crash In Florida
Gladstone teenager Jordan Ives was involved in a scary crash on Saturday in Florida as he practiced for a Super Late Model Series race that is part of the "Speedweek" events in the Daytona area. Ives crashed his #18 car into the wall at the New Smyrna Speedway, and the car burst into flames, sending...
---
(RRN) Bay College Hosting 'Game Night' Wednesday On Campus
Two Bay College organizations are teaming up to put on a Game Night event this Wednesday on the Escanaba campus. Dave Lauer is the Director of Student Life at Bay. He says that "Circle K" and "Gaming Galaxy" are sponsoring the event…and it is for people of all ages. The event features video games from the brand new X-Box...
---
(RRN) Upper Peninsula Highways Re-Open After Wind, Whiteouts
Highways that were closed across the Upper Peninsula over the weekend re-opened early Sunday, after high winds and snow pummeled the area. Only a few inches of snow fell, so why did the highways in Delta, Schoolcraft, Alger, and Marquette Counties have to close for so long? Keith Cooley is a meteorologist at the National Weather....
---
(RRN) Some Roads Re-Open; Others Still Closed Saturday Night
Area police are still asking people to refrain from traveling across the Upper Peninsula as high winds continue ro reduce visibilities in the region. Even in areas where some roads have re-opened, police say you should travel only when absolutely necessary. M-28 between Harvey and Munising was closed all day Saturday, and remained closed...
---
(RRN) Numerous Highways Remain Closed Because Of Blizzard
MDOT has closed the following highways across central Upper Michigan due to extremely dangerous white-out conditions until further notice. These conditions will continue into this evening. M-28 from Kawbawgam Road in Harvey to Munising U.S. 41 from the Trenary to Rapid River U.S. 2 from Rapid River to M-94 near Manistique U.S. 41 from Marquette to Harvey between Furnace St. and the Michigan Welcome Center M-35 between Lathrop (Marquette/Delta County line) and Perkins...
---
(RRN) BLIZZARD WARNING: SOME HIGHWAYS CLOSED IN CENTRAL U.P.
A blizzard warning is in effect for Delta, Marquete, and Alger Counties for the day on Saturday. Snow and high winds are causing very poor visibilities across the region. Highway M-28 is closed from Harvey to Munising. US-41 is closed between Rapid River and Trenary. In the City of Marquette...
---
(RRN) U.P. 200 Sled Dog Race Begins Despite Weather Warnings
The Upper Peninsula 200 Sled Dog Race and Midnight Run got underway Friday night in Marquette, even as the region was under a Blizzard Warning for heavy snow and high winds this weekend. The race is celebrating its 25th anniversary, with a $72,000 prize awaiting the winning team on Sunday. The 12-dog teams will actually travel 240 miles...
---
(RRN) Benefit Scheduled Saturday To Help Local EMS Responder
A benefit is being held Saturday to help Bill Labadie, a local volunteer emergency responder with his medical bills. The family oriented benefit will be held at the home of Toby Kuivinen at 6566 M Road, in the Danforth area of Escanaba, from 2:00 until 10:00. The cost to attend is $10 per person. Labadie fell out of a tree that he was trimming...
---
(RRN) Foul Weather Forces Event Cancellations At State Parks
The Michigan Department of Natural Resources Friday announced that, due to the dangerously cold weather, it has canceled several outdoor programs and events scheduled for this weekend, particularly in the Upper Peninsula where temperatures are forecasted to be below zero with wind chill. Visitors are advised to call in advance to check...
---
(RRN) Dickinson County Man Accused Of Firing Shots At Police
A 49-year-old Norway man has been charged with firing at State Police troopers who were trying to serve him with a warrant Wednesday afternoon. Richard Goodreau is charged with assault with intent to murder and three other felonies. One of the additional charges is first-degree criminal sexual conduct. One trooper was...
---
(RRN) Marinette County Residents Charged With Child Neglect
Two people in Marinette County, Wisconsin are charged with felony child neglect after what the sheriff there calls an exhaustive investigation. The criminal complaints against 33-year-old Katrina Blasing and 29-year-old Ryan Lenz of Crivitz involve the alleged abuse of a four and a half month-old child, according to the sheriff. No further details were released...
---
(RRN) Four People Arrested In Menominee After UPSET Probe
Four people are behind bars and are facing felony charges after investigations by the Upper Peninsula Substance Enforcement Team. Local Three News reports that a 20-year old man is charged with a felony count of heroin delivery. A 29-year-old man is charged with three felony counts of delivery of the prescription drug...
---
(RRN) Escanaba's Sand Point Lighthouse Damaged By Outage
Last week's power outage caused damage at Escanaba's historic Sand Point Lighthouse. The president of the Delta County Historical Society, Charles Lindquist, says that when the power went out, it caused the heating system to fail inside the lighthouse. Lindquist says that because the lighthouse is closed this time of year, no one went to the...
---
(RRN) Marquette Traffic Crashes Involve Two Cars, Fire Truck
It was a mess on US-41 in Marquette Thursday as two cars were involved in an accident, and then another car crashed into a Marquette City Fire engine. Marquette Police say the first accident happened at 10:00 in the morning, and three kids were taken to the hospital for treatment of non life-threatening injuries. One driver...
---
(RRN) City Of Escanaba To Build "Intermediate" Substation
The City of Escanaba is moving forward on a plan to get the city's electric utility back to where it was before last week's substation explosion. The city council received a report from city staff that included five options on how to proceed. The decision was to build a new "intermediate" substation next to the one that exploded last week....
---
(RRN) Benishek Introduces Resolution On Grey Wolf Management
Upper Peninsula Congressman Dan Benishek has introduced legislation that would take the grey wolf off of the federal endangered species list in the Upper Peninsula, Wisconsin, and Minnesota. The U-S Fish and Wildlife Service delisted the wolf several years ago, saying that its population has recovered in the region to the...
---
(RRN) M-28 Closed Between Harvey, Munising Due To Whiteouts
Highway M-28 is closed between Harvey and Munising because of whiteout conditions along the Lake Superior shoreline. The Michigan State Police, Michigan Department of Transportation, and the Alger and Marquette County Road Commissions closed the stretch of highway as of 8:00 Wednesday night because of high winds and blowing...
---
(RRN) Governor Offers FY 2016 Budget Proposal To Lawmakers
Governor Rick Snyder on Wednesday released his 2016 budget proposal to state lawmakers, suggesting increases in education spending and in assistance to local municipalities. Snyder says that he is also prioritizing health services in his 54-billion-dollar state budget. The governor also signed an executive order that included...
---
(RRN) High School Students To Learn Economics In Manistique
High school students will get a lesson on basic economics Thursday in Manistique. The "Financial Reality Fair" is being hosted by Limestone Federal Credit Union through the Michigan Credit Union League's education program. Kortney Van Ert-Johnson at Limestone says that kids need to learn how to manage money at an early age...
---
(RRN) Senator Peters Plans To Open Office In Upper Peninsula
Now that he's been in office for a month, what are the plans of U-S Senator Gary Peters when it comes to constituent relations in the Upper Peninsula? His predecessor, Carl Levin, had an office in Escanaba for many years. Will Peters do the same? His spokesman, Stewart Boss, said that Peters is interested in...
---
(RRN) More Details Released On Escanaba Ambulance Accident
The sheriff in Marinette County, Wisconsin has now identified the victims in that fatal accident involving an ambulance from Escanaba. The woman whose car crashed into the Rampart ambulance is identified as 76-year-old Norita Gifford of Peshtigo. She and her pet dog were killed in the crash Tuesday morning. The...
---
(RRN) New Scholarship Offered To LSSU Students In Escanaba
A new scholarship opportunity has been announced for Lake Superior State University students who take classes at L-S-S-U's regional center in Escanaba. The initial funding for this scholarship was provided years ago by the Mead Paper Company, but it was never enough to meet the minimum endowment level, so it was never....
---
(RRN) Wednesday Meeting To Discuss Escanaba Electric Issues
The Escanaba City Council will hold a joint meeting with the city's Electrical Advisory Committee Wednesday night, nine days after an explosion rocked the substation near the city's power plant. That explosion caused massive power outages in many parts of the city for the next day and a half. Escanaba Mayor Marc Tall will chair Wednesday...
---
(RRN) Rampart Ambulance Involved In Wisconsin Fatal Accident
There was an accident involving a Rampart E-M-S ambulance on US-41 in Marinette County Tuesday. The Marinette County Sheriff says the accident happened late Tuesday morning when a 76-year-old Peshtigo woman pulled onto the highway and hit the ambulance, which had three people from the Escanaba area aboard. The...
---
(RRN) Michigan Petroleum Task Force Holds First Meetings
The Michigan Petroleum Pipeline Task Force met Monday with representatives from Marathon Oil, a Central Michigan University professor, and a student research team. The task force is co-chaired by Attorney General Bill Schuette and D-E-Q Director Dan Wyant. They are focused on reviewing Enbridge's pipeline that runs...
---
(RRN) DNR Says Stepped-Up Patrols Led To Safe I-500 In Sault
The Michigan D-N-R says that law enforcement efforts to control the crowds at last weekend's I-500 Snowmobile races in Sault Ste. Marie paid off. There were no accidents or fatalities during the three-day enforcement period. The I-500 brings in thousands of people to the eastern U-P to the races, as well as those who just want to...
---
(RRN) Visitors Allowed At Newberry's Golden Leaves Center
There's good news for folks who have a loved one staying at the Golden Leaves Living Center in Newberry. You can start visiting your loved ones again. An outbreak of serious flu-like symptoms in the long-term care department on January 30th had meant that no visitors at all were permitted. Those restrictions were lifted...
---
(RRN) Delta County Parks Worried About 'Oak Wilt' Disease
When you go camping at Escanaba's Pioneer Trail Park this summer, you may be asked to have your firewood inspected. The Delta Conservation District, which runs the county's parks system, is asking the Delta County Board of Commissioners to pass an ordinance requiring...
---
(RRN) Basic Marine To Begin Icebreaking In Escanaba Tuesday
A warning for folks who have ice shacks on the ice off of the City of Escanaba. A tug boat from Basic Marine will begin chopping ice on Tuesday…from the Basic Marine dock out into the bay of Green Bay. You will need to move those shacks out of those areas today. No exact time for the start of the icebreaking operation was noted....
---
(RRN) Radio Shack Shutting Down Three Upper Peninsula Stores
Radio Shack filed for Chapter 11 bankruptcy protection last week, and on Monday, the company announced it will be closing 1,784 stores. There are 55 Michigan stores on the closure list, including stores in Escanaba, Marquette, and Sault Ste. Marie. Radio Shack has been in existence since 1921, but has had financial issues...
---
(RRN) House Trailer Damaged By Fire In Escanaba; No Injuries
A house trailer was heavily damaged by fire Sunday night in Escanaba. Escanaba Public Safety says the call came at about 9:30 Sunday night at 1401 North 23rd Road, Lot number 73. When crews got there, flames and smoke were coming from under the trailer. Firefighters put out the flames and ventilated the smoke...
---
(RRN) Body of Missing ATV Rider Found Sunday Near McFarland
An ATV rider from was found dead Sunday morning in southern Marquette County. Michigan State Police say the body of 57-year-old Larry Clausen of McFarland was on Homestead Road. Troopers and the Marquette County Search and Rescue team started looking for Clausen on the snowmobile trails in Ewing Township...
---
(RRN) Downstate Snowmobiler Hit By Car On US-41 In Ishpeming
A snowmobiler was seriously injured after being hit by a car Sunday in Ishpeming. Ishpeming Police say the accident happened at the intersection of U-S 41 and Lakeshore Drive at about 5:30 Sunday afternoon. Officers say that 34-year-old Michael Hogan, from Oakland, Michigan, was crossing the highway when he was...
---
(RRN) Portage Lift Bridge Closing Several Times This Week
The Portage Lift Bridge which connects Houghton with Hancock will be closed late at night several times this week. This is part of the winter-long project to make upgrades on the bridge that have not been done for the past 50 years. The closures will last two hours, and will be done between 2 and 4 a.m. The first closure was...
---
(RRN) Man Drives Pick-up Truck Into U.S. Coast Guard Station
Police no longer believe a Sunday morning attack on a Michigan Coast Guard station was an act of "domestic terrorism." A man crashed his truck through the gates of the Grand Haven station and assaulted some personnel before he was subdued. All Coast Guard personnel are safe, but the station was put on lockdown because...
---
(RRN) Bay College Alumni Board Looking For New Members
The Bay College Alumni Board is looking for a few good men…or women…to fill some openings on the board. To become a member, you must hold a degree or certificate from Bay College. The next board meeting will be held on March 16th at 11:45 am on the Escanbaba campus. The Alumni Board's role...
---
(RRN) Power Ball Jackpot Rolls Over Again; Now $450 Million
You can expect lotto machines to be humming across Michigan the next few days. No one matched all six numbers in Saturday night's Powerball drawing, pushing the multi-state lottery jackpot to at least 450-million dollars this Wednesday night. And that jackpot will likely get even bigger before Wednesday as people flock to...
---
(RRN) Community Foundation Helps Holy Name School With Grant
The Holy Name Catholic School in Escanaba has been given a four-thousand dollar grant by the Community Foundation for Delta County. The money is being used to buy 18 new MacBook Air computers for the school's teachers. Also, 30 new iPads are being purchased for Holy...
---
More...