(RRN) Home Destroyed By Fire In Wells Township; No Injuries
Fire heavily damaged a home in Wells Township Monday morning. Escanaba Public Safety was called to the home on 18th Road at about 10:00 in the morning. When crews got there, they found smoke and flames coming from the residence. Officers made sure that there was nobody inside, and then they were able to get the....
---
(RRN) Marquette Police Looking For Armed Robbery Suspects
Marquette Police are still looking for the people involved in an armed robbery that happened last Friday night at 515 North Front Street. The suspects were wearing ski masks and dark clothing when they went into the home. They threatened the homeowners at gunpoint and demanded money. Then they ran away toward the 100....
---
(RRN) Illinois Police Arrest Man In Manistique Murder Case
An Illinois man has been arrested on homicide charges in connection with this month's discovery of three bodies inside a burnt car near Manistique. Michigan State Police say that Kenneth Brunke of Manistique was arrested Sunday in West Frankfort, Illinois. He is accused of killing 42-year-old Jody Hutchinson of Gould City, 31-year-old Carrie Nelson and 25-year...
---
(RRN) Veterans Choice Program Mileage Change Takes Effect
It's official. Veterans can now use the federal "Veterans Choice Program" based on how far away they are from a VA clinic in "driving" miles, rather than calculating distance in a "straight line". Some veterans had been told they could not get treatment at a civilian provider because they were within 40 miles of a VA facility, when in "driving miles"...
---
(RRN) Forum On Proposal One Set For Monday Night In Escanaba
Michigan voters go to the polls next week to decide whether to raise the state sales tax as part of a complex plan designed to pump more money into Michigan road repairs. Governor Rick Snyder, Lieutenant Governor Brian Calley, and some local municipalities are doing a full-court press to urge a "yes" vote. So to are...
---
(RRN) Marquette County Baseball Field To Be Burned On Sunday
The Humboldt Township Fire Department will be setting the baseball field at Junction 95 Tavern & Grill on fire Sunday at 1:00 in the afternoon. Local Three News reports that the fire department is brand new and is funded in large part by Lundin/Eagle Mine. This experiment is intended to practice controlling and putting out grass fires for the new...
---
(RRN) Job Fair Hopes To Help Manistique Papers Layoffs
With the closure of the Manistique Paper Mill, many local workers are looking for jobs. And an opportunity to find some employment with the State of Michigan was highlighted during a job fair on Friday in Manistique. The state Corrections Department is looking to hire people for its prison in Alger County, and Friday's job fair was aimed at workers...
---
(RRN) City Of Escanaba Celebrates Trees As Part of Arbor Day
Friday was National Arbor Day, a day designed to celebrate the importance of trees in our lives. And in Escanaba, the city held its annual Arbor Day event, as Boy Scouts, Girl Scouts, and Cub Scouts will be planting trees in Ludington Park. Escanaba Mayor Marc Tall was involved in Friday's...
---
(RRN) Marquette County Has 1st Chamber Of Commerce Since '97
It's been almost two decades since Marquette County has had something that nearly every community has: a Chamber of Commerce. Well, that's not the case any more, as a new Chamber of Commerce has been launched in the community for the first time since the last Chamber dissolved in 1997. Jason Schneider is the Executive Director...
---
(RRN) Sisters Missing For Two Weeks Found Alive In Luce Co.
Michigan State Police say that sisters Leslie Roy and Lee Wright have been found "alive and in good condition." The women had been missing for two weeks after visting family in Ishpeming. Local Three News reports that Michigan State Police found Roy and Wright while conducting an air search with a MSP helicopter around 2:20 Friday...
---
(RRN) Delta County Man Arrested After Accident In Ford River
The driver in the M-35 traffic accident Friday morning was arraigned in Delta County District Court. Local Three News reports that 20-year-old Ryan Lucier was arrested on narcotics charges after a motor vehicle accident on M-35 just north of L. 15 Ln in Ford River Township. Lucier was hurt...
---
(RRN) Many Upper Peninsula Roadside Parks Opening On Monday
Most of the U-P's roadside parks will open for the season on Monday, according to the Michigan Department of Transportation. The exceptions are nine parks located in Luce, Alger, Schoolcraft and Chippewa counties--which authorities say are still snowed in. Meanwhile, the DNR says excess snow has delayed the usual opening...
---
(RRN) Michigan Reaches Settlement With Oklahoma Gas Company
Michigan has reached a 25-million-dollar civil settlement with Oklahoma-based Chesapeake Energy Corporation. The settlement resolves allegations that the company conspired with Calgary-based Encana Oil & Gas to avoid bidding wars against each other in public auctions for oil and gas leases in Michigan. Attorney General...
---
(RRN) Upper Peninsula Unemployment Rate Rises A Bit In March
The Upper Peninsula's unemployment rate increased slightly in March. That month's seven-point-eight percent compared to February's rate of seven-point-seven percent. The U-P's unemployment rate in March of 2014, however, stood at ten and a half percent. Unemployment rates in nine of Michigan's labor markets went...
---
(RRN) Earnhardt's NASCAR Car Coming To Escanaba's 'Fun Run'
The Krusin Klassic's Car Club is planning its "Fun Run" weekend in Escanaba on May 29-30. It is the 30th anniversary for the event, which features classic cars from throughout the Midwest, and this year's event will include a special attraction: the NASCAR #88 car of driver Dale....
---
(RRN) MI House Committee Approves Changes To Auto Insurance
The Michigan House Insurance Committee approved legislation that revamps Michigan's "no fault" auto insurance law. Upper Peninsula state representative Ed McBroom is not on that committee, but he testified before the committee in support of the bill. The legislation requires an initial $100 drop in...
---
(RRN) Effort To Renovate Iron Mountain Movie House Under Way
An effort is underway in Iron Mountain to restore the historic Braumart Movie House in the downtown area. Rebecca Grider is the Manager for the Iron Mountain Downtown Development Authority. She says that the goal is to turn that theater into a place where the fine arts are celebrated. A benefit concert...
---
(RRN) Copper Country Man Charged With Felony After Standoff
A Copper Country man was arrested Thursday after a standoff that kept police at bay for nearly twelve hours. Michigan State Police say that 64-year-old Jerome Flum barricaded himself inside his home in Copper City Wednesday night and threatened police who were there to talk with him. Troopers say...
---
(RRN) National Arbor Day Ceremony Friday Morning In Escanaba
Friday is National Arbor Day, a day designed to celebrate the importance of trees in our lives. And in Escanaba, the city will hold its annual Arbor Day event, as Boy Scouts, Girl Scouts, and Cub Scouts will be planting trees in Ludington Park, just south of the gazebo. The city's Public Works...
---
(RRN) CN Train Derails In Dickinson County; Nobody Injured
A Canadian National Railway train derailed in Dickinson County Wednesday night. Michigan State Police say that the accident happened at just before 8:30 Wednesday night near Sturgeon Mill Road in Norway Township. Ten of the train's 29 railcars left the tracks. Troopers say that the cars...
---
(RRN) Upper Peninsula WWII, Korean War Vets Travel To D.C.
A group of 74 Upper Peninsula veterans spent the day Wednesday in the nation's capitol as part of the Honor Flight program. The group visited the war memorials that have been erected in their honor, met with U-P Congressman Dan Benishek, and visited other sites like Arlington National Cemetery. The group...
---
(RRN) Pregnancy Services Of Delta County Has Its Own Office
There's an agency that's been helping women for 37 years that not all women even know about. And now Pregnancy Services of Delta County has an office to call its own. Volunteers have been helping pregnant women explore their options since 1978, basically from the basement of their homes. But now...
---
(RRN) Three People Found In Burnt Car Near Manistique ID'd
Michigan State Police have identified the remains of three people found dead inside a burnt out car in Schoolcraft County. The victims have been identified as 42-year-old Jody Hutchinson of Gould City, 31-year-old Carrie Nelson of Germfask, and her sister, 25-year-old Heather Aldrich, also of Germfask. Troopers from the Gladstone post...
---
(RRN) State Awards Veterans Grants In Schoolcraft, Dickinson
The Michigan Veterans Affairs Agency has approved grants for seven counties, including two in the Upper Peninsula, to make it easier for veterans to file federal benefits claims. The Schoolcraft County Veterans Administration will receive 15-thousand dollars to increase the county's veterans counselor position to full-time. Some of the money...
---
(RRN) Snowy Conditions Cause Two Marquette County Accidents
Snowy conditions contributed to a couple of accidents in Marquette County on Wednesday. Sheriffs deputies say the first accident happened at just after 8 in the morning on County Road 500. That's when 48-year-old Timothy Westfall of Big Bay lost control of his car and crashed into an M-J Van Damme Hauling Truck, which was driven by...
---
(RRN) New Debate Begins On Michigan No-Fault Auto Insurance
The Michigan House Insurance Committee took testimony Tuesday on legislation that would reform Michigan's "no-fault" auto insurance system. Committee Chairman Tom Leonard says that Michigan drivers are paying too much in auto insurance premiums, and that leads to some people to drive without any insurance at all. Insurance...
---
(RRN) Gladstone Water Department Ending 'Let-Run' Notices
If you have been on "let run" orders in the City of Gladstone, you can now turn off the spigot. The water department lifted the "let run" orders on Tuesday because warmer temperatures have reduced the chances that water pipes will re-freeze. The frost has come out of the ground, officials say. If you have been on a "let-run" order, your bill...
---
(RRN) Schoolcraft County Restaurant Destroyed By Large Fire
A restaurant was destroyed by fire Tuesday morning in Scholcraft County. The Sidetracks Bar and Restaurant at 1080 County Road 442 went up in flames at about 4:00 in the morning. Firefighters with the Manistique Public Safety Department were helped by crews from Inwood, Doyle, Garden, Hiawatha, Nahma, and Ensign...
---
(RRN) Michigan DNR Re-stocking Lakes With 400 Tons Of Fish
It's fish-stocking season again for Michigan's lakes. The Michigan DNR says it will be planting fish of all species in hundreds of lakes around the state this spring. Fish stocking is a valuable tool used to restore, enhance and create new fishing opportunities in the Great Lakes, as well as in inland lakes and streams and in the Great...
---
(RRN) Marinette County Sheriff Arrests Burglary Suspect
Lock your doors and secure your possessions. That's the warning from Marinette County Sheriff Jerry Sauve after reports of another daytime burglary in the county. This one happened Monday afternoon in the Town of Porterfield. Sauve says the home owner came home and noticed that something was wrong. Deputies found a suspicious vehicle...
---
(RRN) M-DOT Set To Begin New Road Project In South Marquette
The state transportation department plans to begin a new project this week in the City of Marquette. M-DOT spokesman Dan Weingarten says that the work will be done on US-41 from the Carp River Bridge to Furnace Street in the Shiras Hills area of South Marquette. The good news is that there won't be any detours or long traffic delays...
---
(RRN) Autopsies Done On Burnt Bodies Found Near Manistique
The investigation continues into the discovery of a burned car with three dead bodies inside in Schoolcraft County. Michigan State Police from the St. Ignace post say that autopsies have determined that one of the victims was a man and a second victim was a woman. They will need to do more DNA testing to determine the sex of the third...
---
(RRN) NMU Professor, Student Sue Student Newspaper's Board
A Northern Michigan University professor and an NMU student are suing the board that runs the university's student newspaper. English Professor Cheryl Reed and current North Wind managing editor Michael Williams filed the suit in federal court last week, according to the paper's website. They accuse the board of violating the...
---
(RRN) Report Shows Higher Upper Peninsula 'Food Insecurity'
A new report suggests that more people in the Upper Peninsula and Western Lower Michigan are struggling with hunger. The "Feeding America" West Michigan Food Bank says that hunger threatens one in seven people in the region, including one in five children. That's 330-thousand people in the 40 counties the Food Bank serves, including...
---
(RRN) Wildfire Concerns High Across U.P. Despite Recent Rain
It may be wet out there right now, but this is still wildfire season in the Upper Peninsula. The Michigan D-N-R says that the fire danger is high right now as the snow and ice have melted, leaving behind the dead vegetation from last year. There is a statewide ban on burning in effect. In the eastern U-P over the weekend...
---
(RRN) Cloverland Electric Wants Repeal Of 2008 Power Laws
The Cloverland Electric Co-op is supporting legislation that would repeal Public Act 286 of 2008. That's the legislation that allowed large businesses to choose an alternative electric supplier, or AES, for up to ten percent of their electric needs. Cloverland says that the Future Mark Paper Mill in Manistique did this last year, and the move...
---
(RRN) Sault Ste. Marie Bridge To Be Inspected Under Water
The Sault Ste. Marie International Bridge will get a regular checkup when underwater bridge pier inspection starts next week. The work involves inspecting the International Bridge's piers below the water line in the St. Marys River. The inspection will be performed by divers and engineers using scuba gear and digital recording devices...
---
(RRN) Federal Program Formed To Help Homeless Veterans In UP
There's federal money on the way to help homeless veterans in the Upper Peninsula. Senators Debbie Stabenow and Gary Peters announced Monday that more than 34-thousand dollars will be used to provide assistance for veterans who are struggling to pay housing costs. The help comes in the form of HUD vouchers that help veterans...
---
(RRN) Restoration Work Begins This Week On Cut River Bridge
Work is scheduled to begin Monday on the Cut River Bridge on US-2 in Mackinac County. You may remember the detour down a narrow county road that was in place for two construction seasons several years ago. That was inconvenient for many drivers, but M-DOT spokesman...
---
(RRN) Upgrades To Hannahville's Island Resort & Casino Begin
Work on eight million dollars worth of renovations and expansions are under way at the Island Resort and Casino in Harris. Hannahville Indian Community Chairman Ken Meshigaud says work on the sports bar renovation has begun, and planning for the new spa is wrapping up. And the new 16-hole golf course is in the initial planning...
---
(RRN) Western U.P. Man Hurt In Sunday Morning Traffic Crash
A western Upper Peninsula man was hurt Sunday morning in what police are calling an alcohol-related accident. The sheriff in Gogebic County says the accident happened on the "East End Road" in Ervin Township when the 22-year-old's vehicle left the road and hit several trees. The man was trapped inside the car for several hours until...
---
(RRN) Three People Found Dead In Burnt Car Near Manistique
Three people were found dead inside a burnt-out car Friday evening in Schoolcraft County. Michigan State Police say the car was found on a rough gravel road in Doyle Township. The fire was already out and the vehicle was completely burnt when troopers got there. Three bodies were found inside, and troopers believe they were from the...
---
(RRN) Unemployment Agency Offering Workshops For Employers
Michigan employers will have an opportunity to learn more about the state's unemployment insurance tax and benefit programs at one of several seminars that will be held around the state over the next few months. The seminars will be put on by the Michigan Unemployment Insurance Agency, and will highlight the state's new...
---
(RRN) Hiawatha National Forest Wants Deer Blinds Removed
Now that spring has arrived, and the snow is melting, the Hiawatha National Forest is reminding hunters to remove any blinds that may still be out in the woods. The U-S Forest Service says that under state law, the blinds were supposed to be removed by January 1st. Forest officials say that abandoned blinds pose safety hazards...
---
(RRN) Escanaba Ends Contract With Company To Run Power Plant
The Escanaba City Council Thursday night voted to terminate its operating agreement with Pro Energy. That's the company that's been running the Escanaba Power Plant for the past few years, and is the direct employer of the 20 people who work at the plant. As a result of this vote, those workers will lose their jobs on June 15th. Escanaba...
---
(RRN) Casperson Wants U.P., Lower Michigan On One Power Grid
U.P. State Senator Tom Casperson wants the entire state of Michigan to be on one electric grid. The Escanaba Republican plans to introduce Senate Bill 282 next Tuesday in Lansing. Casperson says the bill would allow for the construction of the infrastructure needed to bring electricity from the Lower Peninsula into the U-P. He says this...
---
(RRN) Upper Peninsula Congressman Votes To Repeal Estate Tax
Upper Peninsula Congressman Dan Benishek voted in favor of repealing the federal estate tax on Thursday. The estate tax…also called the "death tax" by some…is placed on property and assets after you die. Benishek says that this tax is unfair because people have been taxed their whole lives, and now, family members who...
---
(RRN) Large Grass Fire Burns 20 Acres In Manistique Township
A large grass fire burned 20 acres of land in Manistique Township Wednesday afternoon. Manistique Public Safety, volunteer firefighters, and the Michigan DNR fought the blaze for two hours along West Kendall Road. Public Safety Director Ken Golat says firefighters were on their way to a grass fire on Dixner Road in Doyle Township, but...
---
(RRN) Escanaba, Marquette Again Named As 'Tree City USA'
The National Arbor Day Foundation has named 117 Michigan communities as "Tree City USA". Two of them are here in the Upper Peninsula: Escanaba and Marquette. To be called a "Tree City USA", a town must have a designated tree board for its urban forest program; have a community tree ordinance; have a budget for community tree...
---
(RRN) Train Derailment Blocks Traffic In Marquette County
A train derailed in Negaunee Township Thursday afternoon, causing County Road 492 to be closed to traffic east for M-35. Local Three News reports that one of the L-S-and-I engines fell off the tracks and blocked traffic for about two hours. No injuries were reported in the incident.
---
(RRN) Meth Components Found Near Ishpeming's Bell Hospital
Another meth lab has been found in Ishpeming. Ishpeming Police and the Upper Peninsula Substance Enforcement Team found three "one pot" meth labs and two H-C-L gas generators that are used in the meth-making process. They also found Muriatic Acid and Coleman camp fuel. The dump site was located about a half mile behind...
---
(RRN) Two Women Missing For Six Days In Upper Peninsula
Two women last seen in the Upper Peninsula have been reported missing. Michigan State Police say that Leslie Roy and Lee Wright were visiting family in Ishpeming last Friday, and never made it to their final destination of Kalamazoo. Troopers say the women were travelling in a white, 2010 Ford Explorer. Family members...
---
(RRN) Wells Sports Complex Renamed For Hannahville Community
The Wells Sports Complex has been renamed the Hannahville Ice and Turf Complex after the Hannahville Indian Community paid to make major upgrades. A news conference was held Wednesday afternoon in the new turf room where the "second" ice sheet was once operated. That...
---
(RRN) Gov. Snyder Cheers Latest Michigan Unemployment Number
Governor Rick Snyder on Wednesday issued a statement after the announcement that the state's seasonally adjusted unemployment rate for March fell to 5.6 percent. The rate has now been cut in half from 11.2 percent in December 2010, and is one-tenth of a percent behind the national average. "We have momentum...
---
(RRN) Marquette General Hires New Cancer Medical Director
The Cancer Center at U-P Health System in Marquette has a new medical director. Hospital CEO Ed Banos on Wednesday announced that Philip Lowry, has accepted the Medical Director position. Lowry comes to the Upper Peninsula from Guthrie Clinic in Pennsylvania, where he was Chief Medical Director of Hematology and...
---
(RRN) Environmental Group Gives Benishek, GOP, Bad Grades
The Natural Resources Defense Council isn't too impressed with Upper Peninsula Congressman Dan Benishek's votes on environmental issues. The NRDC sent out a report card on Michigan's Congressional delegation Wednesday, and Benishek was added to the "Dirty Air Villains" list. All nine of the Michigan Congressman who...
---
(RRN) Snyder Signs Bills Banning Drones In Hunting, Fishing
Imagine sitting in your deer blind, ready to shoot that buck, and all of a sudden, a little device whizzes by and scares the deer off. Governor Rick Snyder on Tuesday signed legislation that bans the use of these drones while fishing and hunting. Both by unethical people who would use them to take game, but also by groups that are opposed...
---
(RRN) Noquemanon Trail Network Buys 40 Acres From Plum Creek
The Noquemanon Trail Network is expanding. N-T-N announced Tuesday that it has purchased 40 acres of land in Marquette County from the Plum Creek Timber Company, as well as nearly ten miles of "silent sports" trail easements. The 40 acres surrounds the County Road 510 Trailhead, and connects easements...
---
(RRN) Benishek Introduces Bill For Vets Suffering From Toxin
U-P Congressman Dan Benishek has introduced legislation that deals with health conditions faced by descendants of veterans who were exposed to toxins during their military service. The "Toxic Exposure Research Act of 2015" would set up a national center….at a VA medical...
---
(RRN) Special Mass At Holy Name; Open House At St. Francis
The Holy Name Catholic School in Escanaba will hold a special Mass in the school gym Wednesday morning. It's to honor the alumni from the old Holy Name High School, which was open from 1953 to 1974. Every class will be represented, with over 100 alumni expected to be there. Marquette Catholic Bishop John Doerfler will celebrate Mass....
---
(RRN) Escanaba Given Permission To Close Power Plant In June
The Mid-Continent Independent System Operators, or Miso, has decided not to extend a "system support resource" agreement with the City of Escanaba to keep the city's power plant operating. The city had been receiving payments for several years to keep the power plant on standby in case it was needed to add power to the grid....
---
(RRN) Manistique Township Family Homeless After Monday Fire
A Manistique family is homeless after fire destroyed their two-story home Monday afternoon. Manistique Public Safety was called at about 3:00 Monday afternoon to the home of Jason and Tricia McEvers on US-2 in Manistique township. Upon arrival, officers and volunteer firefighters found the home fully engulfed in flames. Firefighters...
---
(RRN) Copper Country Man Charged In Hit-and-Run Accident
A 31-year old Atlantic Mine man has been arraigned in Houghton County in a hit and run accident that injured a pedestrian last month. Benjamin Riutta stood mute to a charge of failure to stop at the scene of an accident resulting in serious impairment or death. A plea of not guilty was entered in his behalf...
---
(RRN) Gwinn Hires Iron Mtn's Jayne As School Superintendent
There's a new school superintendent in Gwinn. The school board last night hired Tom Jayne for the job. He's currently superintendent in Iron Mountain. He also formerly served as principal, vice-principal and athletic director in Gwinn. He'll take over July first. The board also voted to reopen Gilbert Elementary...
---
(RRN) Escanaba Police Plead For Help In 2011 Campbell Death
It's been four years since a young man was found dead inside a burning car on Escanaba's south side. But Escanaba Public Safety Detective Darin Hunter has not forgotten, and has not given up on finding the person or persons responsible for the death of 26-year-old Adam Campbell...
---
(RRN) Conservation Districts Holding Tree Sales April 24-25
It's Tree Sale time again at the Delta Conservation District. Director Rory Mattson says it's an important fundraiser, but it also supplies a lot of trees for area landowners. And for the first time, there will be a Tree Sale by the Schoolcraft Conservation District in Manistique. The tree sale will run from 1:00 until 7:00 on Friday, April 24th...
---
(RRN) Michigan DNR Concerned With Spread Of Oak Wilt Disease
The Michigan D-N-R is concerned about the spread of Oak Wilt Disease as we head into spring. Forest Health Program Manager Roger Mech says that the beetles that move oak wilt become active around this time of year as the snow and ice melts. People with oak trees are being told not to prune them between...
---
(RRN) Ishpeming, Crystal Falls Lift 'Let-Run' Water Orders
Two Upper Peninsula communities are ending their "let run" orders. Some homes and businesses in Ishpeming and Crystal Falls were told six weeks ago to let the water run to avoid having their pipes freeze up. With warmer temperatures, and the frost coming out of the ground, both communities told their customers...
---
(RRN) 25-year-old Man Dies In Marquette County Traffic Crash
There's been a fatal traffic crash in Marquette County. Michigan State Police say it happened at about 10:00 Sunday night on US-41 near Hillcrest Trail. 25-year-old Duncan Ryan-Ross went off the road, overcorrected to the left, crossed the center line, and crashed into a truck driven by 24-year-old Megan Niemi of Marquette. Duncan-Ross...
---
(RRN) Proposal One Could Have Big Impact On Delta County
Michigan voters go to the polls in three weeks to decide Proposal One, which would raise the sales tax by one percent as part of a plan to pump more money into the state's roads system. Randy Van Portfliet heads up the state transportation department's Superior Region, which covers...
---
(RRN) Michigan Reaction Mixed After Clinton Announcement
As you might expect, Michigan Republicans didn't have many flattering things to say about Hillary Clinton's announcement that she's running for president in 2016. And at the same time, many Democrats, like Michigan Senator Debbie Stabenow ,had plenty of nice things to say about Clinton's candidacy after Sunday's announcement...
---
(RRN) Grand Marais Woman Wins Upper Peninsula Writing Award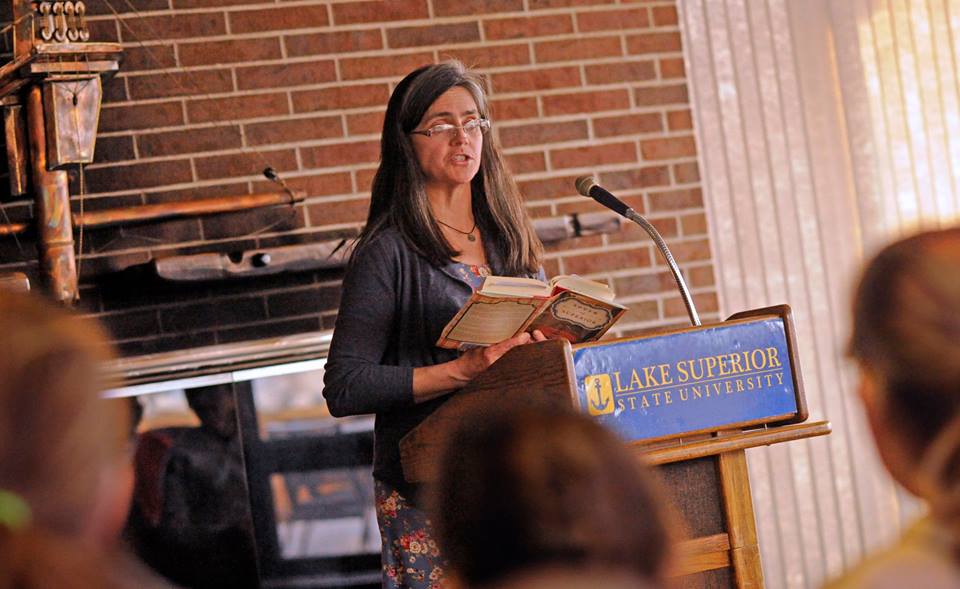 An Alger County woman has won Lake Superior State University's "Writing the U.P." award. It's the second year that the LSSU English Department has offered the award, and it generated entries from across the region this winter. Ellen Airgood of Grand Marais was this year's winner, and she...
---
(RRN) Coast Guard To Open NE Lake Michigan Channel Monday
Another sign that spring has sprung: the U-S Coast Guard is chopping ice to open Great Lakes channels. On Monday, a crew from Sault Ste. Marie plans to open up Gray's Reef Passage, which is in northeastern Lake Michigan off of Mackinac County. The Coast Guard plans to begin this operating at 8:00 Monday morning. All recreational users...
---
(RRN) New Michigan Fishing Regulations In Effect Right Away
The Natural Resources Commission finalized several regulations impacting the 2015-2016 fishing season at its meeting on Thursday. Fishing regulations are adjusted annually to ensure Michigan's fisheries resources are managed properly and to provide the best benefits to anglers and the public. Due to the Natural Resources Commission's...
---
(RRN) Hotel Proposed For Old K-I Sawyer Air Force Base Dorms
No decisions were made Thursday night on turning old Air Force base dormitories into a hotel at Sawyer. Local Three News reports that the Forsyth Township Planning Commission reviewed a site plan Thursday evening to turn these buildings into a 56 room hotel at the former K.I. Sawyer Air Force base. The board supports the idea of the...
---
(RRN) Free Vision Screenings Being Offered Saturday In Mqt
Silver Creek Thrift and the Chocolay Township Lions Club are teaming up to offer free vision screenings for area residents of all ages. Vision screenings will take place Saturday from 10:00 until 4:00 at Silver Creek Thrift...and again on next Saturday, the 18th, from 10 until 4. Local Three News reports that donations....
---
(RRN) UPSET Detectives Make Marijuana Bust In Chippewa Co.
There's been a major marijuana bust in the eastern Upper Peninsula. The Upper Peninsula Substance Enforcement Team says it searched two homes on Erin Place in the town of Kincheloe, south of Sault Ste. Marie. Detectives found 39 marijuana plants, processed marijuana, 12-hundred dollars cash, and "grow equipment" that's...
---
(RRN) Escanaba's Sand Point Lighthouse Getting State Grants
Escanaba's Sand Point Lighthouse has been approved for a $14,000 state grant from the Michigan Lighthouse Assistance Program. The Delta County Historical Society will use the cash to hire a contractor to repaint the outside of the lighthouse, including all masonry, metal, and wooden surfaces. State Historic Preservation...
---
(RRN) Gladstone Receives Grant For Water Fluoride Equipment
The City of Gladstone is one of seven Michigan communities to be awarded money to buy new equipment to put fluoride into their water systems. Gladstone is getting just over 53-hundred dollars from the Michigan Department of Community Health's Oral Health Program. This is the sixth year grants have been awarded, and the money...
---
(RRN) Michigan DNR Warns Hunters To Remove Their Tree Stands
If you used a tree stand on public land last deer season, and haven't taken it down yet, now is the time to do it. The Michigan D-N-R says the deadline is actually March 1st to remove scaffolds, raised platforms, ladders, steps, or anything else that you use to get into and out of a tree. D-N-R officials say that you could get a fine of up to...
---
(RRN) FIRST Robotics World Championship Coming To Michigan
If the Escanaba and Gladstone High School FIRST Robotics teams qualify for the world competition in 2018, they won't have to travel to far to compete. Governor Rick Snyder announced Thursday that Detroit will serve as co-host of the international competition in 2018, 2019, and 2020. Houston, Texas, will be the other co-host...
---
(RRN) Northern Michigan U. President On Main MEDC Committee
Northern Michigan University President Fritz Erickson has been picked to serve on an important board in Lansing. Governor Snyder appointed Erickson to the Michigan Economic Development Corporation's Executive Committee. The M-E-D-C runs numerous grant and loan programs across Michigan that try to spur economic development...
---
(RRN) City of Escanaba To Negotiate With Sterling Energy
An Indiana company wants to buy the Escanaba Power Plant and turn it into one that burns biomass rather than coal. Sterling Energy Group of Gary, Indiana, made its proposal in late January, and a public hearing on the proposal was held Wednesday night by the Escanaba City Council and the city's...
---
(RRN) Eagle Mine Welcomes Tougher Water Testing Requirements
The state Department of Environmental Quality last week approved changes to the groundwater discharge permit for Marquette County's Eagle Mine. The agency says the changes are the result of public comment--and will better protect ground and surface water near the facility. The mining company issued a statement Wednesday...
---
(RRN) Escanaba Country Club Celebrating 100th Anniversary
This year is a milestone year for the Escanaba Country Club: 100 years of operation. The country club is planning a number of events throughout the summer to celebrate the anniversary. They've also hired a new Course Superintendent: Tyler Finch, who comes to Escanaba after six years at the Treetops Resort in...
---
(RRN) U.S. Agriculture Dept. Worried About Invasive Species
The US Department of Agriculuture is warning about the growing threat invasive species pose to the nation's forests and farmlands. Doctor Michael Watson with the agency's Animal and Plant Health Inspection Service says the emerald ash borer and European gypsy moth are among the top threats. Watson says more invasive...
---
(RRN) Michigan DNR Says Dead Fish Likely Due To 'Winterkill'
As you walk around the lakes and streams of the Upper Peninsula, you might see some dead fish and other creatures. The Michigan DNR says that it's called "winterkill". Biologists say that during the winter, the thick ice blocked the sun from the aquatic plants, sucking up available oxygen…and so that has led to more deaths. The department is not...
---
(RRN) Veterans Get Help At Marquette Fair Hosted By Benishek
Veterans from across the Upper Peninsula were in Marquette Tuesday for a Veterans Assistance Fair. It was organized by Upper Peninsula Congressman Dan Benishek, who says it's important to bring veterans together with officials who can help them with their needs. About 50,000 veterans live in the U.P. and almost half of them aren't...
---
(RRN) Earth Keepers Will Take Unwanted Drugs On April 25th
The Superior Watershed Partnership is teaming up with a number of churches across the Upper Peninsula to collect expired and unwanted prescription drugs. The "Protect The Great Lakes" drop-off date is set for April 25th, and there are drop-off points in all 15 U-P counties. This is the third time that the Partnership has teamed up with...
---
(RRN) Program Coming To U.P. To Help Start New Businesses
Grand Valley State University is bringing its "CO.STARTERS" program to the Upper Peninsula. That's a nine-week course that helps small communities to grow local business. It will be offered, starting April 15th, in both Escanaba and Sault Ste. Marie. The project manager says that they've been bringing entrepreneurship education...
---
(RRN) Congressman Benishek To Visit Escanaba BusinessTuesday
Congressman Dan Benishek will visit an Escanaba business Tuesday. He'll be at Bras That Fit on Ludington Street to discuss the lymphedema act and poor reimbursement for mastectomy products that has caused a shortage of providers. Store owner Linda Romps says 38-milion dollars was spent on penis pumps...
---
(RRN) No Charges For Menominee Co. Man Who Killed Intruder
There'll be no charges filed against a Menominee County man who shot and killed an intruder in his home last November. Menominee County Sheriff Kenny Marks announced the decision on Monday. The sheriff says 62-year-old David Higbee was within his rights under state law when he shot and killed 19-year-old...
---
(RRN) Iron Mountain Teen Hurt In Easter Accident In Pembine
A two-vehicle, head on crash sent two people to the hospital in the town of Pembine, Wisconsin on Sunday. The sheriff says it happened at about 2:15 Sunday afternoon on Highway 8. Deputies say a vehicle driven by a 16-year-old Iron Mountain woman crossed the centerline of the highway into the path of a vehicle...
---
(RRN) Woman Arrested After Trying To Break In Home With Axe
A 46-year-old Gwinn woman is in jail after police say she tried to hack her way into a man's home with an axe early Saturday. Officers say Joie Lee Graves was refused entry and initially tried to get through a window. When that didn't work, they say, she picked up an axe and started chopping at the front...
---
(RRN) Mackinac Island Re-opens After Weekend 'Hard Landing'
No injuries were reported after a plane crash on Mackinac Island over the weekend. Island police say the small plane went down Saturday afternoon at the Mackinac Island Airport as the pilot was flying back from St. Ignace. Police blame the accident on landing gear that failed to deploy, but the plane skidded to a...
---
(RRN) Iron Mountain Man Jailed For Assault, Fleeing Police
A 22-year-old Iron Mountain man is jailed after a high-speed chase and standoff with police early Saturday. Our partners at Local Three News say Tyler Clash is charged with domestic violence and fleeing police. Police say it started with a domestic violence 9-1-1 call at about four Saturday morning. When they got to the home...
---
(RRN) Jacobetti Home To Get Donation; Vets Meeting Tuesday
Marquette's Jacobetti Home for Veterans will be receiving a seven thousand dollar check today. The money from the Michigan Building and Construction Trades Council will be used for recreational outings and medical needs such as dentures and hearing aids. The money comes from a 2014 gold outing. Meanwhile...
---
(RRN) Forum Set For Gladstone City Commission Election Race
There'll be a forum on April 15th for candidates running for the Gladstone City Commission in May. There are four candidates for two partial terms ending in November of 2017, and one candidate for an uncontested term ending in November of this year. Three existing commissioners are facing a recall in May...
---
(RRN) Report: Chippewa County Sheriff Faces Recall Election
The Chippewa County sheriff could be facing a recall. WPBN-TV reports that a petition to recall Sheriff Robert Savoie was filed by a man who ran against him in the 2012 election. The petition alleges that the sheriff abused his power and used public funds to pay for personal legal fees. State election officials will hold a hearing...
---
(RRN) M-DOT: Portage Lift Bridge Maintenance Work Continues
Major mechanical work on the Portage Lake Lift Bridge and the accompanying long bridge closures are over, but the Michigan Department of Transportation cautions motorists that ongoing maintenance work will continue to impact traffic in the Houghton-Hancock area through the summer. Moving into the summer construction season...
---
More...