Jack Hall Blog
GURNEE, IL--MARCH 31, 2015-12:37 A.M. CT
It's been quite a few years since Escanaba has had a buffet-style restaurant.
The last one, Great Northern Buffet, closed couple of years ago and is now an auto parts store.
Before that, many of us will remember that it was the Ranch Steak and Seafood. And many years ago, there was a Ponderosa, I'm told.
Whenever I go on vacation, and eat at places like the Golden Corral (like I did Monday) or Old Country Buffet, I wonder, why don't we have any in Escanaba?

In fact, why do we have no chain "sit-down" family restaurants in our town?
Don't get me wrong. I like our local restaurants like Elmer's and Drifter's. But they close at 9:00 or so, and I would like to have some variety. Why can't we have a Perkins, like Menominee and Marquette do? Manistique has a Big Boy, and we used to, years ago. And why no Denny's?
If Escanaba is big enough for a Meijer store and a Wal-Mart Supercenter, and a ton of auto parts chain stores, then we should big enough to have a national (non fast-food) restaurant like those I mentioned.
But until someone challenges the grip the current restaurants have on the Escanaba market, I guess I will just have to look foward to eating at all of these restaurants when I am traveling. Hope all is well back home.
---later, Jack
---
MILWAUKEE, WI--MARCH 30, 2015-1:01 A.M. CT
Congratulations to the North Central Jets boys basketball team for their 67-47 win over Morenci that cliched the Class D State Championship on Saturday in East Lansing.
I am so impressed with Coach Adam Mercier and the way that he and his staff runs this program.
All of the kids are literally a part of it all. Jason Whitens and Rob Granquist are obviously big parts of the NCA Machine. But so are Caleb Martin and youngsters Dawson Bilski and Bobby Kleiman and the rest a the crew. It is literally a TEAM!

The NCA Jets went 27-0 this season. The most impressive opponent was the Munising Mustangs, who took the Jets down to the wire in both meetings. And there was that tight regular season game against Crystal Falls. Other than that, the Jets won 24 games by wide margins.

This 2015 team joins the 1984 NCA team in the school record books.
But this Jets team was even more special because this state championship happened just one week after Calumet and St. Ignace won state championships in girls basketball. So, of the eight state basketball champions crowned in the past week, three have come from the Upper Peninsula.

U.P. Power, indeed!

---later, Jack
---
MARQUETTE, MI--MARCH 27, 2015-12:30 A.M.
I'm enjoying the start of my vacation with my buddies!
Also, I am enjoying the North Central Jets' run to the state basketball championship game. The NCA guys pounded Fulton-Middleton in the Class D state semifinals Thursday night, 71-46.
The Jets will play Morenci in state championship game on Saturday morning.
CLICK HERE
to read my story about the Jets' big victory. U.P. Power!
---later, Jack
---
ESCANABA, MI--MARCH 26. 2015-2:30 A.M.
Ah, yes. Vacation! You will not hear my voice on the radio until April 7th.

I am glad to be able to spend some time with family and friends over the next couple of weeks, and just regroup after a very busy time in both the news and sports departments.

I guess I am never completely away from the radio station. From where-ever I am, I will post entries on this blog from time to time, whenever I feel like commenting on something!
I will also be posting news stories on the Radio Results Network news page every night, and I will do some updates on the RRNSports.com web site for the North Central Jets basketball team in the Final Four, and for the Michigan Tech hockey team in the NCAA Tournament.

Otherwise, I am gone! Don Curran and Susie Larson are at your service with all of the day's news, and Ron Plum always has your sports. See you next month!

---later, Jack
---
ESCANABA, MI---MARCH 25, 2015-1:00 A.M.
The Veterans Administration has made a change to its "40-mile rule" which had been a part of the new Choice Card program.

That's the program where veterans can seek medical care at a local hospital if there is a 30-day wait for treatment at a VA facility, or if the veteran lives more than 40 miles from the nearest VA facility.

Well, the VA was calculating 40 miles from a straight line, like as the "crow flies", from the VA facility to the veteran's home. Congressman Dan Benishek (R-Crystal Falls) says that some vets were being told they could not use civilian medical care facilities on the VA dime because they were within 40 miles on a VA facility.

But, do veterans hook on wings and fly through the air? Of course not. They drive! And the driving distance between these servicemen and the nearest VA clinic is more than 40 miles in many cases! The VA changed its interpretation of that rule on Tuesday, and so now it is based on actual driving mileage. Benishek calls this move "common sense", and I agree.
---later, Jack
---
FARMINGTON HILLS, MI--MARCH 23, 2015-1:55 A.M.
Escanaba High School senior Levi Wunder was named to the Michigan High School Hockey Dream Team on Sunday at the state hockey awards luncheon in the Detroit suburb of Farmington Hills.
Wunder's selection on thie elite team cements him as one of the top three offensive players in Michigan, and on of the six top players regardless of position, regardless of division.

Despite that great honor, there was also some disappointment for Wunder and his supporters. The Mr. Hockey Award for the state's top player was given to Austin Alger of Bloomfield Hills Cranbrook High School, even though Alger had far fewer goals and assists than Wunder did this season.
Alger had 27 goals and 37 assists for 64 points, while Wunder had 46 goals and 46 assists for 92 points. And Wunder had been named the Warrior Sports Michigan Player of the Year just days earlier.

Some people immediately started to suggest that there was something crooked going on. After all, Alger is from southeast Michigan and attends a private school in the metro area. And some folks up here were still talking about what they felt was poor officiating in last week's state semifinal game between Escanaba and Livonia Stevenson, a game that was played down there. And so now, they are crying foul.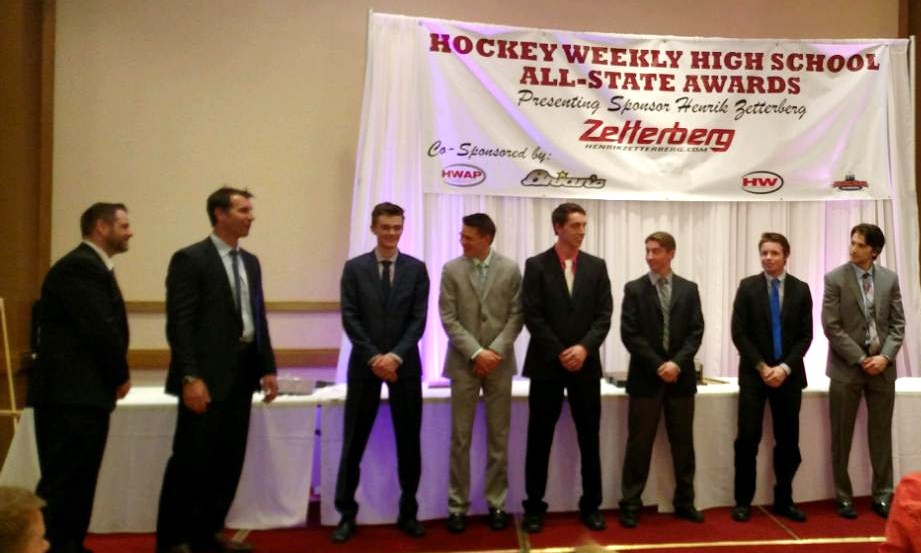 Well, personally I don't think that there's anything crooked or underhanded here. I think it is irresponsible and wrong for any of us up here to call someone from downstate a cheater just because our guy didn't won. Alger is a great player, as is Wunder.
I will say one thing, though. It can be much tougher for an Upper Peninsula high school player, in many sports, to win a statewide award, than it is for someone from Metro Detroit to win it.
It's just the way it is. Of the coaches who vote on these major awards, the vast majority of them are from downstate. So, they see the downstate kids much more often than they see a U.P. boy like Wunder. So, they are more likely to have a favorable opinion of a kid from their local area.

Wunder is the most decorated hockey player in Escanaba High School history. The downstate media and coaches have treated him pretty well. He won many awards. Should he have been Mr. Hockey? Well, I feel that Wunder proved that his worth to the Eskymos was far greater than some other players were to their teams. So, yes, I think he should have been.

But, then again, I am biased. Just like the folks downstate are biased toward their guys.

---later, Jack
---
ESCANABA, MI--MARCH 20, 2015-1:55 A.M.
Our Upper Peninsula kids can compete with, and beat, almost anyone from the Lower Peninsula in many sports.
We found that out on Thursday at Michigan State University's Breslin Center, as the high school girls basketball state semifinal games were held. In Class C, Calumet used strong defense to beat the undefeated top-ranked team in the state, Laingsburg, 30-26. And in Class D, St. Ignace trailed by eight points at halftime but rolled in the second half to post a 59-50 win over Frankfort.

Both games were broadcast live on WCHT-AM Newstalk 600 and on-line at RRNsports.com as part of our pledge to cover Upper Peninsula youth athletics. We thank our local businesses for giving us the sponsorship money to cover our costs of covering all of the games.

Calumet's Clara Loukas made some big plays in her team's win.
And for St. Ignace, well, it's the calm hand of Coach Doreen Ingalls that has led the way there for so many years.
Margo Brown had 23 points and Abby Ostman scored 20 for the Saints, with big second-halves!
On Saturday, Calumet plays Flint Hamady in the Class C state championship game. And St. Ignace faces Pittsford in the Class D state title game. We will broadcast Calumet's state title game at 4:00 on Saturday on AM-600 and rrnsports.com.
Since we have the very popular Real Outdoors Radio program on the air on Saturday mornings, we cannot broadcast the St. Ignace game. But our friends at WDBC-AM (680) will carry the Saints-Pittsford game on their radio station.

Good luck to Calumet and St. Ignace in Saturday's state finals!

---later, Jack
---
ESCANABA, MI---MARCH 19, 2015-2:11 A.M.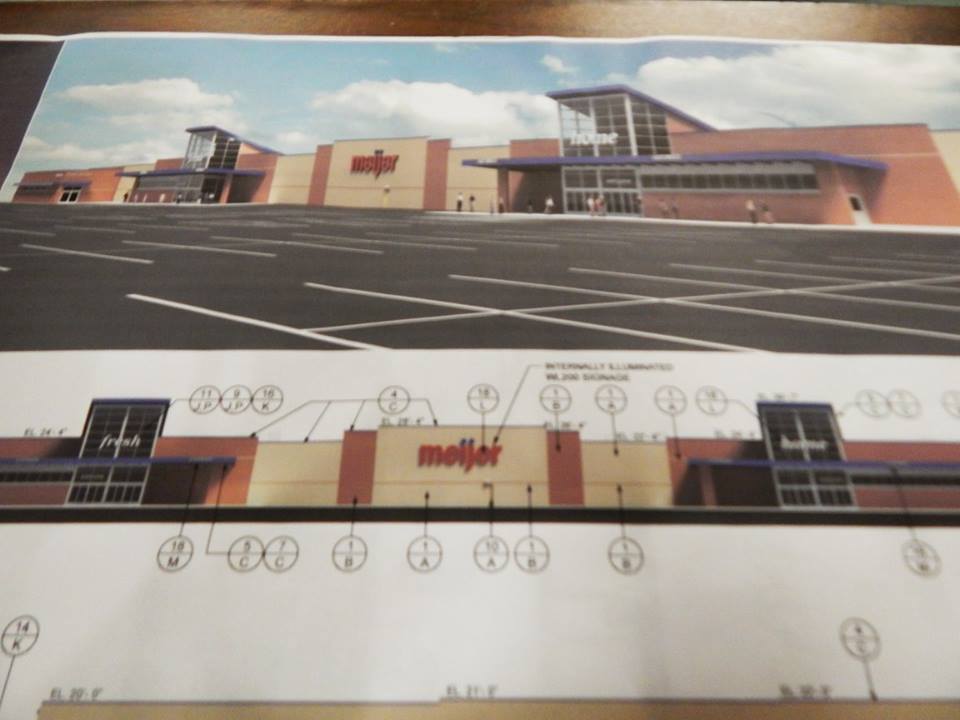 I like Meijer Stores.
I have since I was a teenager growing up in suburban Detroit. There were Meijer stores in Canton and Taylor, and I shopped at them a lot back in the late 1980's. My sister worked for several years at a Meijer store.
It is a great, Michigan-based company.

The Escanaba Planning Commission voted 7-0 last night to approve the site plan for a Meijer store to be built on the city's west side. Groundbreaking is set for sometime in the spring of 2016, and Meijer says it plans to open its store in the late spring/early summer of 2017.

I say hurrah! Meijer has good customer service. Their stores are clean, well-lit, and professionally run. Our community will benefit from more than 200 new jobs.

Now, there are some in the community who are concerned about this new giant store coming into Escanaba and gobbling up businesses who have been here for years.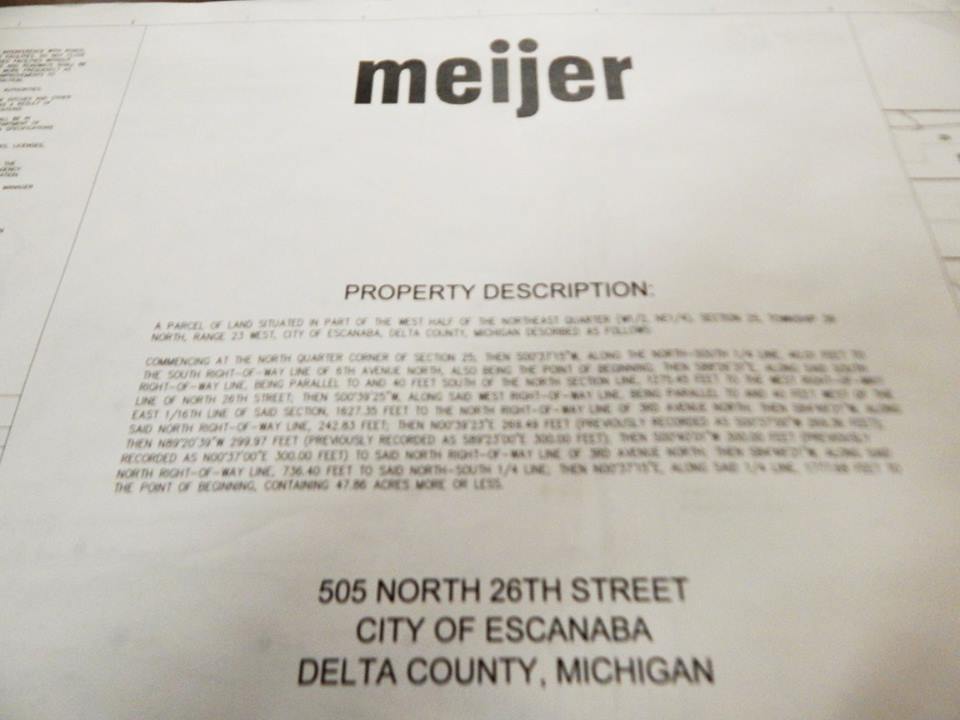 One of my best friends is Mike Dagenais, who is the co-owner of Elmer's County Market. He is concerned, and he has a right to be.
But I honestly beliveve that Elmer's is such a big part of this community that people will not abandon it. Elmer's has done so much for so many people, from youth sports teams to senior citizens groups. They are appreciated.

And the same with other local businesses who have helped to support our community for so many years. I, personally, will be glad to shop at Meijer. But I will also make my nightly run to Mikey's Beer Cave or to the Elmer's deli for a sandwich.
It is my favorite store.
I think that we all need to welcome Meijer. And at the same time, let's remember the folks like Elmer's and T-and-T, and Sav-Mor IGA, and Carne's BP. Just to name a few. Let's remember what they do for our community, and keep doing business with them.
I disagree with the man who spoke at the planning commission meeting who said that "Escanaba is a dying town".
This town is NOT dying. Changing? Yes, sir. But not even close to dying.
There is a great spirit amongst the people who live here, and I am proud to raise my hand anywhere I travel and tell them that I am from Escanaba.

I also believe that a Meijer, and the much-rumored CVS Pharmacy store, can coexist alongside our established businesses.
To my buddy Mikey D and Glen White (who spoke at the meeting), you guys will always have my business, and many, many people will still shop at your stores!

I do not believe that Meijer coming here in 2017 will change how Delta County residents feel about our local businesses. I believe that there's enough room for everybody.

---later, Jack
---
ESCANABA, MI--MARCH 18, 2015-1:38 A.M.
The NCAA men's basketball tournament began Tuesday with games between Mississippi and Brigham Young, and between Manhattan and Hampton. Wednesday night's games are between North Florida and Robert Morris, and between Dayton and Boise State.

I don't like having these "play-in" games, and expanding the traditional field of 64 to 68 teams. Now, you will never have a true #16 seed beat a #1 seed, because the lower seed will have already played a game. I know the expansion was done for money, in particular, money from TV. But I guess I am a traditionalist who likes the old 64-team format.

This Thursday and Friday, with games starting at noon and going until after midnight, is a lot of fun to watch. I am not a real college basketball fan, but I do watch at this time of year, and cheer for the underdog long-shot teams to win NCAA tournament games against big schools.

Of course, we often don't get much done in the office on these two days. There are actually studies that show that to be the case! And those basketball pools are fun to enter, and there's times where someone who know nothing about basketball actually wins the money!

This is a great time of year for sports fans. Besides the NCAA basketball tournament, you have the NHL season entering its final couple of weeks, the NBA enters its final month of regular season play, and Major League Baseball's long season begins. I love it!

Before I close, good luck to the Escanaba Eskymos and North Central Jets basketball teams in their regional championship games Wednesday night. I will post details at rrnsports.com.

---later, Jack
---
ESCANABA, MI--MARCH 16, 2015-2:02 A.M.
This is a great time of year if you enjoy watching (or listening to) local high school sports.
The Escanaba High School hockey team was the talk of the town last week as the boys won four playoff games and advanced to the state semifinals at Plymouth's Compuware Arena on Thursday. The boys lost a heartbreaker, 3-2, to Livonia Stevenson.
And yes, I do believe that Levi Wunder was tripped on that play with 20 seconds left and there should have been a penalty, and maybe a penalty shot, which could have sent the game to overtime. Wunder, along with Calvin Pinar, were named All-Staters Saturday night.

We still have the basketball playoffs ahead of us. It was quite an atmosphere Friday night as Escanaba beat Gladstone, 32-30, on a buzzer-beater by Tyler Hardwick in the district championship game. All of those highlights have been posted at RRN Sports.com.

The regipnals begin tonight in boys basketball. How would you like to have an 18-4 record and be considered an underdog? That's what the Forest Park basketball team faces as they face Lake Linden-Hubbell (22-0) in a semifinal game in Negaunee. And then, it's the Game of the Year Part Deux as North Central (22-0) faces Munising (21-1). It will be a war!

Hope you all enjoy this time of year, and praise the kids and coaches for their efforts!
---later, Jack
---
Next Entry