Jack Hall Blog
ESCANABA, MI--MARCH 6, 2014-3:13 A.M.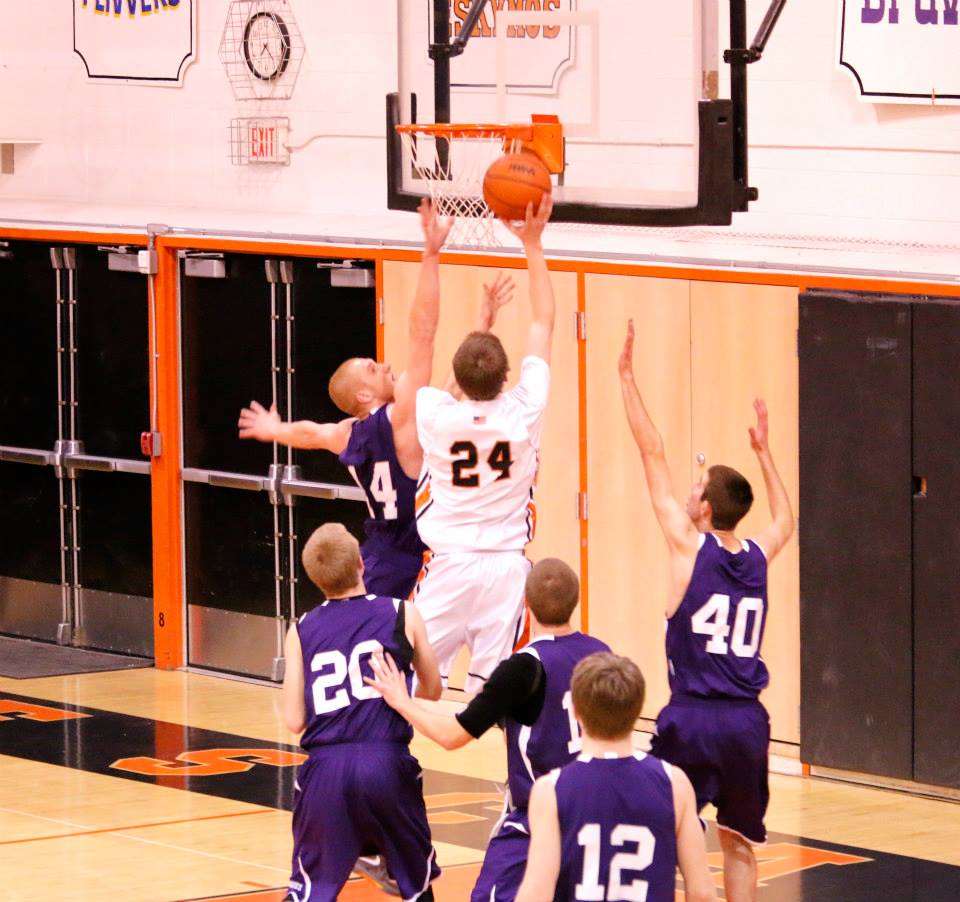 It was the Battle of Delta County again, and even though the final score read "Escanaba 60, Gladstone 48", I left the gym Wednesday night quite proud of both teams.
That's because I liked the effort that the guys on both the Eskymos and the Braves teams turned in for all 32 minutes of this district semifinal game.
Yes, there were a few things that went on in the stands that I didn't like. I mean, I hope that the Eskymo Spoon can be repaired.
There were a couple of plays in the fourth quarter where emotions ran high. But, I'll tell you, those kids all shook hands when this game was over and I was proud to see the friendship on display as the boys talked after it was all over.

I felt the worst for the Gladstone seniors, who suddenly knew that their careers were over. I gave Jared Hunter a big hug to thank him for his dedication to Braves basketball. The same to senior Christian Groleau, who only got in at the end of the game.
I was also happy for the Esky kids, who will now play Menominee in the district final.
I felt especially happy for Sam Molnar, who has a lot on his mind, and is playing with a heavy heart.
Sam's mom is having health problems. I know how scared I was when my mom had her stroke back in October. I can only imagine what Sam is going through, and to see him play so well Wednesday night put a smile on my face.
I hope the Eskymos do well down in Menominee Friday night, and I'll close with a big "thanks" to the Braves and Coach Dale Hongisto for giving me the fun they did this season.
---later, Jack
---
ESCANABA, MI--MARCH 5, 2014-2:02 A.M.
The best time of the high school sports season is upon us. March Madness.
Of course, that is a term trademarked by CBS and the NCAA, so the Michigan High School Athletic Association wants us to call it "March Magic". OK, whatever.
And whatever you call it, the end of the winter sports season is always exciting.
How do you explain the Menominee girls coming from nowhere to advance to the regional championship game? How about Mid Peninsula's girls stunning Bark River-Harris in the districts last week? Or Marquette's hockey team taking down my Escanaba Eskymos?
It's not just about "upsets". Even when the team with the better record wins, it is still a lot of fun, and it is electrifying watching the students in the bleachers cheer on their classmates.
That is a big part of it: school spirit and community pride.
I liked watching the L'Anse students (pictured above) do the roller-coaster, and chant, all night long during last night's Class C girls regional semifinal game at the Escanaba High School Gym.
When you get to the playoffs, the kids all give that little extra effort. Like the Norway and L'Anse girls diving all over the place for loose balls (pictured at left).
And I suspect we will see a lot of that tonight as the Gladstone Braves and Escanaba Eskymos play in a boy's district basketball semifinal. I hope you all come out to the Escanaba High School Gym and watch the game. It will be intense.
Or I invite you to tune into our broadcast on AM-600 and on-line at
www.rrnsports.com
.
Good luck to all of the teams. And...enjoy it!!
---later, Jack
---
ESCANABA, MI---MARCH 3, 2014-2:44 A.M.
The high school winter sports season is already winding its way down, and over the weekend, the U.P.'s best wrestlers competed with downstate kids at the MHSAA Indvidual Wrestling State Finals at the Palace of Auburn Hills.
Yep, where the Detroit Pistons play!

Our guys did a great job.
(Travis Heller is a winner for the Escababa Eskymos, pictured at left)
Fourteen of the U.P.'s 24 wrestlers won their Friday matches, and in the end, ten U.P. wrestlers made it to the podium. That means that they finished eighth or higher in their respective weight classes. They all should be proud of their accomplishments.
Escanaba's Travis Heller finished third overall in Division Two, the highest finish ever for a U.P. wrestler in that division. Heller won more matches in his four-year career than any other U.P. wrestler. He is one of the most dedicated and hardest-working kids I have ever known.
Eskymo teammate Kaleb Rahoi took fifth in his weight class. Quite an accomplishment for a kid so young.
And in Division Three, Gladstone senior Jake Cronick took fifth place in the 189 pound weight class.
(Jake Cronick is pictured at left)
Jake told me Saturday night that it was an honor for him to compete at the Palace and that finishing fifth, to him, was satisfying. I applaude his attitude.
High School Bowling is not a sport that we talk much about. But the Escanaba girls advanced to the state semifinals before losing to Flint Kearsley in downstate Waterford. Great job Cathy Pomeroy and Jenna Larson and the rest of the girls! They put EHS Bowling on the map!
(Escanaba girls bowlers are pictured at left)
Also, congratulations to the Ishpeming girls bowling team. The Hematites qualified as the sixth seed out of eight in the Division Three finals, but made it all the way to the championship match, before losing to Croswell-Lexington in the finals.
Great job Ishpeming girls!
The competitive cheerleading state finals were also held over the weekend. Manistique and Munising were the two U.P. teams left in the competition, and they finished seventh and eighth, respectively, in the state competition in Grand Rapids. Good season, though, girls.
Just wanted you all to know how the kids in the so-called "minor sports" did.
---later, Jack
---
ESCANABA, MI--FEBRUARY 28, 2014-3:36 A.M.
The way that a great high school hockey season can end in a blink of an eye is what makes this game so great, and at the same time, so cruel.
The Escanaba Eskymos and Marquette Redmen battled each other all night long in the regional semifinals Thursday night.

The kids on both teams left it all on the ice. It was a pleasure to broadcast this game.
At times, it was not pretty, especially the first period, when the Redmen did their usual "muck everything up in the neutral zone" routine. Former MSHS Coaches Gerry Sullivan, Mike L'Huillier, and Joe Papin would have never done the neutral zone trap and "dump-the-puck" like this.

But, Marquette Coach Doug Garrow realized that he did not have the offensive firepower to go to war this year. He had to have discipline, and a complete sell-out to defensive hockey.
He got that from his players, and with the help of two power play goals, his Redmen ended the Escanaba Eskymos season, 2-1, in two overtimes Thursday night.
I must be honest. The penalty that was called against Escanaba's Steve Wood for tripping in the second overtime should not have been called. It was behind the net. Not a play that was a blatant breakaway or odd-man rush that prevented a scoring chance.
And at the other end of the ice, seconds earlier, it looked like an interference call could have been made against Marquette. It wasn't. And I can't argue it.
Well, this version of the Marquette Redmen was built to take advantage of these situations. And their boys did, as Luke Schwemin scored 1:46 into the second OT.
Marquette celebrated an improbable win. As an Eskymo, this hurts. Our EHS guys were the better team, across the board. But the Redmen made the better plays. Hats off to those guys. And good luck to them downstate against Saginaw Heritage on Saturday.
---later, Jack
---
ESCANABA, MI--FEBRUARY 27, 2014-3:28 A.M.
It's always tough to see a high school sports career come to an end.
There's a lot of emotion there when a boy or a girl realizes, all of a sudden, that everything they have worked for over the past four years is over. We see that during playoff games every year.
The season abruptly ended for the Escanaba and Gladstone girls basketball teams Wednesday night in the Class B district semifinals. Escanaba lost in Houghton, 70-46, while Gladstone fell in Menominee, 55-45.
That meant "lights out" for Eskymo seniors Lynsey Collins, Syd Gafner, Ashley Cook, and Morgan Verbrigghe. For the Braves, it was the end of the line for Jess Beaudry, Callie Jensen, Tinner Sharon, Anna Wulf, and Kelsey King.
(Pictured: Gladstone seniors Tinner Sharon (25) and Jessica Beaudry (32) during Wednesday's playoff game in Menominee)
Over the past 20 years of broadcasting, I've seen plenty of kids' high school careers come to an end, and there's always tears. And then, a year or two later, one of the boys or girls will come back from college and tell me "man, I wish I could be playing high school sports again".
So, for all of you underclassmen out there....soak in every moment, take nothing for granted. Because soon enough, it will all be over for your high school sports career, too.
Hope you tune in tonight as the Escanaba Eskymos face the Marquette Redmen in the hockey regional semifinals. Lets pack the Wells Sports Complex! Game time is 7:00, and we will broadcast the game live on AM-600 and on
www.rrnsports.com
.
---later, Jack
---
ESCANABA, MI--FEBRUARY 26, 2014-2:44 A.M.
Wow, what a long day and night!
On Monday, I worked my normal shift in the afternoon at the radio station, drove to Kingsford to broadcast the Gladstone-Kingsford girls playoff game, then came back to the radio station to finish the writing of the stories for Tuesday morning's news.

I left the radio station at 12:30 a.m., then wrote my RRNsports.com sports updates, and went to bed at 3:00 a.m.
The phone rang at 3:55 a.m. and it was Susie Larson. Calling in sick for the first time since she has worked for us. She is so dedicated that I knew for a fact that she wasn't faking. So, at 5:45 a.m., I was at the radio station again, broadcasting the morning news.
Luckily, I was able to get three hours of sleep before having to go back to the station Tuesday afternoon to do my normal news shift.
And then, it was on to the Wells Sports Complex for the Escanaba-Negaunee hockey playoff game (pictured above, and at left).
Escanaba won, 3-0, but leading scorer Levi Wunder was injured on what some called an intentional knee-to-knee hit. I don't know if it was intentional or not, but with Wunder out of the game, the Eskymos went 0-for-7 on the power play.
I don't know the extent of his injury, but Levi limped onto the ice (in a full business suit) to shake hands with the Negaunee players after the game.
Levi wasn't the only one who took a knee-to-knee hit in this game. Eskymo freshman Chris LeMire took two of them, and he was limping out of the rink tonight. Were these cheap hits? Well, no penalties were called on any of them, so I can't say for sure. But there were quite a few others in the Escanaba camp who were very upset at the end of this game.
Well, at the same time, over in Gladstone, the Braves had Senior Night for the boys basketball team. That is always an emotional time.
Not for the 60-41 win over the Manistique Emeralds. But knowing that this will be the last time you play a varsity basketball game on your home court? It makes memories flood back into your mind, not only for the kid, but especially for the parents.
This is Braves senior David Dykowski hugging his mom before Tuesday night's game. Emotional for both, as you can see. The boys now will try to find a way to upset the Escanaba Eskymos in the district tournament next Wednesday in Escanaba.
But before that, this Wednesday night, I will head to Menominee with the Gladstone girls team for the district semifinal game against the Maroons. Game time is 7:00 EASTERN, and my friend Mike Dagenais has agreed to come with me and help out for as third straight night.
Tune in, if you will, on AM-600, or on-line at
www.rrnsports.com
, as the Gladstone girls try to post another playoff win!
---later, Jack
---
ESCANABA, MI--FEBRUARY 25, 2014-3:09 A.M.
It's March Madness, or "March Magic" as the MHSAA calls it.
The high school sports post-season is under way across the Upper Peninsula, with the start of the girls basketball district tournaments.
I was in Kingsford Monday night with the Gladstone Braves, and the girls turned in a solid performance, beating ther Flivvers, 53-43.
There were a few times where I thought Kingsford might get the upper hand, because the Flivver girls sure did play hard. Especially Courtney Qualley, who nailed a couple of threes that were so far out there that NBA players would tip their hats to her.
But Gladstone had the answer every time.
Callie Jensen drained two huge three's. Jess Beaudry played well despite carrying three fouls.
And Lexi Hongisto and Bridget Becker both went a perfect 4-for-4 from the free throw line in the final minutes of the game.
Now, we head to Menominee for a war with the Maroons Wednesday night in their gym with the tall ceiling and the long floor.
Meanwhile, what an upset over in Bark River! The Mid Peninsula Wolverines, who lost by 30 points to the BR-H Lady Broncos on their last visit to Casino Country, pulled a big one Monday night, 38-37. A buzzer-beater by Corey Numillien. What a win for Mid Peninsula, proving that anything can happen once you get into the post-season and everyone is 0-0.
And before I go, congratulations to the Marquette High School boys skiing team. The boys won their second straight state championship on Monday down in northern Lower Michigan. I have posted details on all of it at
www.rrnsports.com
.
---later, Jack
---
ESCANABA, MI--FEBRUARY 24, 2014-3:30 A.M.
Well, here we go. The high school sports playoffs are getting started across the Upper Peninsula. As if last week's "game every night" stuff wasn't wild, here we go with the girls basketball district tournaments, and the high school boys hockey regional tournaments.
Next week, it will be the boys basketball district tournaments. And add to that high school wrestling, bowling, and cheerleading...we have a lot going on! I am hoping that our Delta County teams have some fun, and success, over the next couple of weeks.
I think that the North Central Jets boys basketball team has the potential to make it to the state's final four again. The Escanaba Eskymos can certainly win a Class B boys district, although the Gladstone Braves are waiting in that first game.
In the girls ranks, the Gladstone Braves have won seven games in a row and are playing their best basketball. Coach Karl Dollhoft has these girls believing in a system that counts on every player contributing something. So, watch out for these girls!
Also, don't count out the Escanaba Eskymos and Michelle LaFave. I know the girls have a tough playoff opener against Houghton Wednesday, but if they play their best, I believe the girls can make some noise up there. Hope Michelle scores 30 and goes into "beast mode".
And the Eskymo hockey team has the ability to beat anybody in Michigan on any given night. With Levi Wunder, Derek Chaillier, and others out there, with Nicky LeMire in net, the Eskymos can make a long playoff push. I am really looking forward to it!
---later, Jack
---
IRON MOUNTAIN, MI--FEBRUARY 21, 2014-3:33 A.M.
Well, the high school hockey season came to an end Thursday night as the Escanaba Eskymos beat the Kingsford Flivvers, 7-2. Now, it's on to the playoffs, which start on Tuesday.
Escanaba dominated this hockey game, firing 53 shots on Kingsford goaltender Wes Paupore.
It was obvious that Paupore's play was the only thing that prevented the Flivvers from losing this game on the mercy rule. I kind of felt bad for him, because he is friends with so many of the Escanaba players.
But...I was happy to see the Eskymos play as well as they did. Levi Wunder had four goals, and if there was a lesser goalie in net that Paupore, Levi would have had eight goals.
I am not exaggerating, either. But, as you see from this photo, Levi and Wes are good friends. After the game, a number of kids from both teams posed for photos together on the ice. It's good to see that they can compete, but still be friends. Everyone involved in Eskymo hockey respects Wes Paupore.

Well, I hope you all have a good Friday. The weather is not the best, but the Winter Storm Warning was cancelled for Delta County at about 2:30 this morning. So, we should be OK out there.

And now, for me, it's back to boys basketball for Friday night. Gladstone at Escanaba. Battle of Delta County. Should be fun. Hope you tune in on Kool 105.5 FM and rrnsports.com at 7:15.

---later, Jack
---
GLADSTONE, MI--FEBRUARY 19, 2014-2:44 A.M.
We sort of have an "Us Against Them" kind of attitude when it comes to the Upper Peninsula's place in the world. In some ways, I think that this is a bad thing, because we fail to see that the U.P. is a part of Michigan and the USA. We are not an independent country.
But there is one part of this mentality that I love. Whenever a Yooper goes up against someone or something from outside of the region, we get behind that Yooper and fight for our own.
I see it all the time when a U.P. high school sports team plays a downstate team in the playoffs.
Well, Gladstone High School sophomore Jordan Ives drives late-model stock cars. And he's good at it, with a family that's been involved in racing for three generations.
Jordan was in a battle with almost 400 other racers for sponsorship dollars from the Champion spark plug company. He needed all of us to vote for him, every day, for a month, in an on-line contest. Only 15 drivers would make the cut and get $5,000 each to improve their cars or to pay entry fees or travel costs to racing venues.
Well, we all got behind this 15-year-old kid, and on Tuesday, it was announced that Jordan was one of the 15 racers...nationwide...to get $5,000.
We all voted for his video, and I can tell you that this quiet, humble kid, is geniunely thankful for the support.
We sponsor Jordan at the Radio Results Network, and so yes, we (and I) are a bit biased. But I, and my colleagues at the radio station, are proud of this accomplishment.
And now, we need your help again. Jordan is amongst 15 people going for a $50,000 sponsorship. Starting on Friday, and going through March 23rd, you can all vote for Jordan, again, as often as you can. I can tell you that he is worth a couple minutes of your time.
After all, Jordan is a Yooper, and we all stick together. And I know him personally, and I can tell you that he is an excellent kid with strong morals. So, please join me, by going to
www.jordanivesracing.com
. Let's pull together to help this kid get more money to help him in the young stages of his career.
---later, Jack
---
Next Entry