Jack Hall Blog
ESCANABA, MI--MAY 23, 2013-3:27 A.M.
So, former New York Congressman Anthony Wiener is running for mayor of New York City.
I can just see the TV commercials starting now! Haha. If you don't remember, Wiener (pronounced wee-nr) resigned from Congress a couple of years ago because he sent text messages of his, well, um..., anyway...to unwanted recipients. Well, now he is running for mayor, and I bet comedians like Jay Leno are ready!
Here in Escanaba, I just want to take a minute to praise the high school athletes who represent their school and community on the field, but also do it in the classroom.
The stereotype of a "dumb jock" is so unfair, and in many cases, downright wrong.

The Eskymos held their annual sports awards ceremony Wednesday night. David Falish and Codi Jenshak cleaned house with numerous awards and scholarships, but the one I love the most was the U.S. Army Reserve Scholar Athlete award. You have to be good in sports, and good in the classroom, to even be considered for that award. (Pictured: Codi Jenshak, Sgt. Patrick Matheney, and David Falish)

I am extremely proud of those kids, because they represent the best of the best....and they represent our school with class. Codi is as fierce of a competitor as I have seen, by the way, but is also a true leader.

I was also happy to see Andrew Stenberg get a couple of awards.
Being a cross country runner and a distance runner in track is loney, and that kind of athlete sometimes gets overlooked at awards ceremonies. It takes a special person to be able to run a mile, or two miles, and do it to help your team score points. And Stenberg is about as nice of a person as you will ever meet.
I have to say a word about Jalyn Dagenais.
This girl is like a sister to me. Since the seventh grade, she sat in my hockey broadcast booth and took stats for the Eskymo hockey team.
(Pictured: Jalyn Dagenais, with her mom Lisa and dad Mike)

Jay gave me what I needed to be able to tell the boys where they ranked with everybody else in the league. She could have just come to the games and watched, like many of the girls in her class did.

But she wanted to help the hockey program, so she spent many hours doing just that. Add to that her play with the Eskymo golf and tennis teams, and I can say that she earned her trophy tonight.
And that brings me back to David Falish. I honestly consider it a privilege to be able to watch him grow up, from the time that he was 10 years old until now.

I have talked about him before in this blog, so I won't belabor the point. But I can say that this young man is one of the most friendly...and respected...people in the Escanaba Class of 2013.

And you know what? It really has nothing to do with what he has done on the field or on the court. Pretty much everyone likes David Falish because David Falish likes pretty much everyone.

---later, Jack
---
ESCANABA, MI--MAY 22, 2013-3:33 A.M.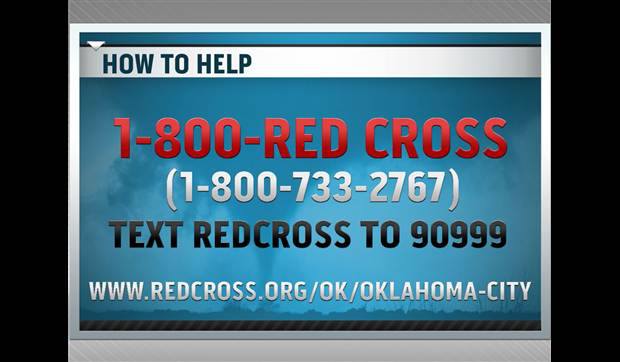 Back from a long baseball road trip to Shawano, Wisconsin.
But first, I just want to update you on the situation in Moore, Oklahoma. The good news is that the death toll from that horrible tornado was revised during the day on Tuesday. Late Monday night, we were told that 91 people were killed. That number now stands at 24.
Still horrible. And more than 200 people were hurt, and thousands lost their homes. How can we help in the U.P.? The best way is to make a donation to the American Red Cross, which is providing disaster relief services there. You can make a donation at
www.redcross.org
, or send a $10 donation via text message at REDCROSS to 90999.
The donation will show up on your cell phone bill, and the money is used to buy supplies that the people there who have lost their homes need after this horrible storm.
Closer to home, I was with the Escanaba Eskymo baseball team in Shawano, Wisconsin, and it looked like we would drive there for nothing. Heavy rain fell at times, and as we sat at the field two hours before the first pitch, it didn't look too good.
But the rain stopped and it was a sunny evening.
The people in Shawano were friendly to our team, and the Hawks' head coach had me and the Eskymo coaches rolling with laughter with a few of his stories before the games.
The downside was that the mosquitoes there were way too friendly. The insects probably got as much blood from us through their bites as we'd give at a Red Cross blood drive!
One other positive thing from our doubleheader split was that Eskymo senior David Falish (pictured) played for the first time this season. He had been on the shelf with a foot injury, but he got cleared to play by doctors at a Monday check-up. Dave was no-where near his usual lightning-fast self on Tuesday, but it was great to see him back on the field!

Read all about the Eskymos' baseball games at rrnsports.com. I just finished the updates! Now, it's time for me to get some sleep!

---later, Jack
---
ESCANABA, MI--MAY 21, 2013-2:27 A.M.
Absolutely horrific.
That is what law enforcement, search and rescue, and weather forecasters are saying about the tornadoes that rolled through Oklahoma late Monday afternoon.
I was glued to my TV tonight watching the heartbreaking coverage from the Oklahoma City suburb of Moore.
As I write this at 2:30 a.m., authorities say that 91 people were killed, with dozens more hurt. An elementary school was completely flattened when the funnel clowds destroyed 30 square miles worth of land at about 4:00 in the afternoon. At least 20 little kids were killed.
(These photos are courtesy of CBS News. See more pictures and videos at CBSnews.com)

Questions are already being asked: why were the fourth, fifth, and sixth grade kids evacuated, but the third graders stayed in that school as the storm went through. Horribly, reports are that many of these kids drowned as the EF-4 tornado, with up to 200 mile per hour winds, rumbled through that part of Oklahoma.
This brings up a question here in the Upper Peninsula. Are we prepared for disasters? We are certainly not located in Tornado Alley. But tornadoes do happen here, too. What are the procedures that we use to keep our kids safe if a tornado came barreling toward one of our schools? This is a parent's worst nightmare.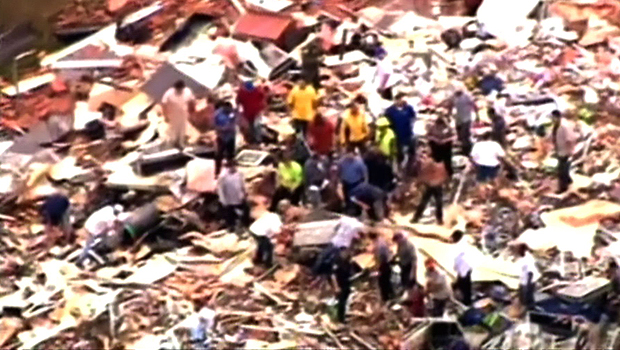 We all had fire drills and tornado drills when we were kids. I remember not really taking them seriously when I was little. It was kind of like a break from class.
Well, hopefully, many of our schools will drive home the point to our kids that these are very serious drills, and everyone needs to know what to do if a tornado strikes.
Again, this isn't Oklahoma. EF-4 and EF-5 tornadoes don't come here. But even a weaker tornado, like the one a couple of years ago in Menominee County, can still be deadly. My prayers are with everyone in that Oklahoma community that is living through a nightmare.
Keep your radio set to NewsTalk 600 WCHT for twice-an-hour updates on the situation in Oklahoma throughout the day on Tuesday, and we will provide local reaction during our local newscasts as well.

---later, Jack
---
ESCANABA, MI--MAY 20, 2013-1:22 A.M.
When I woke up Saturday morning and I looked outside, it was raining.
My first thought was "You've got to be kidding me". I was thinking that maybe the high school baseball and softball tournaments scheduled in Escanaba on Saturday would be rained out, or the games might be played under lousy conditions. But, as if on cue, the rain stopped right at 10:00.
We got both tournaments in, and I had a lot of fun watching both baseball and softball all day long.
Normally, I don't care much about the third place games of these baseball tournaments.
But as Saturday's game between the Gladstone Indians Legion team and the Negaunee Miners went on, I started to love what I was seeing.

The Indians have mostly seventh and eighth graders on their roster because other Gladstone kids are playing high school baseball for the Braves.
Well, little (and I mean little) seventh grader Braden Lamberg pitched 5 2/3 innings of shutout, five-hit ball, and the Indians beat the Miners. The Indians got a bunch of infield hits and pop fly singles and played excellent defense, and Lamberg had a mile-wide grin.
I was also impressed with the Alpena Wildcats baseball team. They took advantage of every opportunity they had and beat the Eskymos in two out of three games, all decided by one run. Escanaba's top two pitchers, Devin Olsen and Ben Kleiman, both pitched well, but that 2-3-4 portion of the Wildcat line-up is deadly. That was good competition for our boys, though, as they get ready for next week's districts.
In softball, meanwhile, there were three fields going simultaneously, from 10 in the morning until 5 in the afternoon. The Eskymos played four games, and won three of them.
I was so happy to see Jenn Koish hit a home run, and I was able to get it on film for rrnsports.com. She had been struggling at the plate recently.
And how about Rapid River's Neena Brockway? She was completely unhittable when she pitched against the Cheboygan Chiefs. Neena struck out a school record 19 batters and Rapid River won, 9-0.

But the highlight of the girls tournament for me are those french fries. Yep, he gets real potatoes, cuts them right there at the field, and dumps them into these pots of boiling oil and fries them. They are sooooo good!
They are so popular that some of the girls on out-of-town teams refer to it as the "French Fry Tournament".

All in all, I had an enjoyable ten hours at Al Ness Field and Lemmerand Park on Saturday, even though my teams didn't win all of their games.

And now, for the next few days, here comes the rain!

---later, Jack
---
ESCANABA, MI--MAY 17, 2013-3:30 A.M.
Now that we've got some decent weather around here, the kids who play high school spring sports don't have to show up in snowsuits and blankets.
I spent a couple of hours at the MHSAA Division One Regional Track Meet on Thursday in Escanaba.
The Gladstone boys and Marquette girls dominated the meet, winning the team scores by wide margins and qualifying numerous kids for the U.P. Finals on June 1st at Kingsford High School.
The Gladstone boys almost completely swept the field events, with Jared Vuksan going into "beast mode" and winning both the shot put and discus.
And teammates Cody Malanowksi and Steve Strom also qualified in the shot put (the guys are pictured).
Gladstone's Justin Pederson is about as good as they come. I honestly believe he could win any event they put him in, except maybe the 1600 or 3200. He shattered a Gladstone school record in the 100 dash (10.78). Good to see Zach Sturdy back in action and winning the pole vault. He was hurt earlier this spring and couldn't be at his best.
I like watching Escanaba's Andrew Stenberg, Eric Cousineau, and Jared Ogren run the distance races. They did well on Thursday. The stamina that it takes for them to round that track four times, and be able to pace themselves, well, that's incredble to me.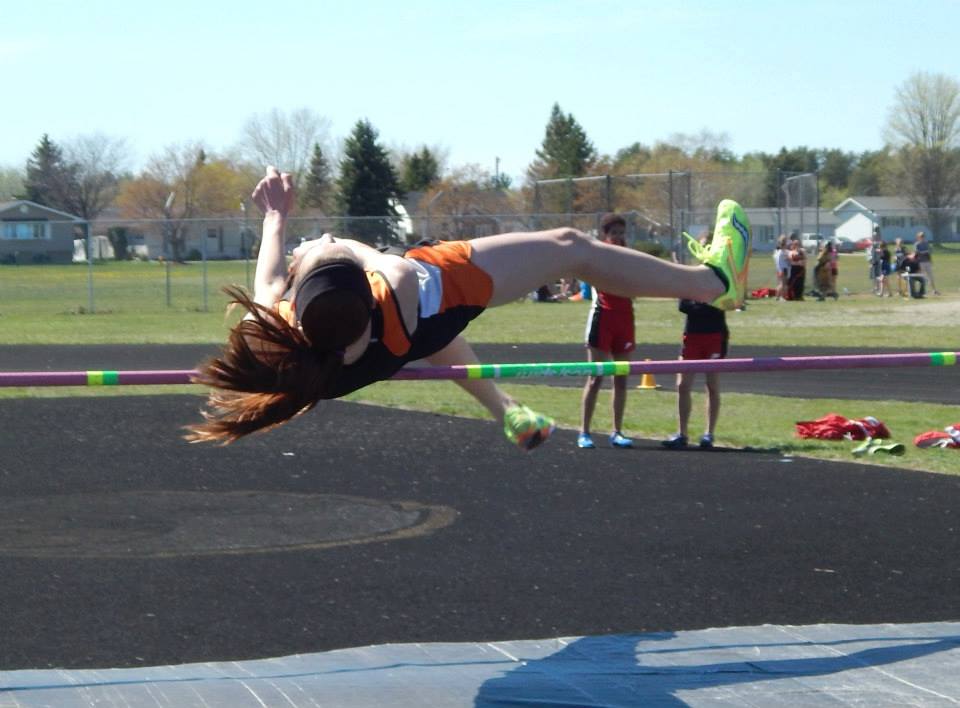 Marquette completely dominated the girls race. Lindsay Rudden is so smooth in how she runs, and we all should remember that her family is from Escanaba!
I felt for Escanaba's Amy Giese. She just got done finishing the 3200 run and she was due up to do the high jump! Wow, that's tough. But tournament officials gave her a chance to catch her breath before jumping.
Also...I got in the way a couple of times.

No, not like the little kid that wandered onto the track and was scooped up just in time before a runner came through. I was standing on the infield, taking pictures. And twice I heard "Jack Hall, MOVE!" I looked up, and it seems that I was in the path of tournament officials who were trying to start the relay races, and they had to see across the infield to make sure everyone was on their blocks.

They were polite about it. But it shows that maybe I really do belong in a radio booth!

---later, Jack
---
ESCANABA, MI--MAY 15, 2013-3:32 A.M.
Well, stupid people sometimes do stupid things.
So, I bring you a funny (to me) story from the small Mackinac County town of Curtis. It seems that a lady there broke into Chamberlin's Inn Tuesday morning and stole food, dishes, silverware, and other items.
That is not funny. But read on to see what is funny!
When this lady started to leave the motel, she couldn't find her car keys. She went into her car, closed the door, and got locked inside! That's because the car's inside door latches were broken, and she needed to have the keys to start the car in order to roll the windows down.
If she had had the keys, she could've then reached outside the window and used the handle to get out of the car. But this unlucky thief ended up being stuck inside the car until police arrived at 7:30 Tuesday morning to arrest her, with all of the stolen items right next to her in the car. Ah, you've gotta love karma!
Hope you will tune in Wednesday afternoon for Gladstone Braves baseball in Negaunee. It's a doubleheader that starts at 4:00 on WCHT-AM (600), and on
www.rrnsports.com
. Should be some good baseball!
---later, Jack
---
ESCANABA, MI--MAY 14, 2013-3:19 A.M.
Stunned. And almost ready to cry.
That is seriously how I felt when I watched the Toronto Maple Leafs lose to the Boston Bruins, 5-4, in overtime, in Game Seven of the Stanley Cup Playoffs Monday.
Ya, I know, it's only a hockey game, and the outcome won't change my life one way or another.
But being a Canadian hockey fan, and watching the Maple Leafs work so hard as a huge underdog to almost win the playoff series, well, it sucked to see Boston win in the end. Even worse, the Maple Leafs had an incredible 4-1 lead with ten minutes to go in the game, and led 4-2 with only 1:30 left.
You almost never see a two-goal lead disappear in the final 90 seconds of a game, let alone in Game Seven of an NHL playoff series. But it happens. At all levels.
I remember two years ago the Escanaba Eskymos blew a two-goal lead in the final two minutes and lost to Calumet. When I was in college back in the early 1990's, the NMU Wildcats led Michigan by three goals at Joe Louis Arena, and we were all talking about travel arrangements to the NCAA Final Four.

Michigan rallied and won, 8-7. I will never forget it. Ah, I guess it proves that a game is never really over until the clock is on all zeroes.

On another note, a black bear wandered into downtown Escanaba early this morning. In fact, as I type this at 3:20 in the morning, the Escanaba Public Safety Department was tracking the bear in someone's yard just a few blocks from where I live downtown. I see bears all the time at my parents' place out in Hermansville, but not here in downtown Escanaba. Our officers have to deal with the strangest things sometimes!

---later, Jack
---
ESCANABA, MI--MAY 13, 2013-2:44 A.M.
My friends, I am a hypocrite.
That's because when the National Hockey League had its long lockout back in the winter that severely pissed off all of us hockey fans, I was one of those who said "to hell with those greedy NHL players and owners".

In my anger as a fan, I vowed to ignore the NHL, and I said I would not "give those people a single penny" or a "single moment" of my time. Well, I held true to that for most of the 48-game regular season. But on Sunday, the hockey was so compelling that I had to watch.

First, the New York Rangers fought off elimination with a super-sweet 1-0 win over the Washington Capitals. It was great entertainment on my dad's TV in Hermansville.
Then, it was "Go Leafs Go" as the Toronto Maple Leafs tried for the improbable upset over the Boston Bruins. It was 0-0 in the third period, but my Leafs scored twice and held on for a 2-1 win! Toronto, a place I have been to many times, exploded with excitement after that win.
And later, the Detroit Red Wings were playing way out West against the Anaheim Ducks.|
The Wings were underdogs, but got a quick goal from Henrick Zetterberg and then held on for a 3-2 win. That was a Game Seven win, and so the Wings go to the second round against the Chicago Black Hawks!
How sweet it that? People thought that the Wings wouldn't even make the playoffs at all, and they almost didn't. I love hockey so much. And even though I am still pissed at the NHL, this is still the best hockey in the world. It is so cool to sit and watch it, while sipping an adult beverage amongst family and friends.
And so Monday night, I will be glued to the TV, hoping that Toronto pulls another upset in Game Seven! And Tuesday night, I will hope for an Ottawa Senators upset over the Pittsburgh Penguins.

And then Wednesday night, I will hope for the Wings to upset the top-seeded Chicago Black Hawks. And all of the Wings games are on the radio, live on Magic 97 (97.1 FM), in a good chunk of the U.P.

One other thing...I was glad to spend some time with my mom on Mother's Day. She is literally the best person in the world. Hope all of you spent time with your mom's too on Sunday!

---later, Jack
---
ESCANABA, MI--MAY 9, 2013-3:36 A.M.
When I got back from the Escanaba Eskymo baseball game in Marquette tonight, I went to the radio station to write up the news stories that you will hear Heidi Rae and Don Curran read on our RRN radio stations.

One of the news releases from the Michigan State Police really bothered me. It seems that someone in Iron River has put the chemicals to make meth inside of five pop bottles, and then put these bottles in two park playground areas. In one case, an eight-year-old found the bottle, which police refer to as "burst vessels".

Thank God that this young kid didn't take a swig of what he would probably think is soda!

What the hell is wrong with people nowadays?

I mean, if you want to be a druggie, then do it in your own home and fry your own brains. That's none of my business. But to put this crap somewhere where a little kid could find it really pisses me off.

I wish I could go on the radio and say exactly what I think of these types of people, but I can't. All I can do is hope is that the police find whoever did this and put that fool in jail!

---later, Jack
---
ESCANABA, MI--MAY 8, 2013-3:48 A.M.
It's amazing to me that someone would be evil enough to kidnap another person and hold that person hostage, just for the hell of it. That's apparently what happened in Ohio, where three brothers are accused of holding three girls hostage inside a home for ten years. The girls, now women, finally escaped this week.
Can you just imagine how you would feel if your life, your entire existance, was at the whim of someone else? We're just now finding out some of the details of those ladies' ordeal.
This Ohio case also makes me think about the teenaged boy here in Escanaba who was allegedly held inside a room by his mother and her boyfriend for nearly four years. Police say that the boy was tortured and raped for years. Again, what goes through someone's mind, where they would treat another human being like that?
Well, on a much brighter note, Dylan Gauthier is officially back. The Escanaba High School freshman competed in an Eskymo uniform on Tuesday at the Marinette Golf Invitational in Wisconsin.
Gauthier is the boy who was severely injured during an Eskymo hockey game downstate just three months ago.

Dylan has worked extremely hard to be able to have a normal life as a teenager, and to get back into varsity sports competition so quickly. He, along with Dane Casperson, shot a 75 for the Eskymos...the best score for Escanaba's team in that tournament.

And Dylan (pictured here from the Marinette meet) is basically doing it on one leg. Congratulations to him, and I hope you all see Dylan and the Eskymos compete in the Northern Michigan Bank Championships Thursday at the Escanaba Country Club.

---later, Jack
---
Next Entry