Jack Hall Blog
ESCANABA, MI--MAY 25, 2015-1:51 A,M.
Today, we give thanks to all of the men and women who have served our country in the military, and, especially those who gave their lives so that we could remain free. It's not just lip service to say these things on Memorial Day. It's important that our troops know that we are appeciative of what they have sacraficed for the good of the country, and that includes our current troops.

Also, in the way of "thank yous", let me tell you what happened as I drove to Marquette on Friday for the Gladstone Braves baseball broadcast against Marquette. I stopped at the Perkins Store on the way north to get some gas and a soda. I pumped $27 worth of gas into my tank, then went inside. I got to the back of the store and found the A&W Root Beer I wanted.

I went to the checkout to pay, and the cashier said that I did not owe for the gas. What?? She said that a lady came into the store and bought a couple of $10 lottery tickets and also paid for my $27 worth of gas as I was in the back of the store looking for my soda.

I do not know who bought my gas, or why. All I can say is "thanks". And I will do the same for someone else, randomly, just like you did, in the near future.

Enjoy your holiday, eveyone, and please remember those who gave it all for us.

---later, Jack
---
ESCANABA, MI--MAY 21, 2015-1:16 A.M.
Our Escanaba community was saddened last September when it was learned that young mother, Heather Batchelor, was stabbed to death. It was horrifying to learn that her five-year-old daughter found Heather's dead body, wi\th a knife sticking out of her neck.

Heather's husband, Kallay, was convicted Wednesday by a Delta County jury on first degree murder charges. The jury apparently agreed with what our new county prosecutor, Phil Strom, said during closing arguments on Wednesday:

"He's guilty of first degree murder because the murder was intentional, it was premeditated, and it was deliberate. It was a plan that came to fruition after a month! He had a month to change his mind. He had a month to do the right thing. He continued and followed through on his plan. He had the motive, the opportunity, and the method."

It is sad to see anyone in our community lose their life so violently. Luckily, we live in a place where this doesn't happen too often. I praise the Escanaba Public Safety Department and Michigan State Police for running investigations that gave Strom the tools he needed to prove to the jury that Kallay Batchelor had, in fact, committed this crime.
It was Strom's first high-profile case since taking over as our county's prosecuting attorney, and he represented We the People well. Kallay Batchelor will be sentenced on July 1st. I can only hope that Heather's family can take some comfort from what happened in court today.

---later, Jack
---
ESCANABA, MI--MAY 18, 2015-1:22 A.M.
I want to tip my hat to a group of Escanaba sixth graders who decided that they were tired of seeing trash on city streets and alleys, and decided to do something about it.
These kids from Mrs. Dykema's language arts class at the Escanaba Middle School decided that they would start to pick up trash on their own.
Kind of like their own local Adopt-A-Highway program. On every third Sunday of the month this summer, starting yesterday, these kids plan to pick up garbage, and they are taking part in the Downtown Development Authority's plans to make our city look as nice as possible before the summer tourists start coming here from all parts of the country.
Escanaba DDA Director Ed Legault says that the city will join with the Delta County Chamber of Commerce to get businesses involved in removing trash from the city's streets and alleys as well. This is good. I live in downtown Escanaba. I see the stuff that sits in our parking lots and alleys. The wind blows it there sometimes from garabge cans with their lids open.
Or people just drop crap and don't care where it ends up.
I applaude these sixth grade girls for stepping up and doing what the City of Escanaba should be doing all along with our tax dollars. We will have a city-wide clean-up project on Wednesday. I hope that it will be more than just these girls out there picking up garbage.
---later, Jack
---
ESCANABA, MI--MAY 15, 2015-1:48 A.M.
Haven't done a blog entry all week long. Sorry about that. It's just that I've been so busy trying to keep up with things the past few days and I've not been feeling well.

I've had that sinus thing that has sent mucus into my throat, and so I have been coughing constantly and trying to talk has been tough. After doing my job of writing the news stories and editing the audio clips, and then broadcasting games and trying to update the RRNSports.com web site, I have just been exhausted all week. I know that you miss my political postings!

Well, rest assured, I will offer my comments as our state lawmakers try to put together a 'Plan B' to fix our roads, after 80 percent of us said "no" to Proposal One last week. And believe me, some of these proposals they are considering right now are just as bad, if no worse, than Proposal One. The lawmakers don't seem to understand what We the People said May 5th.

No, we did NOT say we would agree to raise taxes to fix the roads. It wasn't ONLY that Proposal One was so complicated that it failed, 80 percent to 20 percent. No.
Many of us feel that we are TAXED ENOUGH ALREADY, ie., Tea Party. Many of us believe that the money that we send to Lansing needs to be spent more wisely. Don't shake your finger at us and tell us that we are under-funding the roads. We the People belive that you get enough money out of our paychecks. Watch how you spend every dollar and get the job done!

---later, Jack
---
HERMANSVILLE, MI--MAY 10, 2015-9:55 P.M. CT
Honor Thy Mother, Honor Thy Father. That is what the Bible says that we should do, as part of the Ten Commandments. Well, sometimes, us humans don't always follow those rules.
But with a set of parents as great as mine, it's not hard to honor those golden rules. My mom has always been there for me, even when I didn't truthfully deserve her support.
She gave up having things so that I and my sister could have things. My mom, Betty Lou Hall, is by far the most loyal and sincere person I have ever met in my life. On this Mother's Day, I salute her!

I remember one time when I was real young, my dad's Ford plant was on strike. There wasn't much money coming in. I didn't truly get that at the time as a ten year-old kid. My mom and dad ate tomato and lettuce toast sandwiches so that we could have cereal and milk every morning.

On this Mother's Day, I say to all of you how thankful I am to have my mom in my life, even to this day. I hope that all of you were also thankful and spent time with your moms. And for those of you who are my friends, who have lost your moms, I am thinking about you.

---later, Jack
---
ESCANABA, MI--MAY 7, 2015-2:05 A.M.
I write a lot in this blog about politics and high school sports. But this time around, I want to write about two local kids who I don't know. They are Zakary Lewis and Brent Larson.

They are kids who take automotive technology classes through the Delta-Schoolcraft ISD. And they will be competing in a statewide contest on Thursday in the Detroit suburb of Warren.

These two kids, and their instructor, Mike Gardner, are the only Yoopers in this event, which is put on by Ford Motor Company and AAA Michigan. There are ten teams, so 20 kids, from across Michigan, who qualified by doing well on an on-line preliminary test.

Basically, the kids will all race against the clock to identify and repair "bugs" that have been intentionally installed in 2015 Ford Fiesta cars. They don't have much time, either, to make the repairs. If they win, they can qualify for scholarships, prizes, and a spot in the national finals.

I have no idea how this all works. But I'm glad that kids here in Escanaba still want to learn how to fix cars, because I obviously have no idea! Good luck to Zak and Brent downstate!

---later, Jack
---
ESCANABA, MI--MAY 6, 2015-2:07 A.M.
No. Absolutely not. Nyet. Non. It didn't matter what term you used, or what language you spoke. The answer to Proposal One was a resounding "no" on Tuesday.
In every corner of Michigan, people did not approve this proposal to raise the state sales tax by one percent, along with triggering ten new state laws that would have done various other things, including putting more money into schools and local governments.

This proposal asked all of us to do more than just raise more money to fix the roads. That is why it failed by such a huge margin. It tried to make all of us do the job of the state legislature. We pay them to go to Lansing and make decisions on our behalf. They failed.

And so, We the People, just gave them all a huge defeat to show them that they need to do better. This proposal added all kinds of "nice" things like an increase in the Earned Income Tax Credit, to try to trick poor people into voting "yes".

It dangled more school funding to try to trick teachers and other unionized educators into voting "yes". It promised more work for construction unions across Michigan, but the polling shows that even they didn't bite. Well, leadership might have, but the rank-and-file clearly didn't.

More than 75 percent of people who voted said no. That number rises to more than 85 percent here in the Upper Peninsula. In Marquette County, the biggest hotbed of union activity in the Upper Peninsula, an incredible 91-percent voted no, even though unions supported this.

Proposal One was never the right answer. I have talked with so many people who told me that they would have voted "yes" on a proposal that raised some taxes ONLY for the roads.

I hope that our state lawmakers hear, loud and clear, what We the People are saying.
Don't come to us with a proposal loaded with money for other things. If those ideas are credible, then pass them, separately. Prove to us that you are spending what we already send you wisely. And then maybe, just maybe, we will approve a different plan.

We want our roads fixed. We are willing to pay more.

But, as you saw Tuesday night, we are NOT willing to be fleaced.

---later, Jack
---
ESCANABA, MI--MAY 5, 2015-2:32 A.M.
Tuesday is Election Day across Michigan.
The biggest issue on the ballot is Proposal One, which would raise the state's sales tax by one percent as part of a plan to put more money into Michigan road improvements.
It would also raise more money for schools and local governments. And it would restore the Earned Income Tax Credit for low-income residents. Ten different state laws would go into effect if this passes.
Locally, in Gladstone, there are five people on the ballot for three seats on the Gladstone City Commission That includes three men who were targeted for recall, which is what triggered Tuesday's city election.
In Schoolcraft County, voters will decide a millage renewal for the Manistique School and Public Library. This is not a tax increase…but it is needed to continue, and perhaps expand, operations at the library. This millage was last approved by voters in 2010.
In Dickinson County, voters are being asked to approve a tax increase to continue offering 4-H agriculture programs for area youth. The request comes after the Dickinson County Board eliminated funding for the MSU Extension Service in that county. The millage request is for point-12 mills for five years.
Polls are open from 7:00 Tuesday morning until 8:00 Tuesday night. We will post the results at Radio Results Network.com, and will have reports in our newscasts Wednesday morning.

GET OUT AND VOTE
---Jack
---
WAUSAU, WI--MAY 4, 2015-1:44 A.M.
How do you get lost in a medium-sized town that you've visited many times before?
Well, I managed to do just that on Saturday in Wausau, Wisconsin, as I covered the Gladstone Braves baseball team's games in that Central Wisconsin town.

Now, I have been to Wausau quite a few times as my girlfriend and I have used it as a stop-over point on our way to Minneapolis/St. Paul.
In fact, the Days Inn that I and the Braves baseball team stayed in Friday night was the same one that I have stayed in several times in the past.
So, I had no trouble getting there. And I had no trouble getting to the very nice D.C. Everest High School in nearby Weston/Rothschild for the Braves' first game on Saturday. But after broadcasting that game, that's when my troubles began.
You see, we had to drive to Wausau West High School for our second game of the day on Saturday. I had never been there, but I was confident that I knew where I was going when Coach Don Lauscher told me that I needed to get off on the US-51 Bridge Street exit.
I did that just fine, but I didn't hear that I needed to get off of Bridge Street and onto 17th Avenue, and then onto Wausau Avenue.
I thought the Wausau West High School field was right off of Bridge Street.
So, when Assistant Coach Kurt Lauscher and I didn't see the field, we pulled over to a Uniform Plus store to ask for directions. Surely, they would know!
Well, the nice lady there gave me a complicated set of directions that led me through downtown Wausau, and across the river. I was proud of myself in rembering the directions, but it led me to Wausau EAST High School. Not WEST High School!
So, by now, I am starting to panic. I mean, we only had a few minutes until the next game would start. Kurt needed to be there because he calls the pitches for the Braves pitchers. I needed to be there to broadcast. So, we pulled over again and got new directions. Which led us back across the river, but to a Catholic high school.
So, we pulled into a B.P. gas station, and the lady gave me directions to get to where we needed to go. But I turned the wrong way off of Bridge Street. Still not at the right field! So, the Braves game started and Lori Jurek texted me. "Where are you???" I didn't know!
Finally, we saw a pizza delivery guy. Kurt rolled down the window and asked the guy for directions. After all, who better to get directions from than a guy who delivers pizzas? We got there in a couple of minutes. The Braves were already ahead 3-0 in the first inning.
Well, I have to tell you, the Brave smoms and dads take care of me. Like, giving me ham and cheese sandwiches when the team eats after the game.
And in this case, setting up a table, running an electric cord, filling out the lineups in my scorebook. Just so I could get on the air.

Because of Jurek and Lamberg and Botruff and Garling and others, and the awesome folks at Wausau West High School, I got on the air within five minutes of arriving. If they wouldn't have lifted a hand, it would have taken me at least another 30 minutes to get set up.

I feel like a dumb ass for not getting my directions straight ahead of time. I guess I thought that because I've been to Wausau so many times, I knew it all. Well, I didn't. So thanks to everyone who busted their butts to help me get that game on the air. It is appreciated!

---later, Jack
---
ESCANABA, MI--APRIL 30, 2015-2:21 A.M.
It is completely pathetic that in 2015, in the United States of America, Major League Baseball has to hold a game in an empty stadium because of criminal activity.
Yep, Wednesday's game between the Baltimore Orioles and Chicago White Sox was played at Camden Yards in Baltimore with no spectators.
Only media and team personnel were allowed to be there. That's because of the riots that happened in Baltimore by people who protested the fact that a black man died while in custody of the Baltimore Police Department.

Now, none of us know what happened in the case of Freddie Gray. Was he a victim of police brutality, or wasn't he? Even if he was, how does that give any one us the right to burn down a CVS Pharmacy store, or a Senior Citizens home? That's what happened Monday night there.

This is not about color. Most of those people who looted stores and burned whole blocks of Baltimore's community never even met the man who was in police custody. These people took advantage of the situation to steal from a liquor store, to take items from the CVS and then burn it. This is not what Dr. Martin Luther King preached about protesting injustices.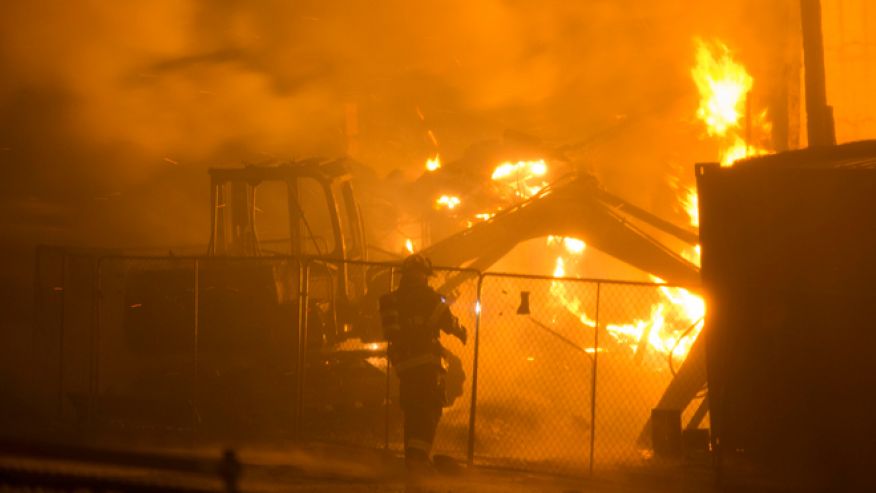 And the other thing is: was this an injustice at all? Just because the suspect was black, does it really mean that we have to have violent protests from people who have no idea what really happened in that case
There were more violent protests Wednesday night in New York City and 60 people were arrested by NewYork police. I'm sure that they were victims, too?
That brings me back to the Major League Baseball decision. They decided that cancelling Monday and Tuesday games, and playing Wednesday's game in an empty stadium, was the way to go to protect public safety. That is their call, and me, living in Escanaba, Michigan, really can't counter that decision.
But one question. Didn't that decision give the thugs a win over all of us? Does this set a precedent for every group that feels that it has been wronged to start a riot just to disrupt our daily lives? In my opinion, those baseball games should have went on as scheduled as a "screw you" to the criminals.
---later, Jack
---
Next Entry